Doak Discusses Cape Kidnappers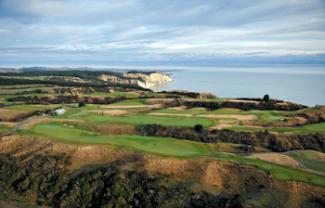 Cape Kidnappers (photo by Joann Dost)
It was Pacific Dunes in the northwest corner of the United States that got Tom Doak noticed as a golf course architect, but it was Cape Kidnappers in New Zealand that put him at the top of his profession.
"Cape Kidnappers was the next great piece of property I had to work with after Pacific Dunes," said the 48-year-old former assistant of Pete Dye. Tucked along the east coast of the country's northern island, there it was: a stunning property with views and terrain so special. It was his chance to show that Pacific Dunes was not just beginner's luck.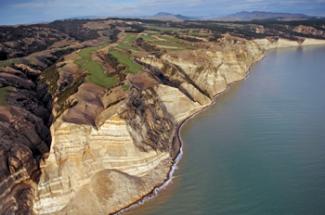 Cape Kidnappers (photo by Joann Dost)
"You'll never play golf like this anywhere else," Doak added. "Our goal was to create interesting holes you wouldn't find anywhere else and that wasn't hard to do at Cape Kidnappers, because the site is not like anywhere else in the world. If it were bigger or any more dramatic, it would probably be cordoned off as a national park. This is seaside golf at its finest."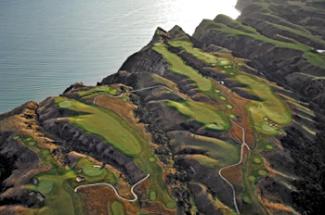 Aerial of Cape Kidnappers (Photo by Joann Dost)
Doak's New Zealand masterpiece has been open just five years but already it is recognized by one organization as the fourth best course of the last 50 years and No. 36 overall.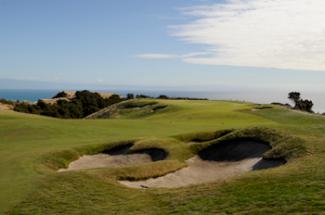 Hole 5 at Cape Kidnappers (Photo by Joann Dost)
He is particularly fond of the closing six holes, beginning with the 13th, a short par-3 set on the cliff's edge above the Pacific Ocean. Hunter Mahan is fond of that hole as well. That's where he started his move in the closing round of last year's Kiwi Challenge, making four birdies and an eagle from holes 13-17 to catch Anthony Kim and then beat him on the first playoff hole, earning the $1.5 million winner's check.
"I walked the back nine with (NBC announcer) Mark Rolfing last year and when Hunter Mahan made birdie on 13 I think the players took that as a signal to start shooting at the flags. I know how good the pros are, but watching Hunter down the stretch was somewhere between fun and frightening when you are a golf course architect."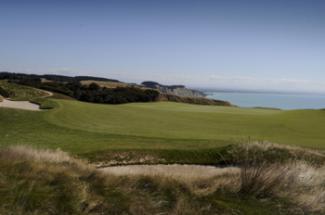 Cape Kidnappers' 6th Hole (Photo by Joann Dost)
"Tom did a great job," said the 27-year-old Mahan of Cape Kidnappers. "He didn't move a ton of dirt and trick it up with crazy things and weird bunkering. He made the course fun. You can make some birdies but there is danger everywhere."
The golf course is part of a resort that is still a working sheep farm. The coastline was discovered and purchased by Julian Robertson, a pioneer of the Wall Street hedge fund market in the 1990s. The Robertson family also owns an acclaimed resort to the north, Kauri Cliffs.
No one can argue with the results that came from an unusual introduction that brought the 76-year-old Robertson and Doak together. Robertson was enjoying Bandon Dunes in Oregon and had planned on playing 36 holes at the original resort course. But after his morning round, the host pro insisted that Robertson play neighboring Pacific Dunes, which had been just opened.
"It's hard to convince Julian to do anything he doesn't want to do, but I'm glad he played Pacific Dunes," said Doak. "He liked it and called me almost immediately after he was done. We talked about the piece of property he had just bought in New Zealand. It took me four months to get there for the first time, but once we got started, I was back 11 times in two years.

"It now amazes me now how many times I see a picture of that golf course," says Doak with pride. "I was just in India and saw a picture of Cape Kidnappers in a coffee-table book. And I saw it used for an American Express travel pitch for the region. They used one golf picture and it was a picture of Cape Kidnappers."

About the Resort

Cape Kidnappers, located in Hawkes Bay, New Zealand, is ranked the 36th best golf course in the world by Golf magazine. The course was built by architect Tom Doak and opened in January 2004. The resort also includes the Farm at Cape Kidnappers, which offers 26 luxury suites overlooking the course, a working sheep farm and the Pacific Ocean.

Cape Kidnappers, along with Kauri Cliffs 350 miles to the north, hosted to the inaugural Kiwi Challenge in 2008. Kauri Cliffs, designed by architect David Harman and opened in 2001, is ranked the top international golf resort by Golf magazine.

For more information on the Kiwi Challenge, visit www.thekiwichallenge.com. For more information about the resorts, visit www.kauricliffs.com and www.capekidnappers.com.