Doak Discusses Cape Kidnappers on 10th Anniversary of Course
On the course's 10th anniversary, American golf architect Tom Doak has done a podcast discussing Cape Kidnappers, a spectacular layout in Hawke's Bay, New Zealand.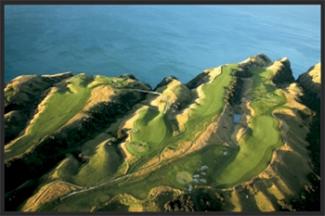 Aerial View of Cape Kidnappers
In his comments, Doak said the 2004-opened course is difficult to classify. Its fingers of fairway skirt menacing ravines and run alongside chalk-white cliffs that rise 500 feet above Hawkes Bay.

"To me the key with Cape Kidnappers is that it's just different from everywhere else," said Doak. "I wouldn't describe it as a links. Seaside? Yes. But links? No. It's not sandy . . . I think of classic links courses as being really bumpy, with uneven fairways, which Cape Kidnappers doesn't have at all. I hesitate to use the word 'heathland.' as I think of the courses around London with heather all over them.

"I would love to build a golf course in terrain like that some day . . . but Cape Kidnappers isn't that."

The course has received much acclaim since its debut. Golf Digest ranks Cape Kidnappers No. 22 in the world and Golf magazine has it at 38th. The property is also known for its environmental and organic maintenance aspects, featuring on-course habitats for multiple endangered species - including kiwi birds, whose footprints can be found in the bunkers some mornings.
Cape Kidnappers head pro Jonathan McCord believes he has an apt description of the course. "I've always thought that 'Pebble Beach on steroids' fit pretty well," McCord said. "There is definitely this feel of Northern California and the Big Sky country of Montana and the American Midwest. It's just a completely unique setting - which, I think, helps explains why it has risen to international prominence so quickly, just 10 years.

"But hats off to Tom Doak, because having a unique property is one thing. Finding and linking together 18 amazing holes - as opposed to three amazing holes and 15 average holes - took some true skill. Because that's what sets Cape Kidnappers apart: There are 18 stunning holes out here."

"We've now built four or five golf courses next to the ocean, and two to three more overlooking huge bodies of water," Doak noted in the podcast. "But Cape Kidnappers is different from those - because of the setting, so high up on the cliffs; because it's not sandy and bumpy. Everybody thinks that sandy, bumpy links courses are the end-all, be-all of golf, and I kind of do, too, in some ways. But there are a lot of those golf courses.
"When you build a new one, you have to compare it back to St. Andrews and Sandwich and Royal Birkdale and all the great links in the British Isles. There is nothing in the British Isles like Cape Kidnappers - nothing anywhere like Cape Kidnappers. That's why it's so cool."

The course was developed by American hedge-fund businessman Julian Robertson, who hired Doak after playing the architect's Pacific Dunes course on southern Oregon's Pacific coast.

The golf course and lodge, Farm at Cape Kidnappers, occupy a fraction of a 2,400-hectare property that represents the largest privately owned wildlife preserve in New Zealand. Robertson also developed Kauri Cliffs GC in the North Island community of Matauri Bay.

In the podcast Doak tips his cap to Robertson, noting that the project was a crucial step in his career. "Cape Kidnappers is probably the most important job of my career, or the second," he said. "I knew Pacific Dunes would be a really special project, and that maybe it could lead to more. But I also knew that everyone would say, 'Well, yeah, with such a great piece of land, anyone would have done a great course on that.'
"If I built something great right after Pacific Dunes, then we'd get a lot of other great jobs going forward. If we did something that wasn't well received, Pacific Dunes would have been considered a fluke.

"If Julian didn't play Pacific Dunes right after it opened, he wouldn't have talked to me about Cape Kidnappers."

Doak has fond memories of the design and construction processes at Cape Kidnappers. "Some of the photos I've seen of the course are astonishing," he said, "but I don't think photos can ever capture the scale of the property. And, some of my favorite memories of the place are just having a picnic lunch on one or another great spot among the 5,000 acres of the farm.

"We've been fortunate to work on a bunch of great projects and it's hard for me to compare them, but I think it speaks in Cape Kidnappers' favor that it's not like any of the others. It's a place unto itself."
For the complete podcast, visit http://www.capekidnappers.com/PicsHotel/CapeKidnappers/Flash/Podcast/2014.04%20Doak%20pod.mp3. For Doak's narrated video flyovers of the course, visit https://www.youtube.com/watch?v=7MJqGr4TQoc and https://www.youtube.com/watch?v=6wqMXjGRqfs. For more information about Cape Kidnappers, visit http://www.capekidnappers.com.