Doesn't Get Better Than Autumn Golf in Vermont
By: Joel Zuckerman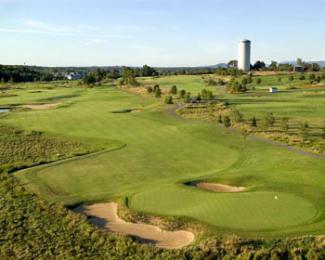 Vermont National Golf Club
My golf buddies and I are all 50-plus and in full swing. Business, kids and family demands all conspire to lessen our time on the links, but the desire to be out there remains unabated. So when we get the chance to let it rip, we take full advantage.

Lots of golf in a compressed format was the underlying theme of our recently completed "99 Cup," so named because we managed 99 holes over three days while touring Vermont from top to bottom.

Armed with an SUV, a couple bottles of aspirin and an overnight bag, we cut a swath from Burlington to Manchester, pausing between courses only for the three essential "G's" - gas, grog and golf balls.

Our tour commenced at the Vermont National Country Club in Burlington, although it wasn't planned that way. While I would never confuse Pinehurst with Pine Valley, or Oak Hill with Oakmont, some mysterious mental block caused me to mix up Vermont National with its contemporary southern neighbor, Country Club of Vermont. We showed up for an 8:30 tee time at a course we weren't scheduled to play, almost a full hour north of where we were slated. Fortunately for us, accommodating pros at both venues, in conjunction with tee sheets that had some timely gaps, allowed us to complete our 36-hole mission nevertheless.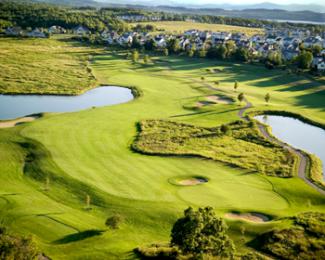 The sixth hole at Vermont National Golf Club
Sitting in the Champlain Valley and just a mile or so from the beautiful lake itself, Vermont National is reminiscent of the courses found in coastal Georgia or the Carolina Low country. This Jack and Jackie Nicklaus design has been carved out of a virtually flat piece of pastureland, with almost no elevation changes to speak of. The standard Vermont golf experience consisting of blind shots and side hill or downhill lies won't be found here.

Instead, wetlands and native fescue grasses provide both the challenge and definition on a links-style front side, where the wind can whip and scores can suffer. Those who can keep it in play will be pleased, as bentgrass fairways and greens offer a touch of polish in a golf region that can be rough around the edges. With distant views of both the Adirondacks and Green Mountains, Vermont National is a fairly scenic, although far from dramatic test of golf.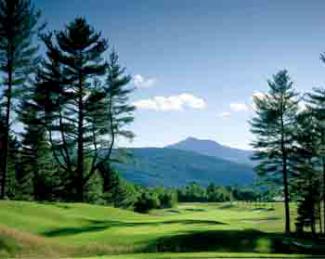 The 12th Hole at the Country Club of Vermont
We cruised south to Waterbury Center that afternoon, and made it to Country Club of Vermont about six hours behind schedule. It was worth the wait. While not quite on par with first-time designs like Jack Neville at Pebble Beach, George Crump at Pine Valley or Henry Fownes at Oakmont, Canadian architect Graham Cooke's first U.S. effort is nothing short of spectacular. The former Canadian Amateur Champion has fashioned a rugged and rewarding layout on exceptionally hilly terrain.

The front side is treeless, with crowned fairways that slope off in either direction toward long native grasses. The canted fairways, some of which offer more levels than a parking garage, often require a tee shot that lands in the rough and will hopefully rebound back onto the short grass. The back nine becomes a more traditional walk through the woods, yet every hole on the course offers a wonderful view, and almost every green has serious undulation. There are five sets of tees which help to dilute the intimidation factor, but this is a stout and memorable test by almost any definition, and a course that's eminently worthwhile.
"Reload Rich," our chauffeur and high-handicap patsy, was exhausted by day's end, and not because he's the oldest in the gang. By the time we finished launching our drives on the 36th and final hole of the day, Rich had probably taken almost 50 swipes with his driver and gone through well over a dozen balls. We headed south on the highway at sunset, right past the Ben & Jerry's factory (but didn't feel compelled to drop in). The day had been sweet enough already.
The next morning we laced them up in the tiny hamlet of Quechee, a wide place in the road about half an hour from the Killington ski area in the state's central region. This little burgh is postcard Vermont: meandering streams, lovely waterfalls and wagon wheels, punctuated by a downtown area endemic to many tourist-centric Green Mountain communities. There isn't a single necessity to be found in the Main Street shops. It's all scented soaps, soft linens, garish tee-shirts and all manner of blown glass, figurines and generally useless bric-a-brac.
Fortunately we weren't there to shop, but to tour one of the finest 36-hole complexes in Northern New England.

The Quechee Club was designed by the late Geoffrey Cornish, a gentleman, scholar and fine architect best known in New England for modestly budgeted projects with minimal flair. Cornish, who died in 2012 just a few years short of his hundredth birthday, proved at Quechee that you can be as good as your topography, as his Highland and Lakeland courses are both aesthetically pleasing and formidable. As the name implies, Lakeland winds liberally around Lake Pineo, and the highlight at Highland are a pair of dramatic back nine par-3s that require heroic shots, both uphill and down, over a plunging ravine.

The sparkling Ottaquechee River winds throughout the property, influencing play directly or indirectly on a dozen of the 36 holes. A manicured course in Vermont is as rare as a country store without maple syrup, but Quechee is the exception, with numerous plantings and flower gardens adding charm and beauty. It has recovered nicely from a couple of horrendous years not too long ago where the courses were in rough shape after brutal winters. As my buddy said at day's end, there are worse places to take a couple of hundred strokes.
Our final day was a breeze - a mere 27 holes at Stratton Country Club, located south of Manchester. This is another Cornish creation, three distinct nines known as Mountain, Forest and Lake. This former LPGA Tour stop is a quintessential alpine design, somewhat shaggy and unkempt, with the requisite plunging, twisting fairways, dizzying tee boxes and rocky outcroppings.

Stratton is a grassy funhouse, and selective perception is required to enjoy it to the fullest. Enjoy the exhilaration of a towering tee ball that hangs suspended over the tree line, or an uphill approach that clears a rushing stream and finds the putting surface. Ignore the occasional goofy hole, or the soggy miasma of a fairway that would get a superintendent fired in the flatland.
After two and a half days of brilliant sunshine, the umbrellas came out midway through the final nine, signaling the beginning of the end of yet another golf jamboree. We tried to clean the mud off our spikes, threw the bags in the trunk and headed south to Massachusetts. It wasn't 20 minutes before we were discussing the courses we wanted to play but couldn't due to time constraints: Mount Snow, Okemo, Brattleboro CC, Haystack, Green Mountain National, and Rutland Country Club, to name but half-a-dozen.

The traveling golf bug is a sickness from which there is no known cure. It doesn't matter if you choose a sedate nine or a frenetic 99, because it's all good. Summertime golf in Vermont is a rare treat, with comfortable daytime temperatures and cool evenings.

The summer is superseded only by that short but intense stretch of autumn golf, soon to be upon us, where the hills and valleys turn 20 shades of reddish gold. They are both experiences to be savored, like a fine meal or a brilliant sunset. Enjoy it while you have it, because it doesn't last long.
Joel Zuckerman, called "One of the Southeast's most respected and sought-after golf writers" by Golfer's Guide Magazine, is an award-winning travel writer based in Savannah, Ga. His seventh and latest book, entitled "Pro's Pros - Extraordinary Club Professionals Making Golf Great!" was released in June 2013. This is the first-ever golf book to shine the spotlight on the beating heart of golf - the unsung, yet hard-working club professional. Joel's course reviews, player profiles, essays and features have appeared in 110 publications, including Sports Illustrated, Golf, Continental Magazine and Delta's Sky Magazine. He has played more than 800 courses in 40-plus states and a dozen countries. For more about Joel, or to order this unique new book, visit www.vagabondgolfer.com.