Don't be Intimidated by Redstone's Brawny Tournament Course
By: Steve Habel
From the tee shot on the 395-yard first hole to the final putt on the immense green at the 484-yard 18th, the Tournament course at Redstone Golf Club in Humble, Texas, is all about space and how you make the most of it.
The par-72, 7,422-yard layout designed by Rees Jones is an oversized Texas masterpiece, just the kind of track you'd expect to see host a PGA Tour event.

Located 16 miles from downtown Houston and five miles from George Bush Intercontinental Airport, Redstone Golf Club occupies more than 376 acres of wooded terrain surrounded by wetlands, lakes and native wildlife. Tournament - the younger brother of the adjacent Member course - has been open since 2005. A year later it began holding the Shell Houston Open.

Jones believes the daily-fee Tournament course's natural space is what most overwhelms players - from those on Tour to everyday golfers. "This course has a wonderful flow to it," he said. "It has beautiful, old-fashioned bunkers, carved like those on courses built in the Depression Era. But the Tournament course was built for today's golfers, giving players chances to make birdies on several holes and forcing them to work to make pars on others."

Jones brought in PGA Tour player David Toms to consult on the design, and the Louisianan provided a lot of access and input. "I think the course is challenging, but fair," Toms said. "There is a good variety of par-4s, par-5s and, particularly, par-3s, so that not one type of player has an advantage."

The feeling of isolation is wonderful - fairways and sight-corridors are free from any housing, leaving players with a feeling of being away from the hustle and bustle of city life that is actually just around the bend.

Greens Bayou winds through the routing to serve as a water hazard; nine holes involve water that encroaches close to putting surfaces. Because of low-mown green surrounds, balls can roll off the greens and end up wet.

With a rating of 75.8, a 138 slope from its back set of five tees and five par-4s stretching 440 yards or more, it would be easy to say the course favors big hitters. Not quite, as the track challenges all elements of the game thanks to a pleasing mix of short holes (four 10 par-4s are less than 400 yards), dramatic par-3s and a sense of fairness throughout.

The round begins at Tournament course with perhaps the best three chances to score. On the opener, avoid the bunkers flanking both sides of the landing area and put your approach on the proper side of the ridge that splits the green for a birdie chance. No. 2 - a 429-yard par-4 - actually plays easier than it looks as it turns slightly right and rises to a multi-tiered putting surface. The 392-yard par-4 third is also accessible, with a long, deep bunker right of the green a concern.

The course turns up the heat on hole Nos. 5 and 6 (467 and 460, respectively), but simmers at the somewhat gentle seventh, a 173-yard par-3 guarded by water left.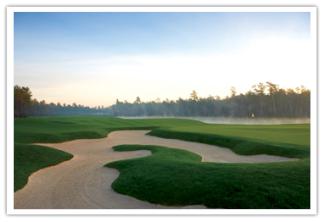 4th Hole at Redstone Tournament Course
Jones allows you to ease into the back nine at the 382-yard par-4 10th, which sports an elevated and multi-level green. Any approach short or right rolls to the base of a slope, setting up a tough chip shot. The 440-yard par-4 11th is perhaps the most demanding driving hole on the course as water guards the entire right side of the landing area and a small bunker lurks left at its far end. The large 11th green is protected by water right and by deep bunkers left and rear.

Speaking of risk-reward, one of the more interesting holes on the Tournament course is its shortest par-4, the 335-yard 12th. With water down the entire right side, longer hitters may be tempted to take a shot at the green; shorter hitters also have a chance as one of the tees is only 238 yards.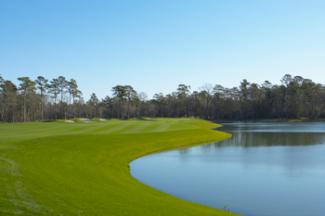 8th Hole at Redstone Tournament Course
The last four holes are tough. The 609-yard par-5 15th has wetlands right and a creek that crosses the fairway in the landing area and is anything but a routine three-shotter. The 16th is a 200-yard par 3 with splendid bunkering and a green at a diagonal, with the back-right pin placement particularly demanding.

It's time to bring out the big stick for the two final holes. The 487-yard par-4 17th has a creek about 300 yards off the tee and fairway bunkers along the right. Adding to the task is that this hole usually plays into the wind.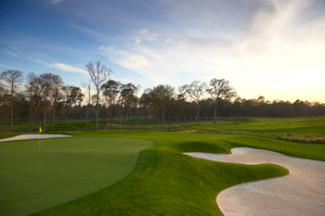 17th Hole at Redstone Tournament Course
The par-4, 484-yard finisher is a real knee-knocker, even for touring pros. A lake runs along the entire left side and the approach leaves little margin for error, with water left and a bunker right.

There is little doubt that some of the holes on the Tournament course play long, but expect to pick up some yardage if you can find the speed slots in fairways to get more run.
Redstone Golf Club has a state-of-the-art practice range with a 100,000-square-foot double-ended teeing area, seven target-greens ranging from 100-300 yards, and an extensive short game practice area. A 33,000-square-foot clubhouse features two pro shops (one members-only), dining areas and a bar, spacious locker rooms, and an outdoor terrace with views of the course.
If you have the time and the money - $150 fees all week long - Redstone's Tournament course is a must-play. For more information or a tee time, visit www.redstonegolfclub.com.
Steve Habel is one of Cybergolf's national correspondents, contributing news stories, features, equipment and book reviews and personality profiles from his base in Central Texas. He is also the managing editor for Business District magazine in Austin and works as a contributing editor for Horns Illustrated magazine, a publication focusing on University of Texas sports. He also writes a blog (www.shotoverthegreen.blogspot.com), which features news on golf and the Longhorns.