Don't Dodge Durango
By: Tony Dear
Long straggly hair tied back in a ponytail, a license to practice psychotherapy and a habit of finishing conversations with the words "Life is good, man," are not characteristics of your typical 21st century golfer, especially at uppity private clubs where appearance and propriety are everything.
You wouldn't find Marty – the hippie psychotherapist in question – at Cherry Hills for instance. The Denver Country Club and Castle Pines would no doubt turn their noses up as well. But at Hillcrest Golf Club in Durango, Colo., self-effacing guys like Marty are everywhere, enjoying their golf while putting the world to rights.
That's what makes this course so very special. It has character, integrity . . . balls. The term 'Rough Diamond' could have been invented for it. Sure it's a bit crude in places and was probably built for the same amount it cost to build one of the tee boxes at Red Sky Ranch, but this is public golf at its humble, anything-goes best. If it were a film star it would be Bruce Willis; hugely charismatic but in need of a shave. And just as Willis battles adversity and the powers of evil in just about every movie he ever made but ultimately ends up smelling of roses, so a number of Hillcrest's holes suffer from a lack of sophistication early on before finishing on some of the finest greens you'll ever see.
Set on a high mesa a couple of miles northwest of the town center, it is now owned by the club's 1,500 members, but run on a non-profit basis and always open to anybody who fancies a quick thrash in the park. The present layout is a complex amalgamation of various nines which have come and gone over the last 30 years, making the origin of some of the holes unclear, although the holes that Frank Hummel added in 1969 are still very much intact.
Approximately $2.5 million have been spent on course and clubhouse improvements since 1981 during which time membership dues have risen just $10 to $245. Clearly, Hillcrest exists to allow as many people as possible the chance of enjoying the game for as little as possible, rather than extracting every possible dollar from the wallets of affluent people who may know the price of everything but the value of nothing. They could easily double the $22, yes $22, green fee here and get away with it.
As with most good courses, Hillcrest's generous landing areas make it eminently playable. But those seeking to better par or perhaps improve on their lowest-ever score, will find it reluctant to give up personal bests that easily. A lone conifer, a fairway trap or a watery grave awaits any shot not hit with due care and attention. PGA Tour star Notah Begay discovered the course could not be bullied during last year's Navajo Trail Open. He finished fourth with a 54-hole total of 208, just five shots under par.
Although Hillcrest offers a very credible challenge, it may not be worthy of the eight-hour drive from Denver by itself. But it is the perfect start to a four or five course tour of the Durango area.
Established in the fall of 1880 when the Denver and Rio Grande Railroad began moving gold and silver ore down from Silverton, 50 miles to the north, the town of Durango sits 6,500 feet above sea level and is now home to 14,500 people who enjoy their largely peaceful lives in the shadow of the San Juan Mountains. A haven for skiers in winter (Ski Magazine recently named Durango as one of its top-10 ski towns in the U.S.), it attracts similarly large numbers in summer with a never-ending list of events, festivals and summer sports.
Golfers are adequately catered to, but it must be said the town is not obsessed with the game to the same extent as places like Myrtle Beach or Orlando, where those that don't play are considered mentally ill. Trent Jones- and Fazio-designed layouts adjoining luxury resorts, spas and any of the other up-market appendages today's affluent golfer looks for do not vie for space here as they do elsewhere.

No, Durango may be experiencing a population increase to the tune of 3 percent per annum right now, but essentially it remains a small and genteel town with just enough golf to satisfy most people. A surge of fully Callawayed and Foot-Joyed four-balls though is definitely not on the cards. It's far more likely, in fact, that much of the green fee revenue in Durango derives from vacationing dads allowed a morning off from family duties to go golfing while Mom takes the kids for a ride on the Durango and Silverton Narrow Gauge Railroad.

Fifteen minutes into its three-and-half-hour journey, the train puffs gently past the Ken Dye-designed Dalton Ranch Golf Club, six miles north of town. Despite its location right in the path of last summer's forest fires – dubbed the Missionary Ridge and the Valley – the course somehow managed to avoid them. Although 70,000 acres of surrounding forest and 56 homes were consumed, the course itself suffered only minor damage to one of the tee boxes.

"It was pretty scary for a while," said head pro Fal Wood. "The Valley Fire swept down the hill to the west of the course, crossed the highway and set light to a corner of the 6th tee. But the irrigation system dealt with it quickly. We were very fortunate."

Characterized by narrow fairways and roly-poly greens made all the more demanding by a gusty wind that according to Wood "rarely stops blowing," Dalton Ranch is the sort of course where you can strike the ball sweetly all day yet still walk off with a score that's best forgotten. The well-maintained, bentgrass greens are every bit as smooth and quick as those at Hillcrest and, while the approach to at least half the holes is threatened by the Animas River or the handful of lakes and creeks that pop up now and again, there's nothing the average golfer shouldn't be able to handle.

Not surprisingly, plenty of visitors have left Dalton Ranch singing its praises, including one chap who actually compared the 17th hole to the 18th at Pebble Beach (there must be two Pebble Beaches). If you're down this way you really should check it out, but again, if it were the only course in the area you might have a hard time justifying the 300-plus-mile drive from the Front Range.

If you knew how good The Cliffs at Tamarron was, however, you might happily walk to it from the Front Range even with a 40-pound golf bag strapped to your back. This mountain masterwork has been here since 1975 when Arthur Hills cut a swathe through the San Juan National Forest 18 miles north of Durango and fashioned the course that firmly established him as one of the nation's premier course architects. Top-100 accolades are bandied about like confetti these days, but here is a venue where every award, nomination and five-star rating is genuinely deserved.

Without getting too melodramatic, playing Tamarron alone at 7:30 a.m. in the cool mountain air just as the sun has started laying giant ponderosa shadows across the fairways can be an emotional experience. If there are 18 more picturesque, more inspiring and more fun-to-play holes in the state than these, I've yet to see them.

But, and it's a big but, Tamarron is in the process of turning private. A new nine is currently in the construction stage and when it's opened, sometime in 2004, work on a new irrigation system and cart paths on the existing 18 will commence. When all 27 holes are ready for play, the club will go private and getting a tee-time suddenly won't be as easy. Patric Flinn, the director of golf, is reluctant to say when all this is likely to happen, but the message is clear: get yourself down there before it's too late.

Overlooking the course from its perch high on a hill sits the impressive Tamarron Resort (okay, there is one golf resort near Durango), a Sheraton property until November last year, but now privately owned. Like the course the hotel is a special place and, as far as golfers traveling to Durango are concerned, the clear favorite. The staffmembers are so friendly you wonder what they're after besides a tip, and the 411 accommodations (made up of 287 condo rooms and 124 hotel rooms) are large enough to swing a golf club in – as good a method of rating a room as I can think of.

If you want to be closer to Durango's storied downtown with its varied selection of restaurants, bars, shops and the like, you're better off in the historic Strater Hotel on Main Street. Established in 1887 by John Strater, a Cleveland pharmacist who had little business acumen and less money but went ahead and built his dream retreat anyway, this well-known landmark is a charter member of the Historic Hotels of America.

If you're into antique walnut furniture – and who isn't – this is the place for you as the four-story, red brick building houses one of the world's largest collections. The 93 guest accommodations are all superbly appointed but rooms 222 and 333 deserve a special mention. For more than 10 years, writer Louis L'Amour and his family spent the entire month of August in room 222 directly above the Diamond Belle Saloon. L'Amour would divide his time between writing (much of his 17-novel series 'The Sacketts' was written here) and hiking the La Plata and San Juan Mountains. And Vail resident Gerald Ford first stayed in room 333 in 1976 when he and Ambassador Firestone purchased KIUP and KRSJ, two of Durango's most popular radio stations.

A visit to the Strater should include an evening at Henry's Chop House, where the Veal Porcini and Pepper Steak Herbert come highly recommended, and be followed by a visit to the hotel's very own theater where, between June and September, you can boo and hiss the caddish villain as he sneaks off with the cash in the Diamond Circle Melodrama.

Equally fabled is the Jarvis Suite Hotel, built in 1888. It's listed on the National Register of Historic places and has 22 of the most charming and elegant suites in town. At the northern end of Main Avenue you'll also find the obligatory line of hotel/motel chains where considerably lower room rates make up for the absence of antique walnut furniture.

After a stay of four nights you may well have exhausted the town's list of golf courses, but there are several more within a 50- or 60-mile radius you can play on your way to or from Durango. In the Telluride/Ridgway area you'll find a couple of stunners definitely worth a detour off Highway 550.

At the Telluride Ski and Golf Club, a distance-enhancing 9,300 feet above sea level, you'll learn just how far you can hit a ball in a vacuum. I'm joking, of course. There is some air up there, it's just not that easy to find.

Much of the round is spent wondering how on Earth anyone could envisage a course here, let alone build it while the rest of the time you wonder how anyone could conceive of some of the houses dotted around the property – let alone afford to buy them. This is some seriously desirable and expensive real estate.

Tellurideskiresort.com describes the course not only as 'links style' but also as one of the most spectacular in the world and, while the first of those statements is laughably inaccurate, they definitely have a point with the second. Gilpin Peak, Potasi Peak and Mount Sneffels rise impressively to the north and make for superb vistas from many parts of the course, while four of the six par-3s (Nos. 2, 3, 16 and 17) are just about as good-looking a bunch of one-shotters as you could possibly find. If you like spectacular looking holes with severe elevation changes (some are so great your ears often pop between tee and green) and big carries off the tee, then you'll love it here.

But, personally, I think it looks a whole lot better than it plays. Give me the less theatrical, more traditional layout of Ridgway's Fairway Pines Golf Club any day. Set atop Log Hill Mesa at 8,000 feet and completed in 1996, this little beauty is just made for that sun-up tee-time. Golf Digest, which doesn't dole out stars lightly, awarded it four-and-a-half out of five in 2000.

Other courses worth a look within easy driving distance of Durango are the Johnny Bulla-designed Pagosa Springs to the east, Press Maxwell's Conquistador in Cortez, and Ken Dye's Piñon Hills, just across the state line in Farmington, N.M.

The 336-mile drive from Denver still puts a lot of folk off the idea of going down to Durango for a few days' golfing. But isn't it for trips like this that you bought that honking great, 4-liter SUV that's sat in your driveway? Go on, fill 'er up, throw your sticks in the trunk and hit the road. There are courses in this neck of the woods you don't want to miss.

The above story first appeared in the April 2003 edition of Colorado AvidGolfer Magazine.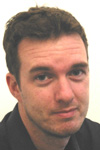 Tony Dear has been writing about golf for 11 years. A former assistant club pro from Sussex, England, Tony started out as a freelancer in 1992 before taking a staff writer's job at Fore!, a magazine based in Peterborough. As the magazine's chief instruction writer, it was Tony's job to compose instructional articles aimed at a youngish readership whose letters to the editor suggested they often got confused by technical jargon and theory. Tony bought his simple approach to teaching golf to the magazine, helping boost sales by 10,000 issues. As a result, he was nominated within the company and nationally for Young Writer of the Year awards.

From there, Tony moved 20 yards across the Emap UK office to join Today's Golfer. There, he was soon promoted to a senior editorial position, focusing on equipment, and became a significant part of a team that saw sales figures double within the magazine's first 12 months.

After three years at Emap UK, Tony was dragged kicking and screaming across the Atlantic by his American wife ('not really, I love it over here') and, after short spells in Phoenix and Denver, wound up in Seattle in May 2003. He recently moved to Bellingham in the far northwest corner of the far Northwest of the U.S. and became a father to a son on whom he has already staked £5 for the 2029 Open Championship. At present, he is freelancing for a number of print and online publications back in England including Today's Golfer, Golf World, Bogey, The Open Championship Magazine and Casino.com. He is also a contributing editor for Denver-based Colorado AvidGolfer.

Recent features include a look at Colorado's self proclaimed 'links' courses, an interview with Suzy Whaley, with whom he played nine holes ('and got soundly thrashed') and a 64-page instruction supplement for Today's Golfer.

Tony has authored three books in the last five years and been nominated for several specialist and young writers awards. 'Although I've never actually won one,' he admits. He is a member of the Northwest Golf Media Association and the Golf Travel Writers Association based in London.