Don't Say 'Shoulda, Woulda, Coulda' - Go Play Woodmere!
By: Jay Flemma
I owe lunch in Manhattan to Howie Munck (Good Ol' Howie Munck!), the kind-hearted, affable tournament director for the Met Golf Writers Association, who turned me on to a hidden gem of a golf club, one that I'd never heard of and that has flown below the radar of even the most well-traveled golf course aficionados for decades.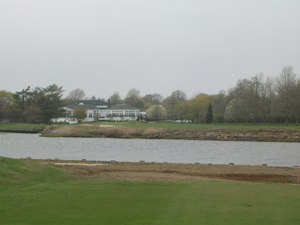 The 18th Tee at Woodmere
When I got the invitation to play Woodmere Golf Club, just steps away from Rockaway Hunting Club and JFK airport, I accepted more out of desperation than anything else. Winter in NYC has been flat-out dismal, and the last few "springs" have been nothing but cold, rain and snow. This year, in particular, has been long, icy and wet, so the first Met Golf Writers outing of the year could have been almost anywhere (except Turning Stone Casino, the most insufferable buzzard roost in golfdom), and I would have accepted just to get out and swing the club and pal around with my writer mope buddies.

I'd have been happy playing Bushwood with Smails and Spaulding, just to shake off the winter blues, but when I got to Woodmere and had a chance to look around? Well to quote Marty DeBergi in "Spinal Tap," "I got more . . . a lot more."

As an aside, don't you just gotta love Marty DeBergi? "That little dog that chases the covered wagon under the sink? . . . That was mine."

Anyway, I don't know how Howie found Woodmere, but he did the golf course architecture world a great deal of good by sending writers there. Now we get to tell you all about this really cool little place that is part of the Seth Raynor portfolio of courses, which makes Woodmere part of the most important bloodline in all of golf course architecture: Charles Blair Macdonald, Seth Raynor and Charles "Steamshovel" Banks, the men that gave us National Golf Links of America and all its progeny.

Woodmere started as a tennis club in 1908 and a golf course existed there as early as 1912, but it wasn't until the late '20s when course pro John Pirie (pronounced "PEER-ee") asked Raynor to come in and design a first-rate layout on the property. Although several other designers have worked at the club in the decades since, much of Raynor's work, especially the greens, still exists in some form today.

Several examples of what the industry (except architect George Bahto) calls "template holes" - those frequently used by the bloodline - are on display at Woodmere, including a "Short" (16), a "Punchbowl" (13), an "Eden" (3), a "Lion's Mouth" (15) and a "Redan" (9). The green contours, perhaps the most important facet of any good golf course, are excellent, meaning the adventure on any given hole only continues, if not increases, upon reaching the green. Playing to a par of 70, Woodmere only has two par-5s: the reachable but uphill 5th and the 12th with its approach over a pond.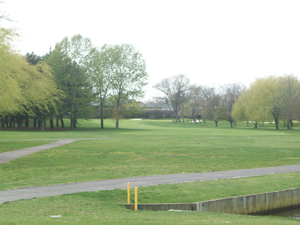 From Woodmere's 4th Tee
Woodmere also has been reworked by Robert Trent Jones and Brian Silva, but hardcore golf design fans shouldn't get the wrong idea: much of Raynor's work at the green complexes remains intact. The official club history says that Jones designed nine holes between 1949 and 1952, including the excellent 17th and 18th, which abut Woodmere Channel and require players to carefully choose their line, biting off as much of the hazard as they dare chew with their tee shots. Silva did extensive bunker restoration in 1987.

While most of the par-4s are less than 400 yards, the penal greenside bunkering and severe Raynor green contours defend par so admirably, Woodmere has hosted three well-received Met Opens in its history.

In 2005 architect Stephen Kay did a master plan of restoration. "We focused largely on repositioning the bunkers so that they properly challenge players off the tee, but they also wanted them to look nostalgic, to look a little more ornate."

Much of Kay's plan was accomplished in the fall seasons of 2005-07, but there is still plenty of upgrade work that needs to be done. For example, Woodmere sits on particularly heavy soil that does not drain easily. A few new French drains might not go amiss. Better playing conditions will be critical to the club maintaining pace with its competition for those all-important membership dollars.
No. 16 at Woodmere
Also, Woodmere desperately needs a shave: bust out the chainsaws, pay a few college students some summer beer money and tell them, "cut down every tree you see . . . starting at No. 4!" which has trees rudely intruding upon the line of play and severely limiting the airspace needed to play the hole. There is no greater nuisance on a golf course than a tree - the roots desiccate the ground horribly and the shade is harmful to the greens. Just ask Oakmont or Sleepy Hollow how happy they are after cutting down 5,000 trees. It's a world of improvement. You also open up wide expanses of the course to scenic vistas.

Finally, there are many side-by-side holes, including nearly identical par-3s at 11 and 16 that are roughly the same distance and play in the same direction (but have vastly different green contours). Some tee boxes even have the dreaded "baseball chain-link fencing" that provide protection from wayward shots coming off other fairways.

One of these actually provided a comedic moment. After hooking his first drive out-of-bounds into the driving range, my playing partner pull-topped his third shot about 20 yards off the tee. He then drilled the fence post with a screaming liner off a 3-wood. The ball rocketed off the post and zoomed backwards, sailing over his head (as well as mine), nearly killing two spectators and landing in the water hazard behind the tee box.
That's right…he was hitting six from further away than when he began the hole.

Even though Woodmere faces challenges to draw memberships in the hyper-competitive world of greater-NYC private golf, they are slowly but surely making improvements. Despite these challenges, with its devilishly tricky greens, outstanding finish along the channel and warm welcoming membership the club has carved itself a niche in the New York City market as one of the old, venerable, historic clubs, much like Inwood.

"It's an old course, with a solid pedigree and firm place in history as one of the really good New York City clubs," agrees Kay.

The course has a gold-standard pedigree which it should research more deeply and strongly accentuate to potential members. Being part of the Macdonald-Raynor-Banks bloodline will attract ardent golfers from across the country who seek solid golf course architecture as their top priority in a club. It's also possible that another great Golden Age architect, Devereux Emmet, may have done work at Woodmere. Some researchers are examining this question as we speak, and I may have updates for you on that issue soon.

Woodmere will find itself in greater demand if the members preserve and promote those classic, strategic design features of their course, and such a venerable lineage will help them compete with the Inwoods and Rockaway Hunting clubs of the world, their direct competition. There's a lot to like here, so come and see for yourself. Who knows? You may be the next new member. And then you won't lament "Shoulda, woulda, coulda" every time someone tells you how much fun it is.
Woodmere Golf Club
99 Meadow Drive
Woodmere, NY 11598-2299
(516) 295-2500
http://woodmereclub.com


Since launching his first golf writing website in 2004, http://www.jayflemma.thegolfspace.com, Jay Flemma's comparative analysis of golf designs and knowledge of golf course architecture and golf travel have garnered wide industry respect. In researching his book on America's great public golf courses (and whether they're worth the money), Jay, an associate editor of Cybergolf, has played over 220 nationally ranked public golf courses in 37 different states. Jay has played about 1,649,000 yards of golf - or roughly 938 miles. His pieces on travel and architecture appear in Golf Observer (www.golfobserver.com), Cybergolf and other print magazines. When not researching golf courses for design, value and excitement, Jay is an entertainment, copyright, Internet and trademark lawyer and an Entertainment and Internet Law professor in Manhattan. His clients have been nominated for Grammy and Emmy awards, won a Sundance Film Festival Best Director award, performed on stage and screen, and designed pop art for museums and collectors. Jay lives in Forest Hills, N.Y., and is fiercely loyal to his alma maters, Deerfield Academy in Massachusetts and Trinity College in Connecticut.