Dorado Beach Diaries - Chi Chi Talks Golf & Life
By: Jay Flemma
There's still no one like former PGA Tour star Chi Chi Rodriguez, the "Clown Prince of Golf," a walking one-liner who brings the sun with him wherever he goes, and one of the key members of Puerto Rico's Pantheon of iconic athletes. He can make the whole room fall apart with laughter, then shed a tear of joy after hearing him tell a touching story that makes us all remember why we love golf so much. When he's around, Dorado Beach resort could be in Iceland instead and we'd still feel the warmth.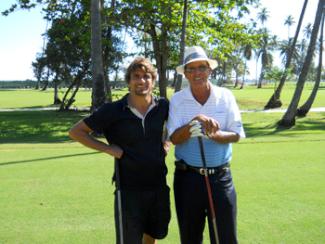 Jay & Chi Chi
"He's a national treasure. We couldn't have asked for a better ambassador - for Dorado, Puerto Rico and for golf," said a beaming Jim Helms, general manager of the Dorado Beach resort. "There's no one like him, and golf is so much richer for having him."

"He's one of the finest gentlemen in sports," agreed venerable sports writer Marino Parascenzo. "And what an inspirational story! You know how Andy North once joked around that Ben Crenshaw could play golf with a rake and an Easter Egg? Well Chi Chi and his friends were so poor growing up they played with a Coke can crushed into the shape of a golf ball. How's that for dedication? That'll make you learn a good golf swing pretty quickly!"

As Chi Chi celebrated his 76th birthday October 23rd by joining us at the East Course's grand reopening, we got the chance to play a few holes and have many more laughs with the quickest wit in golf. Here's Chi Chi in his own words, on any topic you like:
On the newly renovated East Course at Dorado Beach Resort:

"With the work Mr. Jones did here, this course could host any tournament, any tour. The changes are all for the better; better bunkers that cut further into the fairway and are placed right where today's equipment puts your drive, better grasses are fast but sturdy, and better greens that have more pin placements. When you play a course like I have for 55 years, yet it's still fun and tough every day, that's when you know it's a masterpiece, and that's the East Course for you. Playing here is like looking at the Mona Lisa. You must come and visit. Me casa su casa."

On the Jones family:

"When he was alive, Trent was the premier architect in the world. Now his son Bobby is."

On his favorite golf courses:

"Well of course I love Tam O'Shanter. I shot 268 and broke Byron Nelson's record."
On Sam Snead:

"He was my best friend on the Tour. We used to play all our practice rounds at the Masters together."

On growing up playing baseball:

"I was an infielder and I had a back up named Roberto Clemente, meaning my manager must have been a real genius."

To a guy who asked Chi Chi to straighten out his swing, then hit one in the woods:

"Don't tell anybody I gave you a lesson. They'll never ask me for advice again."

To the same guy when he agonized after a missed putt that, "Oh no, it's not hard enough":

"I haven't heard that since my honeymoon"

And one more time to the same guy after a ghastly tee shot:

"You just turned a par-3 into a dogleg!"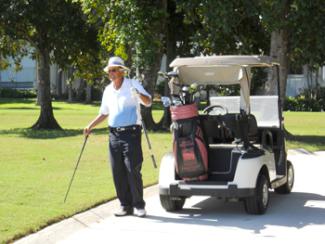 Chi Chi Grabbing a Weapon
On the famous "Hinkle Tree" incident at Inverness in the 1979 U.S. Open:

"I went over those trees too. I teed up my ball with a golf pencil. I hollowed out the top with a divot tool because they don't allow Puerto Ricans to carry knives in Ohio."

On taking his time in golf and in life:

"I'm so slow I don't even buy green bananas"

On Alex Rodriguez:

"Everybody thinks he's my son or my cousin."

To a guy who said to Chi Chi, "Man, you're everywhere!"

"That's because I come in 6-packs."

On Keegan Bradley:

"He's the Player of the Year and golf's next great superstar. I think he should wear different colors though."

On Phil Mickelson missing short putts in majors:

"I told him you putt like a rank amateur. Don't think so much about it, just trust yourself. Get the caddie to give you the general break and the distance and go put it in."

On technology:

"Email? Me? I can't even turn on the radio!"
On Tiger Woods:

"He's got to get away from these teachers he's working with that can't even break 80 themselves. He's also got to switch back to a 43-inch driver. I wrote a letter to him and to Nike that when he played with the 43-inch driver, he hit every fairway and was unbeatable. Now with the longer driver, he fell from first in driving to what? 17th? It's too long and he has to wrap it around him . . . no one can hit a fairway with a driver that's too long. You see what Nicklaus did when he had the right length driver."

On clubs:

Chi Chi: "Jay what's your favorite club?"

Jay: "My putter, why?"

Chi Chi: "Mine's Canadian Club!"

On clubs 2:

"They need to outlaw the long putter. They outlawed my long driver, so why is it fair that they can use that thing? It's not a golf swing. I wrote the USGA and said 'if it's for the integrity of the game, you have to be consistent.' Too many of these young kids are using it."

On steroids/PEDs:

"I don't care what you use, I'm gonna beat you anyway. But you have to understand human nature. For $100 million, you'd probably use them too."

On life:

"Yesterday is history, tomorrow's a mystery, so live for today!"
Since launching his first golf writing website in 2004, http://jayflemma.thegolfspace.com, Jay Flemma 's comparative analysis of golf designs and knowledge of golf course architecture and golf travel have garnered wide industry respect. In researching his book on America's great public golf courses (and whether they're worth the money), Jay, an associate editor of Cybergolf, has played over 420 nationally ranked public golf courses in 40 different states, and covered seven U.S. Opens and six PGA Championships, along with one trip to the Masters. A four-time award-winning sportswriter, Jay was called the best sports poet alive by both Sports Illustrated and NBC Sports writers and broadcasters. Jay has played about 3 million yards of golf - or close to 2,000 miles. His pieces on travel and architecture appear in Golf Observer (www.golfobserver.com), Cybergolf, PGA.com, Golf Magazine and other print magazines. When not researching golf courses for design, value and excitement, Jay is an entertainment, copyright, Internet and trademark lawyer and an Entertainment and Internet Law professor in Manhattan. His clients have been nominated for Grammy and Emmy awards, won a Sundance Film Festival Best Director award, performed on stage and screen, and designed pop art for museums and collectors. Jay lives in Forest Hills, N.Y., and is fiercely loyal to his alma maters, Deerfield Academy in Massachusetts and Trinity College in Connecticut.