Double Honors for Black Horse GC
Black Horse Golf Club, a 36-hole all-bentgrass facility on the Monterey Peninsula, received two recent honors. In December the Bayonet course finished seventh and its sister course Black Horse 10th in Golf Digest's "Best Remodel" list for 2009.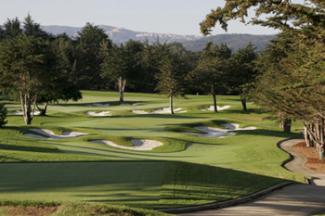 Bayonet's No. 17 Tee
The category is part of the magazine's annual "Best New Courses" survey conducted by its panel of nearly 950 raters. Courses are rated using five criteria: shot values, design variety, resistance to scoring, memorability and aesthetics. Bayonet and Black Horse were the only two public courses to make the list.
Bayonet and Black Horse reopened in December 2008 after a $13 million renovation by Gene Bates, principal of Florida-based Bates Golf Design Group. Both courses underwent dramatic view-shed alterations and hole re-routings to reveal ocean vistas and improve playing options. Bunkers, tee boxes and greens were completely rebuilt to USGA specifications.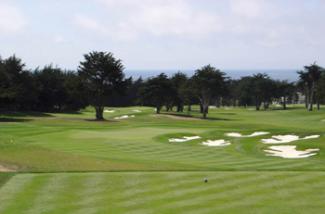 The 15th Hole at Black Horse
"This is a tremendous honor and validation of the hard work and dedication of our staff and Gene Bates' team that went into making Bayonet and Black Horse two of the best golf courses in the region," says Dick Fitzgerald, project director for owner/operator Seaside Resort Development. "The recognition by Golf Digest will increase awareness among avid golfers in search of an unforgettable, yet affordable, 36-hole golf experience."
The agronomic enhancements to both courses were equally dramatic: invasive kikuyu and poa annua grasses on the tees, fairways and greens were replaced with Jacklin T1 Bentgrass, a rarity on the Monterey Peninsula and a turf that produces superior lies and smoother putting surfaces.
The "Best Remodel" honor is the second given Bayonet this year by Golf Digest. In April, the layout was named to the magazine's "50 Toughest Golf Courses" list, ranking No. 35 in criteria involving overall difficulty (slope rating, course rating and reputation).
For more information, rates and tee times, visit www.bayonetblackhorse.com.