Double the Fun off the Beaten Path at Squaw Valley Golf Club
By: Steve Habel
The notion of building affordable-to-play but excellent golf courses as tourist attractions in rural areas is one that can push the game to greater heights during the current economic climate. It may also end up being one of the top initiatives for the industry in the coming decade.
So give credit to the commissioners and populous of Texas' Somervell County for being ahead of the curve in their thinking about golf and its impact on tourism. Way back in 1992, the county - which then included just 5,360 residents - decided to commission the building of a top-notch golf course to lure visitors from the Dallas-Fort Worth Metroplex (some 60 miles to the northeast) and Waco (70 miles to the south and east), and Squaw Valley Golf Club was born.

Starting as an 18-hole championship course designed by Arlington, Texas-based golf architect Jeffrey D. Brauer, Squaw Valley GC was, in 2001, expanded to 36 holes with the addition of a new course fashioned by Brauer protégé John Colligan. Now the club and its two tracks - Apache Links (Brauer's original) and Comanche Lakes (Colligan's acclaimed design) - are consistently rated among the top public-access courses in the Lone Star State. The two courses have their own personalities, and each is really fun to play.

Located just northeast of the town of Glen Rose (which has a population of less than 3,000; fewer than 7,000 people now live in the county), Squaw Valley offers golfers a serene and satisfying golfing experience. The club and its two tracks feature beautiful vistas of century-old oak trees that define rolling plains, while Squaw Creek meanders through both courses, creating carries over water on numerous holes.

The club's site and its two courses are a study in contrast. The eastern portion of the property is virtually flat and treeless, while the western half contains large native live oak, pecan and bur oak trees. The routing allowed the site's existing ranch house and barn to be converted into the clubhouse and cart storage, saving the county hundreds of thousands of dollars while adding character to the project. In addition, Squaw Creek moves through the western half of the site, cascading over several small waterfalls.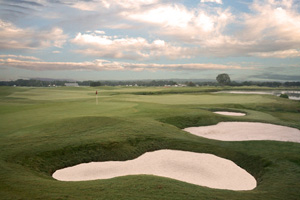 No. 7 at Apache Links at Squaw Valley
Apache Links True to its Roots after a Renovation

As its name suggests, the original course here is a links-style track chock full of pot bunkers and rolling fairways. It plays to a par of 72 and at 7,063 yards from the tips, where it carries a rating of 73.6 and slope of 130. The track has a variety of water hazards that come into play. The front nine is open, while its back is features undulating landing areas pinched by trees.

Apache Links offers true birdie opportunities on every hole, as long as you play smart and your game is in fine fettle. The front side is designed to give golfers a true European experience with open terrain and wide gently rolling fairways, many relatively straight holes, rough cut just right, loads of berms and plenty of bunkers.

It all starts on the first hole, a 387-yard par-4 with two fairway pot bunkers that offer golfers an opening risk-reward scenario - one that players face throughout the round. The decision on No. 1 is whether to play it safe with a 3-wood or long-iron off the tee or to try to fly the bunkers with driver.

No. 6 might be the Apache Links' most striking hole as the 170-yard par-3 shows both the beauty and the danger of a links-style one-shotter thanks to pot bunkers on three sides of its green. The 362-yard par-4 seventh also asks for a decision: should you risk a drive over the huge lake that requires a carry of some 260 yards or do you play to the landing area right of the water - which is still anything but automatic and brings the hazard into play as well?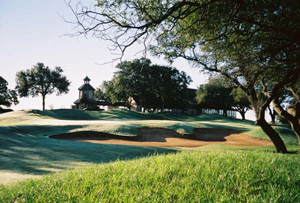 Apache Links' 18th Hole
Course officials consider Apache Links' back side as the club's top nine-hole set as its finishing holes run along the creek but still manage to maintain the links feel. Although that body of water enters play on seven of the nine holes, the links style is never lost; there are still pot bunkers and high grass aplenty. Overall, Apache Links' back nine is more traditional with plenty of variety (rolling hills, some ups and downs, doglegs, berms, streams to cross and lots of trees) with all the elements adding up to some very fun and challenging holes.

Apache Links' back nine opens with a 199-yard par 3 and then navigates around the creek. On No. 14 (a 182-yard par-3) you will need to carry the creek and a waste area to reach a sloping, well-guarded green. The toughest hole by handicap on the track is the 462-yard par-4 15th, a dogleg-right with a downhill shot over the creek to a narrow landing zone that plays shorter than it looks. Beware: if you are too short off the tee you can't see the pin. The putting surface is guarded on the right by trees, the creek and bunkers.

A $2.2 million renovation of Apache Links by Colligan was finished in September 2008. The greens were re-grassed (they're now MiniVerde Bermuda) and to redesign the bunkers with flat bottoms and grass faces, ensuring a more "links" appearance. A new irrigation system was also installed.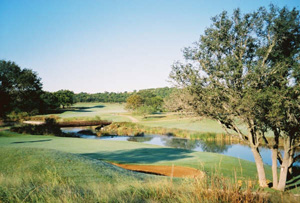 Comanche Lakes at Squaw Valley
Comanche Lakes is Second but not Second-best

As the second course for Somervell County's golf complex, Comanche Lakes features large teeing areas, broad-shouldered fairways and greens that average some 9,000 square feet to allow high-handicappers to find a typically misdirected shot as well as provide the low-handicapper a challenge.

The course complements Apache Links with a more traditional design approach, boasting visual and strategic variety throughout. Comanche Lakes, which opened in 2001, is a 7,000-yard par-72 test rated at 73.9 and sloped at 132 from the tips.

Colligan describes Comanche Lakes as a target-style course that challenges the golfer's accuracy with more than 100 bunkers and many water hazards. Tees, fairways and rough are TifSport Bermuda, while greens are TifEagle Bermuda. The track offers some very nice holes and considerable variety.

The round opens with a straight-ahead 445-yard par-4 (one of five two-shotters over 430 yards long). The front side's toughest hole is the 461-yard ninth, a par-4 that is narrowed in the landing area by bunkers and trees on both sides.
The 332-yard par-4 10th offers birdie chances, but if you choose not to swing for the green in one, lay way back as the fairway pinches near the putting surface.

All four of the par-5s at Comanche Lakes can be reached in two shots, though each extends in a different direction. Your best chance at getting home in two is on the 509-yard par-5 18th, but don't be short as the creek crossed the fairway at the green's front.

Squaw Valley Golf Club has been ranked as one of the top facilities in the state, with both courses lauded among the top-five Municipal Courses in Texas by the Dallas Morning News. Additionally, the venue has been given a four-star rating by Golf Digest. The club is full-service with a 45-person driving range, putting greens and expansive short-game practice areas.
Golf Drives the Economy in Glen Rose

There's not much to look at on the way from Fort Worth to Glen Rose, and the thought of playing golf in such isolation is, at least for me, part of the appeal. Squaw Valley GC is built upon ground inhabited by dinosaurs millions of years ago, and the town of Glen Rose is affectionately known as the Gateway to the Texas Hill Country.

It seems that Somervell County (which owns the club) was right on target when it built the courses. Area merchants see Squaw Valley as a tourist attraction as hotels and restaurants have popped up around it to accommodate the visitors. With more amenities, Squaw Valley has become a desired destination for business tournaments and weekend getaways, and that the courses are of great quality is a huge factor in getting golfers to make the trip.

"We have a lot of people come out here for outings and tournaments," Squaw Valley GC head professional Duff Cunningham said. "We're kind of becoming a resort destination with all of the hotels around town and the golf course. The two courses give you anything you'd want on a golf trip."

For more information or a tee time, visit www.squawvalleygc.com.
Steve Habel is one of Cybergolf's national correspondents, contributing news stories, features, equipment and book reviews and personality profiles from his base in Central Texas. He is also the managing editor for Texas CEO Magazine and works as a contributing editor for Horns Illustrated magazine, a publication focusing on University of Texas sports. He also writes a blog (www.shotoverthegreen.blogspot.com), which features news on golf and the Longhorns, and another (www.checkinginandplayingthrough.blogspot.com) on his many travels, which took him across the nation and to 105 different golf course in 2009. Habel is a member of the Golf Writers Association of America and the Texas Golf Writers Association.