Double the Pleasure at Michiana's Whittaker Woods & Lake Michigan Hills GC
By: Steve Habel
Michiana, the area encompassing the southwestern corner of Michigan and northwest Indiana, is a paradise for vacationers about 60 miles from Chicago.
Given the fact that the region is a place to enjoy and relax away from the hubbub of the "Windy City," it's only natural that Michiana sports a handful of great golfing options, several within minutes of each other and all featuring settings alongside Lake Michigan.

Two of those options are Whittaker Woods Golf Club in New Buffalo and Benton Harbor's venerable Lake Michigan Hills Golf Course, both of which are challenging tracks that offer wooded, rolling fairways buffeted by the winds off the giant lake. Each course is a great test of skill at a great price, two aspects that draw players here in waves.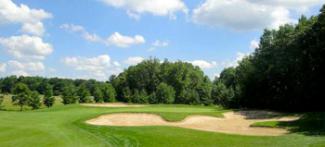 Whittaker Woods GC
"An Artistic Walk Through Nature"

Designed by the late Ken Killian, who also fashioned, among others, the much-ballyhooed Kemper Lakes GC in Chicago, Whittaker Woods winds up and down hills, past ponds and wetlands, and through mature arboreal specimens.

The course gets its name from Captain Wessel Whittaker, one of the region's original settlers. Whittaker ran his ship aground on Lake Michigan coastline near what is now New Buffalo in 1834 and fell in love with the landscape, which he described as "a natural harbor surrounded by dunes and tall trees where a river flowed from the surrounding woodlands into Lake Michigan."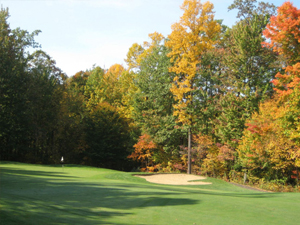 The Foliage at Greenside at Whittaker Woods GC
Plenty of these aspects are on display at Killian's course, which opened in 1996 and plays to a par of 72 and at 7,072 yards from its back set of four tees. Whittaker Woods requires players to be straight and strong off the tee, as evidenced by its tough par-4s; seven of the 10 two-shotters stretch more than 400 yards from the tips, including three over 450 yards. Then there is a pair of back-nine par-3s at 199 yards-plus.

The bunkers are placed in spots where they're factors, while mounding on several holes bounce shots left or right away from landing areas, complicating things for those unfamiliar with the layout. The greens here are mammoth, which makes accuracy even more crucial.

Overall, Whittaker Woods - which is rated at 74.3 and Sloped at 144 from the tips - is a tough but fair layout that rewards good play but penalizes those not on their games. The track features some beautiful wooden bridges that carry carts through scenic marshes and wetlands. A quirk is that the course is devoid of left-to-right par-4s, all of its doglegs bend leftward to favor right-handed drawers of the ball.
The fun at Whittaker Woods continues after the final shot as the facility's clubhouse is worth the trip all by itself. With a full bar and terrific dining atmosphere, the structure has the woodwork and stone one might expect from its origins as a 1920s farmhouse along with an amazing and eclectic assortment of memorabilia and sculptures inside and out.

Located in Michiana's charming Harbor Country, Whittaker Woods is definitely a part of the Chicagoland golf scene and just a 90-minute drive from the Windy City. The course is literally steps from the Indiana state line, so much so that during a round you play in both the Eastern and Central time zones.

Players who've tackled Whittaker Woods (including this reporter) understand that the key to enjoying the course is not overestimating your ability. Play from the tees that best suit your game.

For more information, visit www.golfwhittaker.com.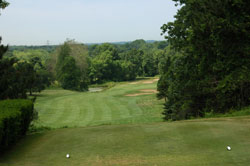 Downhill Drives are Abundant
at Lake Michigan Hills GC
Apple a Day Might Help you Master Lake Michigan Hills

A half-hour further north up the coast sits Lake Michigan Hills Golf Club, a course routed through land that was formerly an apple and pear orchard and is chock-full of elevation changes not usually found in the Great Lakes region.

Its greens surrounds are punctuated by bunkers - 59 are scattered about. Bold, rolling putting surfaces, deep woods, serene ponds and contoured fairways are the course's hallmarks.

Lake Michigan Hills was designed by Charles Maddox and opened for play in 1969. The par-72, 6,884-yard track carries a 73.0 rating and a 133 Slope, but usually plays much tougher thanks to the prevailing winds off the Great Lakes.

Lake Michigan Hills GC
Maddox's course has only one over-the-top par-4 (you get that right out of the box on the 455-yard but downhill opener), yet players can't let the yardage book lull them into a false sense of security. Golfers will need to play every shot in their repertoire here, as the round switches back and forth from bang-it-and-watch-it-fly downhill holes to tight doglegs, uphill and long par-3s and reachable par-4s and -5s.

Perhaps Lake Michigan Hills GC's best stretch is found on the back nine, where Nos. 14-16 spell either agony or ecstasy on one's scorecard. The 14th is a dogleg-left that curls past a huge tree and then runs downhill; the approach reverses back uphill to a green guarded both sides by sand.

No. 15 (a 496-yard par-5) can be reached in two, but an apple orchard and ditch along the right must be cleared. Approaches must find a pear-shaped green that expands to the back while sloping toward the front. The 16th, a 397-yard par-4, mirrors the 14th without the mid-fairway rise. The apple orchard from No. 15 is in play along the right and a large willow blocks most attempts to cut off the dogleg.
Always rated near the top of southwest Michigan's public golf courses, Lake Michigan Hills has consistently received a four-star rating from Golf Digest and is listed on the magazine's list of "Best Places to Play."

For more information, visit www.lakemichiganhills.com.
Steve Habel is one of Cybergolf's world correspondents, contributing news stories, features, equipment and book reviews and personality profiles from his base in Central Texas. He is also works as a contributing editor for Horns Illustrated magazine, a publication focusing on University of Texas sports, covers the Longhorns for CBS Sports, is regional editor for Texas Golfer magazine and files stories for Golf Oklahoma magazine, Texas Links magazines and Golfers Guide. Habel's main blog (www.shotoverthegreen.blogspot.com) features news on golf and the Longhorns, and another (www.checkinginandplayingthrough.blogspot.com)chronicles his many travels, on which he has played more than 350 golf courses since 2009. Habel is a member of the Golf Writers Association of America and the Texas Golf Writers Association.