Double Trouble - Grayhawk's Talon & Raptor Courses among the Best in 'Valley of the Sun'
By: Steve Habel
If you're a golfer or a golf traveler - and that's likely the case if you're reading this - you're well aware that if there is a golf heaven, a place you could play a different and invigorating course every day of the year, it's the "Valley of the Sun," the megalopolis surrounding Phoenix, Ariz.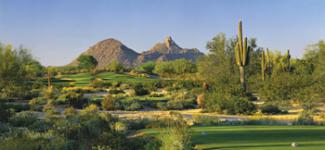 Grayhawk Golf Club
The offerings of great golf here are seemingly endless, as courses work hard to out-do each other to draw patrons and give customers an experience that will bring them back again and again.

To that noble purpose is the pair of highly-rated tracks at Scottsdale's Grayhawk Golf Club. Its two courses - Talon and Raptor - feature all the best things about upscale, daily-fee golf in the desert. Course conditioning is impeccable, the service is top drawer, and the tracks are challenging - though occasionally punitive, especially if the player is not spot-on with his or her game.

Both courses at Grayhawk are routed in the shadows of Pinnacle Peak, and circumnavigate the foothills of the McDowell Mountains in the scrub-brushed desert dotted by thousands of ocotillo, saguaros and ironwood.

Talon was designed by former U.S. Open and PGA champion David Graham and golf course architect Gary Panks, while Raptor is a Tom Fazio creation. The two courses have differing personalities: little quirky elements that one finds suits his or her game or doesn't.

Target golf is the name of the game here, as - even with Raptor's relatively wide fairways - wayward shots will find desert detritus which is mere feet off the manicured playing surfaces.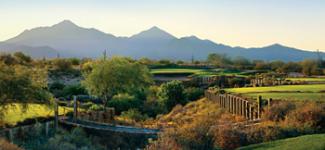 No. 11 Green on Talon
Positioning the Key at Talon

The key to success at Talon, opened in 1994, is to play shots to places where the large and sectored putting surfaces can be attacked aggressively. The par-72 track is carded at 6,973 yards, where it carries a rating of 73.3 and Slope of 146.

Talon's fairways appear smaller than their actual width, and many of the greens are multi-tiered, which effectively reduces their sizes. Careful consideration of the day's pin sheet is required to avoid ungainly tier-to-tier putts. The green surrounds are typically generous, giving golfers a shot at salvaging par after a wayward approach.

Graham and Panks designed Talon without a signature hole, preferring to imbue all 18 with their own personalities. The course gets its teeth from a daunting set of par-4s, four of which extend at least 449 yards. Its one-shot holes are shorter than on some championship courses (the longest is just 206 yards), but the precision needed to play these well offsets their lack of length. Elevated greens are de rigueur at Talon, while water hazards enter play on just two holes.

Talon's opener, a 428-yard par-4, is named after the late LPGA player Heather Farr (who's honored there with a statue) and it's a tough start to what will be a testing round.

No. 3, a 505-yard, dogleg-left par-5, is one of Talon's typically great risk-reward holes. The approach is guarded by three deep bunkers short-right, and shots short of the green's front edge roll toward these "Three Sisters." The 459-yard, par -4 sixth is a bomb-and-gouge delight; there are no bunkers to grab your shot here, but a huge ridge near the landing area will shove shots to the left.
The eighth is a 206-yard par-3 where a desert wash between the tee and the putting surface must be carried. The expansive green is slanted to receive tee shots but is seemingly devoid of a flat spot. No. 9 is a straight, but mounded, 562-yard par-5 that steers the approach toward a huge, rail tie-buttressed bunker right of the green.

The back nine was built around a series of deep box canyons. Two of the track's most difficult two-shotters (the 454-yard 10th and 449-yard 12th) begin the inward half.

No. 10 moves up a hill and heads leftward off the tee. A bunker left of the green saves shots from entering a canyon on the starboard side. The 12th requires a carry over two washes - one off the tee and a second in front of the green. Even with a good drive here, players will likely have a long-iron or hybrid remaining into the two-tiered green. The second desert-wash shot is intimidating.

In between these two monsters is the cool 175-yard par-3 11th, which asks for an accurate tee ball across a hollow and a cavernous bunker to a wide and deep, bi-level green, which is accessed by a swinging wooden bridge.

No. 13 is a dogleg-right and drivable par-4 that plays just 303 yards from the tips. Bite off as much as you think you can chew here, but be wary of the narrow fairway and, especially, the deep traps right of the putting surface.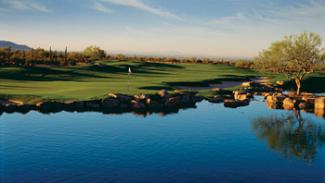 Talon's 18th
Perhaps Talon's most fun hole is the 126-yard 17th, which features an island green. The closer, a 588-yard, dogleg-right par-5, characterizes the Graham/Panks' risk-reward philosophy. A large bunker guards the elbow of the dogleg and another runs down the left side - from landing area to green. Play this hole prudently and you'll finish your round off on a positive note.

Talon hosted the WGC-Accenture Match Play Championship's predecessor - what was known as the Andersen Consulting World Championship of Golf. Some consider it the lesser of the two courses at Grayhawk, but that's a fallacy - both are enjoyable and memorable. The course record belongs to Phil Mickelson, who shot a 61 here in 1999.

Fazio Works his Magic at Raptor

Fazio's finished product at the Raptor course is thought to be more punitive that Talon across the club's parking lot. Opened in November 1995, par-72 Raptor has formidable length: 7,135 yards from its back set of five tees, where it's rated 74.1 and has a 143 Slope.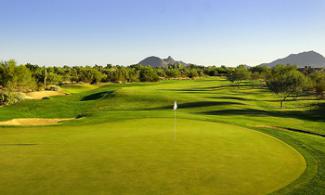 Sixth Hole at the Raptor
Shots that miss these fairways regularly end up in unplayable desert rocks and flora, and Raptor has scads of holes with cross-bunkering that pleases the eye but are formidable and must be avoided. Another area to avoid is the greenside bunkers, which are deep and profoundly sculpted. The putting surfaces, many of which are mounded and terraced, can be made more treacherous with some killer pin placements.

Fazio stocked Raptor with behemoth two-shot holes, four of which are at least 460 yards from the way-backs. But despite its length, Raptor is a track that must be played with feel and sound course management. The golfer, no matter his or her handicap, will hit a variety of clubs off the tee thanks to a beguiling mix of long, mid-range and short par 4-s that ask for imagination and give no quarter.

The front side is highlighted by the massive 460-yard, par-4 third hole, which moves slightly left to right before rising up to a huge green. Beware the deep bunker right of the putting surface.

You might be able to get a shot back on the 502-yard par-5 seventh, but with a pinched landing area and three bunkers fronting the green, it may be better to hit a wedge with the third shot to minimize risk.

The 464-yard par-4 ninth has a bunker along the right of the prime landing area that seems to attract tentative shots. The green here, too, is elevated and guarded by sand along the left.

The 390-yard, par-4 10th can play shorter than its yardage, but the fairway is not as wide as it looks from the tee because it slopes rightward to a creek. The water then crossed the fairway and circles around the green's left flank.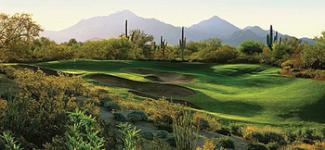 The Desert is Refined at Grayhawk
No. 12 is a 468-yard par-4 that ascends to an elevated green with three tiers. Finding the putting surface is the first task, but finding the right level is the real measure of one's skill. Avoid the vast greenside bunker guarding the front and right sides of the green.

Take another swing at possible glory on the 332-yard 15th, which plays gently downhill and entices players to try to thread a tee ball down the fairway chute to up to the front of the green. But be aware of the rock-strewn desert that encroaches on the port side and trees that frame the approach but can block shots into the green.

The final three holes at Raptor complete a satisfying round. The 211-yard, par-3 16th has large slopes around the green and a pond left that beautifully frames the hole but also endangers shots on that side. The 464-yard, par-4 17th winds downhill along a sloping route, then runs back uphill to a putting surface with a severe drop-off on its left side. Hit it there and you'll pay the piper to get up and down.

Raptor's closer - a 521-yard par-5 - has water along the right and two bunkers pinching the prime landing area. The shot to the cape-style green must evade bunkers left, right and rear. While the obvious miss is left, either into the large bunker there or even on the grass left of that, a miss on that side will still leave a ticklish third to the right-sloping green.

Standing in the 18th fairway looking down the hill at the green is a stunning sight. The large outdoor seating area around the club's famous restaurant, Phil's Grill, sprawls behind the pond that dwarfs the green.

Raptor's variations of long and short holes give players ample opportunity for birdies as well as tough pars. The tournament-worthy course was the former host of the PGA Tour's Frys.com Open.
Grayhawk off the Course

They do things right at Grayhawk, starting in the parking lot. There's rock music from the 1970s and '80s coming from hidden speakers on the range and the cart-control area, corn chowder in Phil's Grill, and an "A" list of players and celebrities who come here to tee it up or just have lunch and soak up the sun and the cool vibes. Look for Mickelson memorabilia throughout, including in the men's locker room.

The two separate practice facilities at Grayhawk are massive. There are three putting greens, and a short-game area near the Talon course with a large sand bunker and chipping-pitching green.

Awards and accolades for the facility include Golf Magazine's "Top 100 You Can Play in the U.S." and "Top 10 New You Can Play," Golf Digest's Top 10 You Can Play in Arizona," and GolfWorld's "100 Best Golf Shops."

For more information, visit www.grayhawkgolf.com.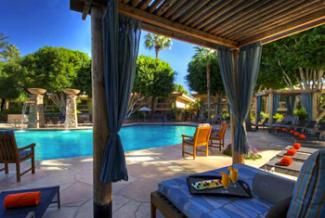 A Poolside Cabana at FireSky Resort
Staying in Scottsdale

Grayhawk is a residential golf course in a loose sense of the term, because there are no houses in play on any of the 36 holes and the setbacks are extensive. But the venue differs from many of the area's top golf facilities in that it's not affiliated with a hotel.

So we bedded down at and enjoyed the FireSky Resort and Spa, an oasis nestled in the heart of Scottsdale near Fashion Square, museums, other courses and hot spots that make this area such a favored destination.

FireSky is boutique hotel, luxury resort and spa whose name plays on life's four primary elements: fire, water, earth and air. The hotel lobby, complete with a stone fireplace and airy cathedral ceilings, involves a patio and a courtyard with a lush garden.

The hotel grounds stretch toward a sandy beach pool and a Mediterranean-inspired lagoon, as well as a torch-lit heated outdoor pool and hot tub surrounded by poolside cabanas and secluded fire pits.

For more info on FireSky, see www.fireskyresort.com.
Steve Habel is one of Cybergolf's world correspondents, contributing news stories, features, equipment and book reviews and personality profiles from his base in Central Texas. He is also works as a contributing editor for Horns Illustrated magazine, a publication focusing on University of Texas sports, covers the Longhorns for CBS Sports, is regional editor for Texas Golfer magazine and files stories for Golf Oklahoma magazine, Texas Links magazines and Golfers Guide. Habel's main blog (www.shotoverthegreen.blogspot.com) features news on golf and the Longhorns, and another (www.checkinginandplayingthrough.blogspot.com)chronicles his many travels, on which he has played more than 350 golf courses since 2009. Habel is a member of the Golf Writers Association of America and the Texas Golf Writers Association.