Double-Side Fairway Hazards
While we are discussing strategy, we should note there are also penal and heroic tee shots. The heroic style seems to have grown in popularity. But the penal school of architecture has fallen out of favor, simply because it's too hard for most golfers and often requires more bunkers, and thus more maintenance cost. In general, features that cost more yet produce less satisfactory golf fade away.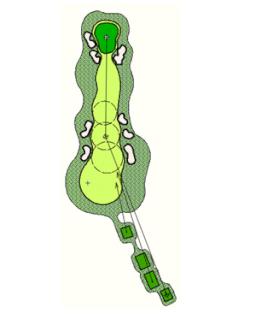 Double-Side Fairway Hazard
There were two periods when penal golf was popular: the first decade of the 1900s and the two decades right after World War II. The first period may have been influenced by both inexperienced designers and a leftover Victorian sense of punishment as a way of life.

The post-WWII period was influenced mostly by Robert Trent Jones, who gained fame as the "Open Doctor" by making his new designs and renovations of typical country club courses into difficult tests, suitable for the U.S. Open. Many U.S. Opens were played on his courses, and the general thought was that all courses should emulate those "monsters."

While that thought has faded with time, there are still some examples of his and other emulators' work out there. While Trent Jones made courses difficult via length, narrowness, rough, bunkers and bold green contours, one prime tool was to offer no choice but placing tee shots in a narrow fairway flanked on both sides by some combination of hazards, like water, trees or - when those were lacking - sand bunkers.
Where bunkers were used, they typically pinched the fairway to less than 30 yards wide at pro-tour driving distances of 250 yards. Obviously, that would be 290-315 yards (or more) today.

While the hole shown is a dogleg - a typical Trent Jones feature, which adds distance control to the accuracy mix, many of these holes were also straight and, as shown, greenside bunkering was also typically penal. While he was also famous for highly contoured greens, if I was using this hole today I would make the green contours a bit simpler as a reward for making two good shots to reach the green.
Jeffrey D. Brauer began his career as an apprentice in the Chicago area in 1977. His first project was Kemper Lakes, which shortly after hosted the 1989 PGA Championship. He formed GolfScapes in Arlington, Texas, in 1984. In the last 29 years he has designed and consulted on a wide spectrum of projects, ranging from partial renovations to international resorts. His recent work includes teaming with the design team of Pascuzzo and Pate on a remodel of the world-famous La Costa Resort & Spa in California, and renovations at Superior National Golf Course in Lutsen, Minn., and Mesquite Municipal Golf Course in Mesquite, Texas.

He has been a member of the American Society of Golf Course Architects since 1981, serving as President during its 50th Anniversary year in 1995-96. Jeff still studies the classic works - both old and new, and has played more than 75 of the best courses in the world.

Jeff gives many presentations and is a regular architecture columnist for many publications and websites, including Golf Course Industry and Cybergolf.com. He has also been a strong advocate for the "Tee it Forward" campaign and strives to make his courses fit the description of "fun to play every day."

Jeff's work has been spotlighted in most of the world's major golf magazines. Golf World ranked him as one of the top-20 golf course architects and Golf Inc. ranked him as the world's fourth-best value in golf architecture in 2010. Jeff's portfolio and reputation keep him at the forefront of desired designers for new courses, reconstruction and renovation projects. For more about Jeff, visit http://www.jeffreydbrauer.com/sites/courses/layout.asp?id=859&page=48451.