Driving along Tobacco Road
By: Rob Duca
"Hit it between the goal posts." That's what the starter told me as I stepped to the elevated first tee at the diabolical Tobacco Road Golf Club in Sanford, N.C., and looked down upon two 100-foot sand mounds framing a ribbon-thin opening of a fairway.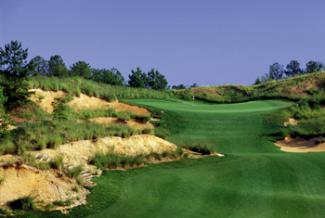 Tobacco Road's 16th Hole
"And if you're a first-timer here, you might not want to keep score," he added. "You'll enjoy the day more."

North Carolina offers one of the most dazzling, diverse golfing experiences of any spot on Earth. It's barely a 90-minute drive - beginning in Raleigh - across three counties, where you'll find courses drenched in history and featuring a variety of challenges created by legendary golf architects by the names of Ross, Fazio and Strantz.

For most golfers here, a visit is not complete without a pilgrimage to Pinehurst No. 2, site of this year's U.S. Open and U.S. Women's Open, which will be the first time those two championships are held on the same course in consecutive weeks. But it's possible to get a taste of that iconic layout by playing Raleigh Country Club, the last course designed by Donald Ross before his death in 1948.

Raleigh CC is part of the McConnell Golf Trail package, which offers the opportunity to play eight of the finest courses in the Carolinas. Also on the list are TPC at Wakefield Plantation in Raleigh, Treyburn Country Club in Durham, Old North State Club in New London, Sedgefield Country Club in Greensboro and, in South Carolina, Musgrove Mill Golf Club in Clinton and The Reserve Golf Club on Pawleys Island.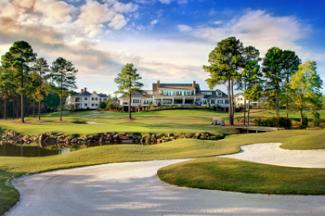 The 5th at Mid-South Club
The McConnell Trail provides guests a structured itinerary that lays out travel to and from courses, lodging, lunches and dinners. Guests are given unlimited golf and first-rate accommodations. Packages of three, five and seven days are available.

Raleigh has been compared to Pinehurst No. 2 for its domed greens, collection areas, challenging par-3s, rolling fairways and treacherous, undulating putting surfaces. The club was brought back from the brink of bankruptcy in 2003 by John McConnell. He poured more than $3 million into capital improvements and hired Pinehurst's Richard Mandell, one of six Donald Ross Society-endorsed architects, to renovate the course. Mandell added nearly 400 yards in length, rebuilt 54 bunkers and 17 grass hollows, and shifted a number of tee boxes to their original locales.

Ross died before Raleigh was completed, but the course stands as a fitting example to his legacy.

From Raleigh, it's a slightly more than an hour to Pinehurst. The region includes the eight courses at the Pinehurst Resort, along with stunning layouts like Forest Creek Golf Club, Mid-South Club, The Country Club of North Carolina, Pine Needles, National Golf Club and Talamore.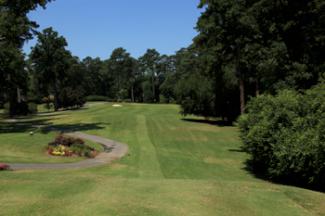 The 3rd Hole at Raleigh Country Club
Tom Watson once said of Pinehurst, "Golf is not a matter of life and death to these people. It's more important than that."

Forest Creek is a private facility with membership availability that boasts two courses ranked in Golfweek's "Top 100 Modern Courses." Set amidst rolling hills, ponds and 100-foot-tall leaf-pine trees, the North and South layouts were designed by Tom Fazio. The North Course is characterized by waste bunkers and native grasses and measures 7,209 yards, with two par-3s on the back nine stretching 212 and 215 yards. The South has a more traditional Pinehurst feel, with tall pines lining most fairways.

On this visit I played the North, which opened in 2006 and was nominated by Golf Digest as the best new private course in the country. Terry Brown, owner and developer of Forest Creek, likens it to Pine Valley Golf Club, and he should know, for he's a member at the famed New Jersey club that is consistently rated the best course in the world. Like Pine Valley, golfers on North are allowed to ground their club and take practice swings in every sand trap. When local head professionals were polled a few years ago to rank their 10 favorite Pinehurst courses, the North took a backseat to only Pinehurst No. 2.
Nearly as memorable as the golf course is the men's locker room, which has an equestrian motif and is built of reclaimed tobacco-barn timber. Rows of heart-of-pine lockers resemble horse stalls, with a massive fireplace of Pennsylvania fieldstone set alongside Italian leather seating. Check out locker No. 23; it belongs to a member named Michael Jordan.

The Mid-South Club is another private residential community in nearby Southern Pines. This Arnold Palmer design is considered one of his best, with ski-slope fairways, a series of doglegs that demand length and precision, and numerous carries over water.

Holes are tucked into the woods, creating an atmosphere of isolation as you maneuver around the course. Blind shots are at a minimum, but the succession of lakes and ponds forces you to consider placement on every shot.

The sixth hole ranks as Mid-South Club's best par-3. From an elevated tee, it's a 178-yard carry over a lake and large rocks fronting a green that sits back against a stand of large pines. The front nine closes with a 528-yard par-5 that rolls downhill toward two large bunkers, with a water hazard surrounding an island green.
After all that white-knuckle trouble, I landed at Tobacco Road Golf Club. The late architect Mike Strantz once said, "I don't care if people think my courses are too hard." He proved that at Tobacco Road with a design that is visually intimidating, spectacularly unique and a pure joy to play. Built on an abandoned sand quarry and tobacco farm, it begins with the aforementioned shot between the skyscraper sand dunes - and never lets up.

It has been called "Pine Valley on steroids" for waste bunkers that are as long as 200 yards and 30 feet deep. There are blind shots on virtually every hole, and bells must be rung to alert golfers when it's safe to hit. Golfers have a love-hate relationship with Tobacco Road. In this case, beauty is truly in the eyes of the beholder.

Measuring only 6,532 yards from the back "Ripper" tees means that power is not essential here. But you'd better be precise, patient and calm.

All that being said, Tobacco Road is a must-visit destination. Just make sure to bring a camera, plenty of golf balls, and don't worry about your score.
Rob Duca is an award-winning sports columnist who wrote for the Cape Cod Times for 25 years, covering golf, the Boston Red Sox, the Boston Celtics and the Boston Bruins. He is the editor of New England Golf & Leisure magazine and has written for a variety of other publications, including Sports Illustrated, the Boston Globe, Yankee magazine and Cape Cod Life.