Dye-abolical but Fair, Players Praise Fearsome Straits Course
By: Jay Flemma
[Editor's Note: Cybergolf's Jay Flemma will be at Whistling Straits in Kohler, Wis., all week covering the PGA Championship, the final major of the year. This is Jay's first of several reports.]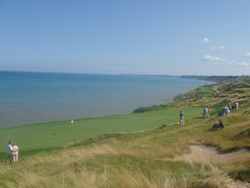 The Gorgeous Par-3 7th
We may be in Wisconsin for the 92nd PGA Championship, but - surprise! - the players are not having any whine with their cheese.

In 2004, the players cried like Nancy Kerrigan over how tough Whistling Straits's fearsome Straits Course played. Golf architect Pete Dye was castigated every bit as vehemently as he was when both Sawgrass and PGA West Stadium course opened. "Screwy," "unfair," "carnival golf," and "ridiculous" were some of the more polite, printable public comments.

Cut to 2010, however, and the players' opinion of both Dye and the Straits course have mellowed into acceptance, even respect.

"Nobody does deception and strategy better than Pete Dye," explained 1997 PGA champion Davis Love III. "When you first see a Dye course, you might think it's a wild and crazy thing with no rhyme or reason, but if you have played St. Andrews or the other great courses of the U.K., then you understand what he's doing. He's taking the great design tenets of St. Andrews, Scotland and Ireland and just putting his own spin on it."

"That's right," agreed Sean O'Hair. "His work does echo the strategies of the great U.K. courses. Moreover, he demands all sorts of shot shapes, because his holes go both ways. Plus he makes you hit every club in the bag. [Tuesday], I hit some drivers off the tee and some hybrids, and I hit every club from 4-iron to wedge on my approach shots," concluded the young pro who may soon share his swing coach, Sean Foley, with Tiger Woods.
Indeed, Whistling Straits is both a visual feast and a masterpiece of strategic design. The two loops of nine holes are mirror images of each other. The first two holes of each side wind their way to the edge of Lake Michigan, then the next two holes play along the cliff-top, before turning inland to an elevated terrace for the next two holes. The routing then crosses back to the ocean for two more lakeside holes before turning back to the clubhouse to finish. All four par-3s are on the shoreline, with each side having one par-3 running north and the other running south.

"The symmetry is a stroke of genius," gushed quintessential Irish golf writer Karl "Van Helsing" MacGinty, a long-time veteran covering both the U.S. and European tours. "It's not really a links - Dye puts the 'sham' in 'shamrock' in that regard - but even though it doesn't play like a links, it's truly fantastic and a marvel of geometric engineering. Everyone of Irish descent who can't make it over to Ireland should come here and play, it's a great course."

MacGinty raises a great point: there is little to no ground game at Whistling Straits like you would find at the British open venues such as Royal Troon or Royal Lytham & St. Anne's. "It appears to be a links," said former U.S. Open champion Jim Furyk, "but it's really a target-oriented course. He has all his crazy bunkers and mounds out wide, but you have to funnel your vision and hit small spots on the fairways and greens. If you don't target-orient your brain, that's when doubt creeps in and you make a mistake. Whistling Straits, like other Dye courses, rewards the smart, focused player."

Funneling your vision and ignoring all the distractions is easier said than done. Whistling Straits is perhaps the most visually arresting golf course in America. From 1-18 there is more visual intimidation, coupled with jaw-dropping shore-side beauty, than even Pebble Beach. Just under 1,000 bunkers pepper the otherworldly dunes-scape, though only about 200 are really in play for the majority of golfers. Hip-high fescue frames the heaving mounds which ring each hole, making the course look similar to England's Royal Birkdale. Also like Birkdale, spectators will spend more time atop the hillocks that offer panoramic views of a number of holes rather than spending the day glued to a seat in a grandstand.
Still, if a player can take Furyk's advice and keep a quiet mind while Dye's cacophony rages all around him, the course does not favor any one type of player.

"His courses keep all players in the game, both short and long," said Tim Clark, who knows a thing or two about winning on Dye courses. He is the reigning Players champion, wearing a crown he won at one of Dye's other indisputable masterpieces, Sawgrass. "Look at 2004: we had a playoff for the title between Vijay Singh, a long-hitter, Justin Leonard, a shot-shaper, and Chris Di Marco a short-hitter. If you play smart on a Dye course, you keep yourself in the game."

Months of torrential rains have also helped out many of the shorter hitters in the field as well. The course is playing soft so there will be less roll-out on the fairways tee shots, and approach shots will stay closer to their intended targets. Though the course will exceed 7,500 yards, not all that length will be used on any given day of the tournament. Tournament set-up chairman Kerry Haigh has taken a page from the USGA tournament chair Mike Davis's playbook and been moving teeing grounds to vary the length of the course and account for the fierce winds which can blow anywhere from a gentle zephyr to the Breath of God.

Indeed, the winds will be an unpredictable factor this week. They tend to swirl and reverse themselves as the warm air blowing from the country's breadbasket hits the cooler air of Lake Michigan. While the prevailing wind comes from the south or the southwest, an unexpected crosswind could make fairways - normally reasonably wide - a much tougher target to hit. In that regard, the Straits Course might resemble Turnberry in 2009, which handed out scores in the 60s like candy on Halloween on calm or merely breezy days, but which sent scores skyrocketing when the crosswinds made the narrow fairways nigh impossible to hit over the weekend.

"The course plays very differently from day to day," affirmed 2008 PGA champion Padraig Harrington. "In sunny, warm conditions without any wind, it's quite pleasant, but in a strong crosswind it gets quite fiery."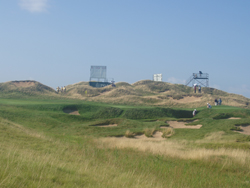 Cave-Like Bunker at No. 6
Still, some holes will prove difficult no matter what the weather. At only 355 yards and playing downhill, the sixth hole may be the shortest par-4 on the course, but Dye bisected the green with an evil pot bunker seven feet deep and eight feet in diameter. Much like the fabled Road Bunker at St. Andrews, a player is not guaranteed of having a swing, much less advancing the ball towards the hole.

"I got in that bunker and almost didn't get out," moaned one shell-shocked pro, who spoke on condition of anonymity. "I went in there and I needed a Sherpa, a lantern, a trail of breadcrumbs, and a St. Bernard to get out." Indeed, our nameless friend had a rough outing the entire day. "I feel like I went 10 rounds with Mighty Thor. I need soothing after the excitement of that practice round. Where's my cattle prod?"

Ten is another short par-4, but which has such steep side-hill lies, it more closely resembles a ski run rather than a golf hole. It even has its own mogul: a bunker so deep and with sidewalls so steep it's worthy of doubling as a halfpipe in ESPN's "X Games."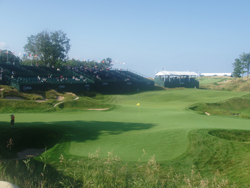 Whistling Straits' 18th Green
Finally, the brutish 500-yard, par-4 18th hole features a bifurcated fairway and a meandering creek to be negotiated before ending at a gargantuan green with four separate wings. A ruthless finisher, a wind tunnel caused by the sideways approach of the ninth fairway adds to the challenge, so take one extra club to account for the "knockdown effect" as the shot nears the green.

"Eighteen is mega-trouble," admitted reigning U.S. Open champion Graeme McDowell. "You have to find the fairway somehow, then stay out of the bunkers and water, then two putt that unusually shaped green, before you can breathe again."

Even so, the handwringing, consternation and cursing of Dye's name that you normally hear at one of his courses have been noticeably absent. It's not that Dye has mellowed with age, but that players have learned how to "read" a Dye course and resign themselves to a tough but fair fight. Besides, if your opponent thinks the course is too tough, you have a leg up on him to start. Nothing good is easy, after all, so it's best to embrace the challenge.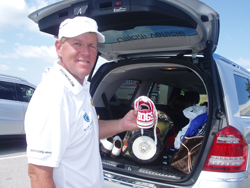 John Daly & His Hog Sneaks
"I love it to death!" gushed John Daly, who sported red and white checkerboard pants yesterday and "Shagadelic" paisley slacks on Tuesday's practice round. "Dye has the greatest variety of hazards and some of the most interesting greens. Just because you hit it in two, doesn't mean it's an automatic two-putt. Also, I can hit the driver nine-10 times, not just once or twice," he explained as he changed out of his golf shoes into some sweet new kicks - red and white Chuck Taylor sneakers with the word "Hogs" emblazoned on them in tribute to his alma mater, the University of Arkansas.

"I know not all of Dye's courses are perfect tournament venues, but I love them. Take Crooked Stick," he finished excitedly. "I wish we could play there every week."

Playing golf tournaments every week at a Dye course? I think that might just bring back a few more of those plaintive wails we've been missing this week. Call it a hunch.
Yet for now, Pete Dye, Whistling Straits, and the PGA of America can bask in the esteem of the entire golf world. Enjoy it, boys, because like the wind at Whistling Straits, don't wait too long because it will change and they'll all be back to crying like Nancy Kerrigan soon enough.


Since launching his first golf writing website in 2004, http://www.jayflemma.thegolfspace.com, Jay Flemma's comparative analysis of golf designs and knowledge of golf course architecture and golf travel have garnered wide industry respect. In researching his book on America's great public golf courses (and whether they're worth the money), Jay, an associate editor of Cybergolf, has played over 220 nationally ranked public golf courses in 37 different states. Jay has played about 1,649,000 yards of golf - or roughly 938 miles. His pieces on travel and architecture appear in Golf Observer (www.golfobserver.com), Cybergolf and other print magazines. When not researching golf courses for design, value and excitement, Jay is an entertainment, copyright, Internet and trademark lawyer and an Entertainment and Internet Law professor in Manhattan. His clients have been nominated for Grammy and Emmy awards, won a Sundance Film Festival Best Director award, performed on stage and screen, and designed pop art for museums and collectors. Jay lives in Forest Hills, N.Y., and is fiercely loyal to his alma maters, Deerfield Academy in Massachusetts and Trinity College in Connecticut.