Edina CC to Undergo Major Remodel
Edina Country Club, a private club located 10 minutes from downtown Minneapolis in the suburb of Edina, Minn., will close for one year for a major restoration of its historic golf course.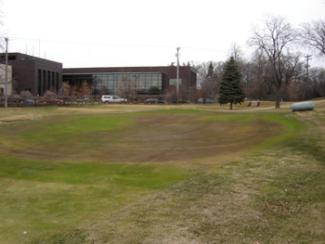 Edina's 13th Green Tabbed for Remodel
Founded in 1923, Edina CC was one of the first clubs built in the suburbs of Minneapolis and is anchored by a vintage design credited to Tom Bendelow, one of America's pioneering golf architects. While the sequence of holes at Edina CC has changed numerous times through the years due to a relocation of the clubhouse, the layout has remained basically the same.
The gently rolling course has numerous but subtle elevation changes and is framed by hundreds of specimen hardwoods, including oak, ash, elm and maple. Known as one of the finest courses in Minnesota, Edina CC has hosted many state and national championships, including the Men's and Women's Trans-Miss, Minnesota State Open, Minnesota PGA Championship, Minnesota Men's and Women's Amateur and Western Junior Championship.
According to club president Scott Thiss, a renovation completed in 1995 was not properly executed. "We've been playing on a golf course with serious issues for 15 years," he said. "Last fall, 80 percent of the membership voted to fix the course once and for all, an unheard-of mandate for a proposed change involving a year-long closure."
Lehman Design Group, headed by Minnesota native and PGA Tour veteran Tom Lehman, will oversee a makeover intended to restore the layout's classic appearance. Work will begin May 26, with a reopening scheduled for June 1, 2011, depending on weather conditions.
Thiss explained that the greens, which have suffered drainage setbacks in the past, will be dug up, cored out and rebuilt to USGA specifications. Tees will be rebuilt and in some cases repositioned to create mild doglegs at straightaway holes. The layout's 60 bunkers will be increased to 90. The refurbished sand traps will be smaller, grass-faced and strategically positioned.
In late April, Lehman presented to the members a detailed hole-by-hole description of the proposed changes. "Lehman added his own vision of requiring golfers to use thoughtful shot strategy and to use every club in the bag," Thiss said. "The main idea is to re-establish the look and feel of the original 1923 layout, address safety issues, and create a fun and playable experience for all members."
Thiss noted that the club went through an extensive process of background and reference checks before deciding on Duininck Golf as the construction company for the project. "We selected Duininck Golf because of Tom Lehman's unqualified recommendation," he said. "The firm is Minnesota-based and has a consistent record of high-quality work."
According to Lehman, "Duininck Golf has worked with our firm on other golf course renovation projects, notably at North Oaks Country Club in the Minneapolis area. During what had to be one of the wettest three-month periods we've ever experienced (in 2007), Duininck not only finished on time, but finished their work with quality, enthusiasm and great cooperation with both the club and with us.
"One of the impressive traits of Duininck Golf is that they understand exactly what I am looking for," Lehman continued. "On renovation projects, the design styles we are trying to create may change from project to project, but they adapt well. We appreciate their ability to fast-track projects while still upholding the highest quality standards."