'Edward Scissorhands 2,' Gibstein Wins Second Travis Invitational Medal
By: Jay Flemma
Drinking deeply from the fountain of youth, Ed "Scissorhands" Gibstein won his second Walter J. Travis Invitational qualifying round medal with a sparkling 3-under 70 at Garden City Golf Club in New York. It was the second Travis medal for Gibstein, who also took the same honor in 1998 en route to a runner-up finish.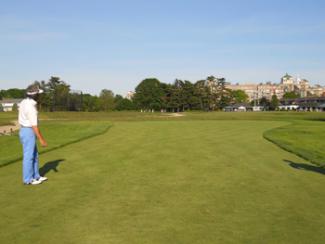 John Ervasti Spoiled a 16-man Playoff
"It held up?" he asked surprised. It did, and it also put him in the record books with another name - Walter J. Travis. Both he and Travis won medals 14 years apart, the longest span in tournament history. Travis won his first and last medals in 1902 and 1916, respectively.

In the record books, sharing one with Travis himself, a record that stood alone for 96 years, now that's a staggering feat. And all Garden City was elated for the popular Scissorhands, long considered a valuable addition to the event for his terrific play, raconteur wit and passion for golf course architecture.

The man who got his nickname from an aggressive tree-removal campaign at his home club of Engineers and who has played in nearly every one of the last 25 Travis Invitationals, raced out of the gate with birdies on the first three holes, all with putts longer than 15 feet. He turned in a sizzling 6-under front-nine 31 (remember, Garden City is par-37-36=73), but Garden City bit back late.
"I hit a ball so deep in the woods on the 10th tee, I abandoned it and took my medicine," he recalled. "His medicine" was a double-bogey, which was followed by another bogey at the par-4 11th. "I chunked a 3-wood off the tee and thinned a bump-and-run chip. It was chopped salad." He then traded a three-putt bogey at 16 for a routine two-putt birdie at the short par-5 17th to close out his round.

Gibstein is surging right now. He won his fourth career Richardson Invitational Tournament at Seawane Country Club two weeks ago, enduring a format as potentially exhausting as the Travis - stroke play followed four rounds of match play.

"I hit the ball great at the Richardson, but I didn't putt well. I had three three-putts on the back nine of the final." He still managed to eke out a 2-up win over Hal Berman. "But today, the tone was set by my putter. Making those three long birdie putts to open the round felt good and really got the round started well."

Gibstein went off early and took advantage of what everyone called the best weather ever for the opening day of the Travis. Seventy-five degrees and sunny, without a cloud in the sky, fair Garden City was beaming bright, not even a breath of wind until noon-ish, right after Gibstein finished. Joe Saladino was runner-up with a 2-under 71. He also went out early in benign conditions.

When the wind did pick up it swirled chaotically, changed direction frequently and scores soared. All players who posted 1-over par 74 or better made the championship flight.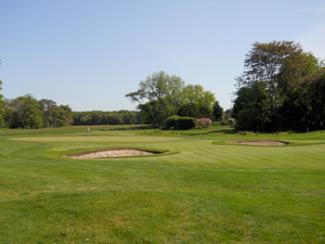 The Bottle Hole at Garden City
In the first round of the match-play phase, Gibstein will face 16th seed Scott Osler, always a tough out and a threat to go deep in the bracket. The winner of that match faces the winner of the 8-9 match, John Ervasti (even-par 73) vs. Oakmont's Curt Coulter (1-over 74).

Ervasti, who was in the second-to-last group of the day, might be lucky to get to the tee at all tomorrow morning as he provided the day's other marquee headline, and in doing so ruined a lot of people's day with a shocking buzz-kill. His 73 wiped out what would have been a 16-players-for-1-spot playoff for the final seed in the championship bracket.

That's completely hilarious. Sixteen guys for one slot - what sight that would have been! A Chinese fire drill meets bumper cars. How do you even send that out? Two eightsomes? Four foursomes? Remember, the people who finished a hole first still have to sit around, waiting for everyone to finish each hole before starting the next.

It looked like a lock too. By 4 o'clock, we thought the 16-for-1 stock car race was a fait accompli. So much so that head professional emeritus Gil McNally went around from player to player to line them up. He sought out one after the other: "Go get your shoes on . . . go get your shoes on . . . go get your shoes on . . ."

Meanwhile, Ervasti was oblivious to all this. He saw a lot of guys milling around pointing at him as he played the last two holes and got his 73 to the house, but he didn't care. Ervasti is laconic and phlegmatic. He's played in nearly every Travis Invitational since 1983. He just shrugged his shoulders and chuckled afterwards.
"I'm shocked at this," he admitted. "I've only played two or three times this year. I guess they're all wishing I would have chosen to play in the senior division. But hey, that's golf."

He's played just two or three times all year, and he just cruises in with a little old even-par 73 and knocks out 16 guys. Do that in Texas and they'll shoot you on general principle. If Dan Jenkins were here he'd call Ervasti a "dadgum tarnation polecat" for ruining a good story.

"Look who shot Bambi," quipped Irish ex-pat Eoin O'Connor, who was relegated to the lower flight by Ervasti's late heroics. In fact, the list of players bumped looks like a Who's Who of Mid-Amateur golf. Besides O'Connor, Ervasti knocked out tournament chairman Pat Fogarty, defending champion Nick Gilliam, 1998 champion Ken Bakst, Richardson runner-up Hal Berman, and decorated amateur players Adam Pecora, Brian Komline, Chuck Del Priore, and Jerry Chang.

On the home front, two Garden City members made the championship bracket. Fourth-seeded Tim Schmitt, the 2004 Travis Invitational champion, finds himself in a quadrant with two other recent Travis champions. He'll square off against 13th seed Dan Russo, while fifth-seeded "Big Ben" Hayes of Whisper Rock, the 2010 champion, faces Eoghan O'Connell, the 2006 champion. Interestingly, when Hayes won in 2010, he did it as a five seed.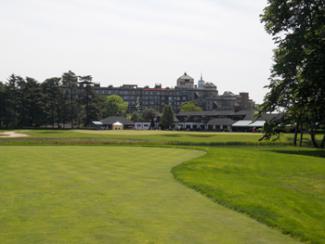 Fair Garden City Beaming Bright
Mark Thompson, the other Garden City member in the top bracket, took the seventh seed. He'll meet 10th seed Dan Goldstien. The winner takes on the winner of the 2-15 match-up, Joe Saladino vs. James Buckley.

"I said to myself, 'You're going to do good things today and your going to do bad things today. Just trust yourself that the good things will happen,' " Thompson explained. "So even though I bogeyed one right out of the gate, I shrugged it off and stayed calm."

Then he sat back, broke into a wide smile and eagerly added, "Besides - it's the greatest thing in the world to be a member here. I've been here six years now, and there's never been a single day where I wasn't completely excited to come and be here. I love being with people who love golf as much as I do. Bogeying one is no big deal."

Then the discussion turned to the members' wonderful reverence for the traditions and history of golf - not just Garden City, but all golf.
"No other sport has tradition like ours and in a time when everyone wants to tear down tradition, golfers still know that by upholding tradition you learn respect for yourself and others. It helps you grow as a person. Where else is it cool to call a penalty on yourself?!"

The always eloquent Saladino agreed. "Upholding traditions shape a person's character in a positive way by teaching them integrity. They also serve as reminder that the beauty of golf is how it brings people together working for a common good, not just thinking about yourself."

That's the magic of the Garden City members - they know it's not merely who they are or what they do that makes them great, but what they do for others.

In the final quadrant of the championship bracket, third seed Dan McDonald meets 14th seed T.J. Brudzinski, while the 6-11 matchup is a rematch of a first round tilt last year, sixth seed Ryan Chin vs. 2008 Travis champion Mike Kelley.

Walter J. Travis Championship Bracket

1. Ed "Scissorhands" Gibstein (70) vs. 16. Scott Osler (74)
8. John Ervasti (73) vs. 9. Curt Coulter (74)

4. Tim Schmitt (73) vs. 13. Dan Russo (74)
5. "Big Ben" Hayes (73) vs. 12. Eoghan O'Connell (74)

2. Joe Saladino vs. 15. James Buckley
7. Mark Thompson vs. 10. Dan Goldstein

3. Dan McDonald vs. 14. T.J. Brudzinski
6. Ryan Chin vs. 11. Mike Kelley
Since launching his first golf writing website in 2004, http://jayflemma.thegolfspace.com, Jay Flemma 's comparative analysis of golf designs and knowledge of golf course architecture and golf travel have garnered wide industry respect. In researching his book on America's great public golf courses (and whether they're worth the money), Jay, an associate editor of Cybergolf, has played over 420 nationally ranked public golf courses in 40 different states, and covered seven U.S. Opens and six PGA Championships, along with one trip to the Masters. A four-time award-winning sportswriter, Jay was called the best sports poet alive by both Sports Illustrated and NBC Sports writers and broadcasters. Jay has played about 3 million yards of golf - or close to 2,000 miles. His pieces on travel and architecture appear in Golf Observer (www.golfobserver.com), Cybergolf, PGA.com, Golf Magazine and other print magazines. When not researching golf courses for design, value and excitement, Jay is an entertainment, copyright, Internet and trademark lawyer and an Entertainment and Internet Law professor in Manhattan. His clients have been nominated for Grammy and Emmy awards, won a Sundance Film Festival Best Director award, performed on stage and screen, and designed pop art for museums and collectors. Jay lives in Forest Hills, N.Y., and is fiercely loyal to his alma maters, Deerfield Academy in Massachusetts and Trinity College in Connecticut.