Elder, Brooks, Williams, Mann among Inductees in Revived Texas Golf Hall of Fame
By: Steve Habel
Welcome back, old friends. It's great to see you all again, right back where you belong.
Eleven individuals, including Lee Elder, Mark Brooks, Morris Williams Jr. and Carol Mann, and two golf courses were inducted October 25 into the revived Texas Golf Hall of Fame in ceremonies conducted at the San Antonio Country Club.

The induction ceremony was the first since the Texas Golf Hall of Fame closed before the 1997 induction. Members of the 1997 class - Dallas tour professional Lee Elder and Austin amateur Williams along with course honoree Cedar Crest of Dallas - were officially honored at long last, as was the 2010 class.

This year's inductees were tour professional and Austin resident Brooks; club professional Warren Cantrell, Dallas amateur Carolyn Creekmore; El Paso and Fort Worth club professional Bill Eschenbrenner; The Woodlands tour professional Mann; San Antonio golf pioneer Will Symons; Houston historian Frances Trimble; Dallas sportswriter Harless Wade; and, distinguished amateur Toni "Texas Toni" Wiesner of Fort Worth. Brook Hollow Country Club in Dallas was selected in the historic course category.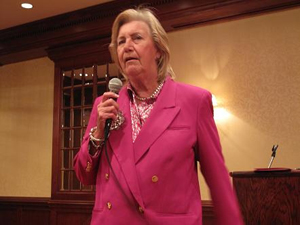 Carol Mann
"We are thrilled with such a great class of 2010 inductees, and to be able to formally induct those from the 1997 class," said Buddy Cook, chairman of the Texas Golf Hall of Fame. "Texas has always been golf's most historic state, and to be able to honor them in this way is an honor and most important."

The Texas Golf Hall of Fame was revived in 2008 as part of the restoration efforts of Brackenridge Park Golf Course in San Antonio, the birthplace of public golf in Texas. The new Hall, which is under construction on the Brackenridge Park GC grounds, will be housed on the site of the former studio of Gutzon Borglum, the artist and sculptor known for creating the presidents' heads at Mount Rushmore, S.D., the famous carving on Stone Mountain near Atlanta, as well as other public works of art.

Mann captured 38 LPGA events including the Women's Open and the 1964 Western Open, when it was considered a major championship. She was in the top 10 of the LPGA money list nine times between 1965 and 1975. A longtime resident of The Woodlands, she was honored as the LGPA's First Women of Golf in 2008 by that organization.

"I am humbled and honored," Mann said. "You don't win honors from your fellow pros, but to be recognized like this is very special and exciting. I feel like I have really - finally - been accepted by Texas, and that is quite a thrill."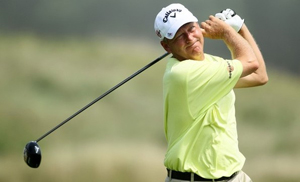 Mark Brooks
Along with his playoff victory in 1996 at the PGA Championship at Valhalla Golf Club, in Louisville, Ky., Brooks, a former University of Texas star, lost in a U.S. Open playoff in 2001 at Southern Hills Golf Club in Tulsa, Okla.

Creekmore (a constant playing companion at Brook Hollow of former president George W. Bush) and Wiesner both dominated the women's amateur ranks, first in Texas and then nationally.

Cantrell, a former PGA of America president, was instrumental in getting the 1968 PGA Championship to Pecan Valley in San Antonio, the only one of golf's major championships to be held in South Texas.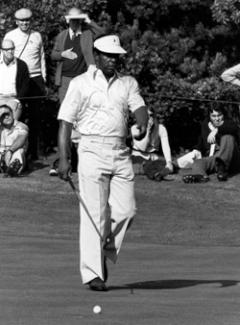 Lee Elder
Eschenbrenner first worked in Fort Worth, but moved to El Paso in the 1960s where he guided several pros onto the PGA Tour including Lee Trevino and Rich Beem. "You can put it down - he is responsible for Lee Trevino getting his PGA card and getting on the tour in May 1967," Trevino said. "Pros like Bill are the backbone of the PGA of America."

Harless Wade was a longtime golf writer with the Dallas Morning News and championed the Lone Star State's amateur ranks while helping to establish the newspaper's annual Best of Texas golf course rankings.

Trimble is a Texas golf historian, book author and journalist. She was the curator of the Texas Golf Hall of Fame from its inception until 1997.

From the Class of 1997, Elder was the first black golfer to play in the Masters and Ryder Cup. He won four times on the PGA Tour, including the Houston Open in 1976, and had eight victories on the Champions Tour.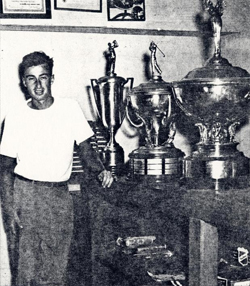 Morris Williams
Williams was a brilliant amateur killed in 1957 at age 24 in a military training accident. At the time, he was a pupil of famed golf teacher Harvey Penick. Penick thought he had the game to be every bit as good as later students Ben Crenshaw or Tom Kite. Morris Williams Golf Course, a municipal track owned and operated by the city of Austin, is named in Williams' memory.

Penick was inducted into the Texas Golf Hall of Fame in 1979. The hall includes Crenshaw, Kite, Ben Hogan, Byron Nelson, Joe Black, Tommy Bolt, John Bredemus, Jackson Bradley, Jack Burke Jr. and Jack Burke Sr., Jimmy Demaret, Betsy Rawls, Judy Rankin, Trevino, Kathy Whitworth and Babe Didrickson Zaharias.

"On a night like this, you sort of thread the generations," Crenshaw said after the ceremony.

Conceived by course designer Jack Miller and Houston sportswriter, Jack Agness, the Texas Golf Hall of Fame was founded in 1978 at The Texas National Golf Club located outside of Willis. The first class of inductees was comprised of eight of the greatest names in golf, including Demaret, Nelson, Hogan, Zaharias and Trevino.
In 1988, the Woodlands Corporation bought the rights to the Hall of Fame and carried on the torch, and in 1992, the Houston Golf Association took over operations and continued the inductions until 1996, when it inducted Tommy Aycock and Bolt. During that time 77 golfers and Brackenridge Park Golf Course in San Antonio were inducted.

In 1997, after relocating the Shell Houston Open to the Redstone Country Club, the Houston Golf Association mothballed the Hall of Fame. The original Texas Golf Hall of Fame was dissolved in 2001 and many of its artifacts were lost. Artifacts, vintage photographs and memorabilia are currently in a Phase 1 room at Brackenridge Park, which presents the history of "Old Brack," the Texas Open and future plans for the Hall of Fame and Museum, and showcases current Hall of Fame members.

In the near future, the museum will be located in the historic clubhouse and in the Borglum Studio, where in the late 1930s the sculptor conceived of and modeled the initial renderings for Mount Rushmore. A proposed Texas Golf Walk of Fame will connect the two buildings and exhibit monuments to the Hall of Fame members.
Steve Habel is one of Cybergolf's national correspondents, contributing news stories, features, equipment and book reviews and personality profiles from his base in Central Texas. He is also the managing editor for Texas CEO Magazine and works as a contributing editor for Horns Illustrated magazine, a publication focusing on University of Texas sports. He also writes a blog (www.shotoverthegreen.blogspot.com), which features news on golf and the Longhorns, and another (www.checkinginandplayingthrough.blogspot.com) on his many travels, which took him across the nation and to 105 different golf course in 2009. Habel is a member of the Golf Writers Association of America and the Texas Golf Writers Association.