Electric Spin's Golf Launchpad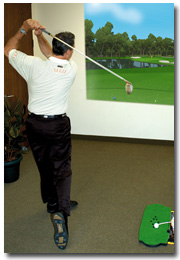 November 15, 2006. Golf Launchpad™ is a unique golf simulator that provides authentic golf entertainment—without compromise. With its modest price and space requirements that make it suitable for every home, Launchpad offers unmatched home entertainment, play and practice on more courses than any other golf simulator—at any price point.

Golf Launchpad is suitable even for beginners and non-golfers for entertainment and fitness, while offering the dedicated golfer uncompromised feel and accuracy.

While comparing Golf Launchpad to $50,000+ simulators, Robb Report Magazine declared, Launchpad offers "a unique level of realism."
Golf Launchpad's patent-pending TruFeel™ technology—incorporating a regulation Surlyn ball attached to a strong, lightweight, flexible tether rotating on a double ball bearing pivot—accurately reproduces the physics of free-ball impact, while offering the convenience of indoor play. Launchpad's optical sensors process your club's velocity, angle and path thousands of times each second to accurately render each shot on the screen.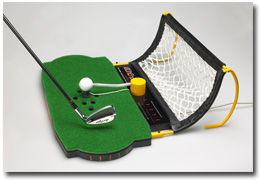 Golf Launchpad allows you to simulate your driver with a shorter club, so the space requirement for a 6-ft tall person swinging a 7-iron is less than 7ft x 7ft x 7ft (2.1m x 2.1m x 2.1m), which is makes Launchpad suitable for all homes with standard 8 ft (2.3m) ceilings.

From driving to putting: Golf Launchpad's net deploys like an airbag to soundlessly stop the ball after each shot, so the only shot the you hear is the sound of your club striking the ball, without any other distracting sounds. Launchpad's advanced sensors don't need special clubs, reflective tape, fancy lighting or other fluff! They can read your clubs in total darkness or full sunlight—so you can play on your patio under the sun if you want to! Total convenience, no compromise!

The result: hear and feel the ping of your woods, the thwack of your irons and play your game as it is accurately rendered on the screen with incredible realism. You can experience unmatched, life-like golf in the comfort of your living room or backyard on the world's greatest courses. Launch your game!
Golf Launchpad is available for PC and Macintosh platforms for $249 and PlayStation2 for $199 at Best Buy, Target, and Golf Town and online at BestBuy.com, Target.com, Walmart.com and Costco.com. For more information please visit www.electricspin.com.

About Electric~Spin

Electric~Spin Corporation is the worldwide leader in home golf simulators marketed under its Golf Launchpad brand. Golf Launchpad is sold by premier retailers like Best Buy, Target, Wal-Mart and Costco. Electric~Spin designs, develops and manufactures its Golf Simulators, accessories and software at its headquarters in Woodbridge, Ontario, and at its Asian subsidiary. For more information, visit www.electricspin.com or call 416/410-1166.