Elegance & Oddity: Las Vegas through the Eyes of a Golfer
By: George Fuller
"For a loser, Vegas is the meanest town on earth." Hunter S. Thompson

"Las Vegas is sort of like how God would do it if he had money." Steve Wynn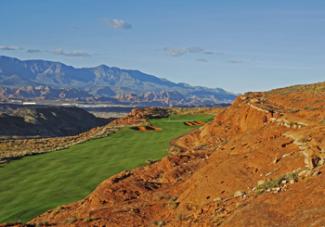 Sand Hollow's 12th
Whether you love Las Vegas or hate it seems to be a matter of perception. To some, like Steve Wynn, it's the grandest entertainment spectacle in the world. For others, such as Hunter S. Thompson, who perceive desperation and false hope in the legions of slot jockeys and card table monkeys, it's a blitzkrieg on common sense.

For me, it's both. Las Vegas is a dichotomy of the highest order. It's a city and a big top circus rolled into one. I love the place and can't leave fast enough. How many times have you heard your friends say, "I can only take it for two days . . . I'm going back next week."

Contradictions abound: Half a block from the splashy, flashy new Trump International Hotel is the eyebrow-raising Erotic Heritage Museum; across Highway 15 from the multi-billion-dollar, still-being-completed CityCenter are streets of tattoo bars, quick-wedding palaces and $3.99 prime rib joints you really wouldn't want to patronize, even at 5:00 in the morning after an all-nighter in a seedy club.

Elegance and oddity coexist in this surreal fantasyland created long ago by mobsters and kingmakers. Today's mobsters wear fancier suits and build hotels, but the weirdness is still the same. Alongside the Coach, Cartier and Fendi boutiques, Pete Rose sits in front of a memorabilia shop signing autographs to make a living. There's an Elvis store and a Garth Brooks store; a Beatles extravaganza and a Cher show along with magicians apparently famous even if their best trick is making you believe they're well-known.

I always seem to get lost here, because the place is perpetually under construction. Even if I've been to Vegas in the past 12 months, I don't even recognize it when I go again. New hotels are bigger, taller and more hi-tech than last year's whiz-bang models. New shopping centers call for you to buy the trendiest thousand-dollar purses or sample the cuisine of today's chef sensations. The hottest new nightclubs beckon you to stand in velvet-rope lines because the Kardashian sisters you've never heard of hang there and Eva Longoria Parker owns the place.

Everything changes, but nothing does. It's the same nonstop energy as the last time I was here, even if I can't find my hotel. I'm thrilled and repulsed, and just a little irritated. But at least I can draw closed the curtains of my room and put the "Do Not Disturb" sign on the door . . . if only I could find my way through the casino to the elevators.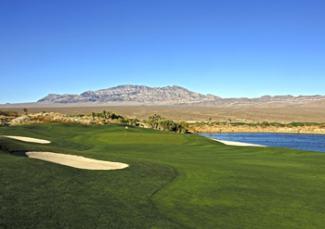 Paiute Las Vegas, 9th at Snow Mountain
Playing the Royal & Ancient Game in Vegas

Even the golf courses can challenge the extremes of intelligence. A $500 round that would fetch $175 elsewhere (Cascata, Shadow Creek, Wynn) might seem like a sensible expenditure, because you can lose five times that much in half the time on the blackjack tables.

And while those exclusive "Nice to see you, Mr. Fuller" experiences might be perfect for those wanting to tee it up behind Michael Jordan or Bill Clinton, for my money you can find darn good golf for much less elsewhere in town.

Bali Hai (www.balihaigolfclub.com) is closest to downtown, but with the airport so close I'm ducking all the time as planes land. It's not the best Curley-Schmidt design I've ever played either, although they are a very talented design team.

One of my favorite rounds is found at The Legacy Golf Club (www.thelegacygc.com) in Henderson, a quick 15-minute drive from downtown. One of the friendlier courses designed by Arthur Hills, The Legacy typically offers one of the best values as well as superb conditioning, with rates running between $75 and $119 depending on the day and season.

A bit further out in Boulder City (a 45-minute drive) is Boulder Creek Golf Club (www.bouldercitygolf.com), a 27-hole facility that sits on the exposed desert floor, but is so nicely planted and groomed you hardly notice. Rates range up to $150 here in-season, but a meander through historic (and non-gaming) Boulder City, built in 1931 for workers constructing nearby Boulder Dam, is very enjoyable.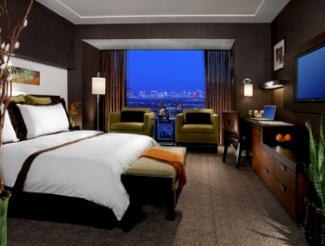 Red Rock's King Room
I had heard so much about Aria Resort & Casino, the new 4,004-room (I did describe the new wave of hotels as bigger), MGM-run hotel at CityCenter, that I wanted to see it for myself, so that's where I spent the first two nights of my trip. It's a hi-tech wonder. The curtains open and the lights go on when you walk into the room (yes, I finally found my room). I was warned at check-in that the mini-bar is on sensors, so even picking up or jostling the $12 jar of cashews triggers a charge to your credit card. Yikes.

A remote unit controls everything from the air conditioning to the roll-down sun screens to a call for housekeeping. Luckily it's a very intuitive remote, because typically I can't even figure out how to turn on a TV with one, and the front desk has to send the "tech guy" up to show me.

From the floor-to-ceiling windows of my 23rd floor room I could see the neon skyline, flashing billboards and ant-sized people down below. In the morning I felt like I was witnessing a surrealist painting being formed before my eyes as the brilliant orange sun rose over the still persistent neon of the city.

One of the real highlights of my stay at Aria - and one of the best meals I've ever had - was dinner at Jean George's Steakhouse. The combination of flavor and texture achieved by the soy-glazed short ribs with apple-jalapeno puree and crunchy rosemary crumbs might be worth a trip back to Las Vegas in and of itself.

I also enjoyed a couple of days in Summerlin, where a less frenetic ambience is found. It's a few miles north of downtown, and you can see the lights of "The Strip" in the distance, but only have to enter the wackiness if you so desire.

I've had several delightful stays at the JW Marriott in Summerlin over the years, but on my most recent visit I booked a room at nearby Red Rock Casino Resort & Spa. Located on 70 acres near the majestic Red Rock mountains, this swanky property (the translucent red-entry doors immediately let you know you're someplace trendy) opened in 2006 and features spacious rooms that offer either a view of the Strip (my choice) or the surrounding mountains.

The 25,000-square-foot Spa at Red Rock offers a sleek, ultramodern retreat; and a massive casino features state-of-the-art gaming. Several memorable restaurants are sprinkled around the property, notable T-Bones Chophouse and Lounge - featuring a 7,500-bottle wine loft.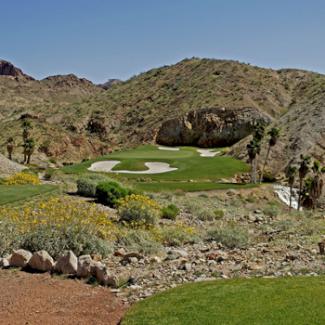 The 7th at Cascata
Of course for me, Las Vegas is not about gambling or dining, but rather golf, and one of the other reasons I choose Summerlin is that it gives me easy access to several of the state's best courses.

TPC Las Vegas - the former host site of the Las Vegas Invitational - is an exercise in strategic play. Like most TPC courses built for tournaments, it's best to hit "smart" shots. Some 99 acres are grassed - not a lot - but this is not a target course. Located in the footsteps of the scenic Red Rock National Park, and only a few minutes from the Summerlin hotels, TPC Las Vegas (www.tpc.com/TPCLasVegas.aspx) is highlighted by superb conditioning, natural canyons and land crevices and excellent customer service.

Also in this golf-rich area, be sure to check out the 27 holes of Johnny Miller/Chi Chi Rodriguez-designed golf at Badlands (www.badlandsgc.com) that are yearly ranked among the top courses in Nevada. You've got to pick your club carefully and think your way around Badlands. You don't have to hit driver on every hole . . . in fact, it's smart if you don't. There are some forced carries over desert washes on the layout, but the resistance to scoring is really found on the recently renovated putting surfaces.
Nearby Angel Park (www.angelpark.com) is one of Nevada public golf's longstanding gems. There are two 18-hole championship courses here, flanked by a nine-hole short course (great for iron play) and a nine-hole putting course (both lighted for night play). The two 18-hole layouts are in pristine condition year-round and a bargain to play: between $75 and $135 (seasonal).

And Las Vegas Paiute Golf Resort (www.lvpaiutegolf.com) is as good as daily-fee golf gets in the area. The three courses at Paiute include the Wolf, which at 7,604 yards is the longest in the state. Memorable is the 15th hole on Wolf, a par-3 that plays to an island green. Snow Mountain and Sun Mountain are the other two 18-hole tests at Paiute, where September rates range from $139 to $159.

As good as the courses are in and around the Las Vegas metropolis, however, there are also some new and very exciting courses you'll want to play in the 90-mile radius outside of town. Though it seems like you're driving into the heart of nowhere once you turn off Interstate 15 and onto Highway 93, Coyote Springs (www.coyotesprings.com) is well worth the drive. A Jack Nicklaus design called The Chase is the first of several golf courses planned to open over the next several years, and it's daunting.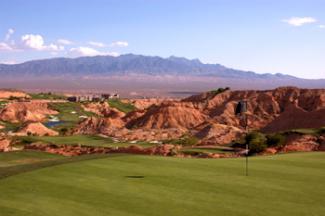 The 3rd Hole at Wolf Creek
At Coyote Springs, it seems as though Nicklaus reverted to his tough design days of the 1980s. There's hardly an even lie to be found in the fairways, and there is a price to pay for veering into one of the many deep, scallop-shaped bunkers. The design artfully grooms the desert edges into waste-bunker transition areas, and there's much more water than expected on the course. For me, making par was cause for celebration at Coyote Springs, as they were infrequent and hard-fought.

A little more than an hour north of Las Vegas (roughly 80 miles) on Interstate 15 heading toward Salt Lake City, the town of Mesquite offers a little cooler weather (nice in summer) due to its roughly 2,000-foot elevation. A green river valley provides welcome color relief, and some red-rock plateaus and dramatic elevation changes give the courses their personality.

Wolf Creek (www.golfwolfcreek.com) used to be the flagship course in Mesquite, and it's still a must-play. Its fairways and greens are set into a backdrop of deep-red canyons and surreal rock formations and, though the landing areas are wide off the tee, the putting surfaces are tougher to read than James Joyce's "Ulysses." Even accomplished players will find themselves three-putting during a round at Wolf Creek.

But equally enticing in Mesquite nowadays is the new Conestoga Golf Club (www.conestogagolf.com), a Gary Panks-design that meanders through natural arroyos and features impressive elevation changes. Though located inside a Sun City community, Troon-managed Conestoga is no old man's golf course, and better yet it is open to the public.
Continuing north on Interstate 15 beyond Mesquite, golfers should definitely check out the Red Rock Golf Trail (www.redrockgolftrail.com) in St. George, Utah. There are nine courses here that are part of the trail, but I suggest heading straight to the brand-new Sand Hollow (www.sandhollowresort.com), a masterful John Fought design that features a series of four back-nine holes carved from red rock ledges and overlooking a green river valley. Definitely a WOW.

Once visited, it's certainly tempting to make St. George a separate trip altogether. With the city's proximity to Zion National Park (30 minutes), nine courses to play and a couple of destination spas, one could spend several very satisfying days in St. George.

It's fair to say that until recently, Las Vegas was a place where golf was no more than an afterthought if you could pull yourself away from other pursuits long enough. Nowadays, though, Las Vegas and environs have become a full-fledged golf destination with courses of every variety and in every price range.
Back to Being Everyone's Fantasy

The family theme is long gone. Las Vegas is back to being everybody's craziest fantasy . . . even if it's one you wouldn't want your kids to know about. Who among us doesn't want to be a star? To have our 15 minutes of fame? In Las Vegas, you can dress the part, talk the part and act like Tiger Woods . . . for a price.

On the other hand if great golf is your prime motivation, you've likewise come to the right place. It's all a matter of perception.
Award-winning publisher, editor, writer and photographer George Fuller has been covering golf travel and lifestyle for more than 30 years. From 1992 to 1997 he was editor of LINKS-The Best of Golf, based in Hilton Head, S.C. In 2005, after having spent several years in the Pacific starting two magazines for Continental Micronesia Airlines and writing two books, Fuller launched GOLF LIVING Magazine for the Los Angeles Times, a "super-regional" magazine of travel, real estate and the lifestyle surrounding the game of golf. In 2009, he helped redesign and re-launch TEXAS GOLFER, a magazine with 25 years of history in the Lone Star State. Most recently, Fuller partnered with Troon Golf to launch TROON GOLF & TRAVEL, a monthly eMagazine with an annual print component. In addition, Fuller's newspapers and magazines credits include TIME, Wall Street Journal, San Francisco Chronicle, The Los Angeles Times, Robb Report, Coastal Living, Palm Springs Life, Estates West, GOLF Magazine, Golf Digest, Travel & Leisure Golf, LINKS, Successful Meetings, Honolulu and many others. He has reported for Reuters, United Press International (UPI), written for Copley News Service and is a regular on-line travel correspondent for Cybergolf. Based in Pacific Palisades, Calif., he can be contacted at gfuller@earthlink.net or 310/245-9550.