Endgame - Examining the Most Interesting Finishing Stretches in Golf
By: Jay Flemma
[Editor's Note: Cybergolf's Jay Flemma is reporting from Atlanta Athletic Club during this week's PGA Championship. This is Jay's - with a little help from his friends' - opinion about how the final holes of the host course can make a major championship thrilling.]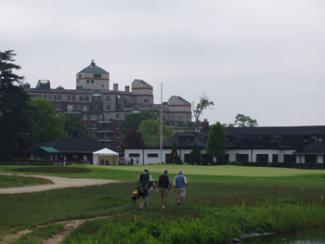 Oakmont's 17th
Just how famous was Robert Trent Jones, Sr. for making hell out of a professional golfer's day? There's a great story about old pro golfer Jimmy Demaret teasing Trent when he ran into him at a golf course. He put his arm around Jones's shoulder and said, "Hey Trent! I saw a golf course you'd love. You stand on the first tee and drop a ball over your shoulder."

Cut to decades later and there's Senior's second son Rees, getting so beaten up this week for the hot mess that is Atlanta Athletic Club he has to feel like he went 10 rounds with Mighty Thor. Perhaps some of the members think watching everyone take a bath at 15 and 18 is funny, but those of us that are there to, you know, watch golf, aren't amused. In the caviar and Jameson's tent perhaps it's amusing. But this is the PGA Championship, not "stupid golf course architecture tricks."

What's the problem with 15-18 at Atlanta Athletic Club? Too long, too much water, too many trees, too narrow, too many greens not designed to accept the shot required, and too bad we can't ship the entire thing back to Montclair, N.J., for a refund. At a major championship the course is supposed to be the star. Well, this week Atlanta Athletic Club is golf architecture's rejoinder to Kathy Griffin. No. 18 in particular should go down in history as one of mankind's most awful crimes kKind of like Medinah Country Club, for that matter).

Anybody can make a course hard - just build a water-logged bowling alley (like 15 or 18 at the Highlands Course), but harder is not better.

I rate the finishing holes at Atlanta Athletic Club a dismal 1 out of 10 (10 being the best). It's a stupid finish, just dim-witted and brutish. A caveman could have designed it (and I don't mean the cavemen from the Geico commercials either).

Let's study the closing stretches of some truly excellent American major championship venues and other iconic courses by way of comparison and, at the same time, bring in some interesting figures from the world of golf to teach us about them.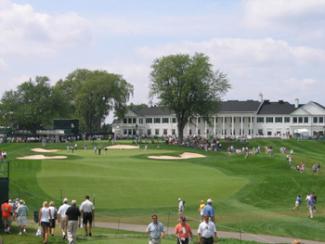 The Closer at Oakland Hills
TPC Sawgrass (Stadium Course) with Architect Pete Dye

[Author's Note: Pete was the only person we couldn't contact last night, so this is compiled from my notes from multiple interviews with him. All other interviews were conducted last evening, during Round 3 of the 2011 PGA Championship.]

"Wait a minute, Jay," you ask. "Isn't Sawgrass a watery slog?" No, it's not, at all. Pete Dye gives you options. You can challenge the water or play around it and still make par. It's not a total forced carry except at 17. Let Pete explain:

15 - 449 yards, Par-4: "The strategy is fade off the tee, draw into the green. I don't want the players to get comfortable. So I routed the course so they are hitting different clubs off the tee - sometimes driver, then sometimes a shorter club, then I mix in a par-3. If I keep them off-balance, they can't just get on auto-pilot, not use their noodle and cruise around like it's nothing."

16 - 523 yards, Par-5: "I rebuilt this hole so many times, and now it's back to what I gave them the first time, except for when I first built it, I had the green run away from the player. When they told me what they wanted this time, I just laughed and didn't say anything. You can reach it in two, but you have to be careful. You can make 3 or you can make 6-7."

17 - 137 yards, Par-3: "Alice's greatest contribution is that she's got an eye not only for professional and expert amateurs, but horrible players as well. She'll look at a hole and tell me how her friends that can't break 130 have to be able to play that hole. She made it so that green also didn't run toward the back, and she was right."

18 - 462 yards, Par-4: "I kept the right side clean, no bunkers, no trees. I also curved the edge of the water because I wanted the player to have to really think, concentrate, on picking the proper line carefully, as well as execute the shot. They have to think carefully at Sawgrass, and that's where the fun comes in, when you make them think, 'cause when they have to use their brains, that's when the nerves come into play too. That's the best way to challenge a tour pro. Otherwise, they're too good with that equipment."

Jay's Rating for the Finishing Holes: 9/10
Oakmont Country Club (with the author of course's 100th anniversary book and former Pittsburgh Post Gazette writer, Marino Parascenzo)

15 - 500 yards, Par-4: "The fairway in some places slopes right, so you have a hard time keeping ball bouncing into rough. You need an excellent shot to green. Then when you get to the green, you have to putt, and putting on Oakmont's greens is, at the best of times, a nightmare. 15 was once rated one of the toughest 15th holes in the country."

16 - 231 yards, Par-3 - "You play across a swale to a green with a bunker on the right front corner, with the usual severe undulations on green (if you can hold it in the first place). You get devilish putts. Larry Nelson holed a 62-footer to steal the 1983 U.S. Open from Tom Watson, who was defending champion."

17 - 313 yards, Par-4: "Watson lost the '83 open at 17 when he went he tried to drive the green and ended up in Big Bertha, the deep bunker. That's why it's such a great hole, the temptation. He made bogey. These are deep bunkers and a crowned green. What it lacks in length, it makes up for in temptation and brutal punishment. It's my favorite hole of the whole bunch - you can make eagle or double-bogey very fast. Phil Rodgers lost the 1962 Open in a tree on that hole! He took 8…if he made 5 he'd have beaten Jack and Arnie, and he only needed 6 to make a playoff. I checked the 1962 USGA rule book. In 1962 if you were unplayable, and you went back to tee and it was a one-shot penalty, but if you dropped where you were it was a two-shot penalty, and that's why he didn't drop. That's why he hacked it out of there."

18 - 484 yards, Par-4: "It just requires, as usual, a tee shot into the fairway and putting the approach on the right section of green. If you need a finishing birdie, good luck.

There's no water at Oakmont and no real forced carries. It's just a bastard of a course - no trees or ravines or waterfalls, but you stagger off the end and ask 'What the hell just happened?' "

Marino's Rating - 10/10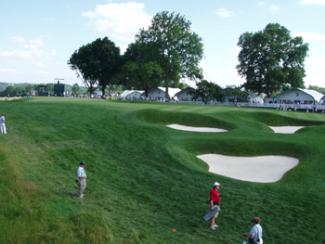 The 18th at Garden City
Olympic Club (Lake Course) (with Art Spander, for 50 years the iconic sports writer for the Oakland Tribune and many other papers and magazines)

15 - 160 yards, Par-3: "A short hole with an elevated green completely surrounded by bunkers. Amateurs can play it, but anyone can screw it up. It's an easy par-3 if there is such a thing on a major championship course."

16 - 676 yards, Par-5: "A huge crescent moon-shaped par-5. Maybe John Daly got there in two, but nobody else. That's where Billy Casper picked up four shots on Arnold Palmer in the 1966 Open. Casper birdied both and 17, Palmer bogeyed them, but at 16 it was one of the greatest bogeys of all time. He hit a tree for an 80-yard-long drive and was in the long, long rough. I was there in '66 watching, and he got to greenside bunker in four, then got up and down."

17 - 522 yards, Par-5: "Everyone says it's unfair because the whole fairway slopes to the right. The course is built on the San Andreas Fault and everything rolls right. Slicers hate it because what goes right ends up going even further right."

18 - 347 yards, Par-4: "A short hole with a drive to a basin then an approach uphill one story above you. They always put the pin in the wrong place and you can putt off the green. Payne (Stewart) putted up hill for birdie, stopped 1 foot away, then it came back 25 feet off the green and it cost him the open in 1998. Hogan whiffed in the rough on 18 in the playoff against Fleck in '55."

"Remember, there's only one fairway bunker on course, but 40,000 trees. Many of them are down now, but no water, no OB. Just trees, trees, trees, trees, trees. The course also has reverse camber, when your lie is left to right, the hole goes right to left and vice-versa."

Spander's Rating - 8/10
Winged Foot (West) (with 1997 PGA Championship winner Davis Love III)

"They are all par-4s so there isn't a lot of variety, but they are all hard, stout holes. 15 is short by today's standards, but you need to be accurate to make birdie. 16 is the toughest drive and the most intimidating off the tee. A good straight drive will only get you in position to hit the green. Nothing less than a perfect drive will allow you to go at the flag. 17 is not too tough a hole, perhaps the easiest of the bunch. 18 is tough off the tee, but is even more intimidating on the approach. You can't miss short or right. Short comes back down the fairway and right is in a bunch of rough covered mounds. Plus there's the bunker on top of that. You must hit the right level of the green or you have no chance of making the putt. It's just plain hard, no let up."

Love III's Rating - 7/10. "My favorite closing stretch is Pebble Beach. There's more variety: par-4s, a par-3 and a great par-5 closer on the water.

Chambers Bay, Site of the 2015 U.S. Open (with architect Robert Trent Jones, Jr.)

15 - 220 yards, Par-3: "Everyone will love the finish at Chambers Bay. 15 is a downhill par-3 with the iconic tree in the background. It plays over a sandy waste to a wide but shallow green."

16 - 317 yards, Par-4: "Now remember you can move all the tees because of the ribbon tees I built - long tees several hundred yards long that really let you move the tees around. (You could even play the par-3 15th as 130 yards if you wanted). 16 is the smallest green on the course with an open entrance with a waste bunker guarding the right. Further right, you're in the railroad tracks, farther right than that, Puget Sound."

17 - 200 yards, Par-3: "Another long, thin tee box with a sandy waste area on the right and a gull-wing-shaped green with a trough in the middle and plateaus left and right. If you hit it through the trough it spills off the back."

18 - 605 yards, Par-5: "A classic finishing par-5, paralleling the old industrial sorting bins for the old sand and gravel operation. Carry the huge sandy waste area off the tee like at Pine Valley. There are also two bunkers. Aim the tee shot at the left one and cut it. You can actually see the entire hole tee to green, unusual for a par-5. You can reach in two, but the fairway is in a hollow between cathedral dunes right and left to a huge (10,000-square-foot) green) broken into contoured sections guarded by the waste front right, open on left. You can try in two but not likely to make it, really a three-shot hole. My dad said have one par-3, one par-4 and one par-5 in the last four holes, so you can test both the Nicklauses and the Crenshaws."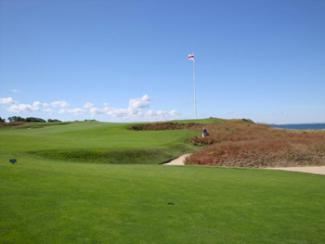 the 18th at National Golf Links of America
RTJ's Rating - 9/10

Bethpage Black (with Chuck "Chucky" Cordova, a local who is an expert analysis on the Black and a life-long weekend player. "Chucky Cordova?" asked Robert Trent Jones, Jr. bemusedly. "Tell him I like his name.")

15 - 487 yards, Par-4: "It's Cardiac Hill. You must hit a perfect drive to have a chance to get up that hill, and that pin is protected by a severely sloped green. Par is a great score. It's an All World hole."

16 - 497 yards, Par-4: "Since you're coming back down the hill, it shouldn't scare too many pros unless they are still reeling coming off 15. You can get at the pin on the approach. It's a good shot at a birdie, and should be a par."

17 - 211 yards, Par-3: "It's the best par-3 of any major in past five years, except Pebble Beach. You can make it 190-220, hitting to a green surrounded by layers and layers of sand, plus a two-tiered green where you must be on right level."

18 - 411 yards, Par-4: If the tees are way back, you must not try to hit it in the neck, you have to lay back. It's not the best finishing hole, but it looks pretty. The positive is you can get one back on the field by making birdie."
Chucky's Rating - 7/10

Kiawah Island (Ocean Course) Home of the 2012 PGA Championship (with Brett Sterba, Championship Director for the 2012 PGA Championship)

15 - 444 yards, Par-4: "A demanding hole that heads back to clubhouse. In fact, all four closing holes play with an August prevailing wind coming from the SW over your back right shoulder towards your left shoulder, a diagonal wind, behind you, but a little across. The generous fairway slopes from right to left to an elevated green with waste area left and steep fall off on that side and the ocean and dunes on the right."

16 - 579 yards par-5: "Another hole parallel to the ocean with a tight fairway again sloping right to left, away from the water. The green is guarded by a waste bunker 15-20 feet high, with a bunker behind and ocean dunes on the right."

17 - 221 yards, Par-3: This hole will play longer than in the Ryder Cup and is the most demanding par-3 on golf course. It takes 200 yards to carry the water." [Author's Note: All Mark Calcavecchia had to do was hit the green and he won the Ryder Cup for America. But he missed, losing a 4-up lead with four to play.]

18 - 501 yards par-4: "There is a new tee box closer to ocean, so the angle of the hole is much different. Players must drive to a plateau about 220-180 yards from the green. The tee box and the green are parallel to one another, directly in a line, but the drive must be played to the fairway which is set obliquely to their left. On the approach, the ocean is hard on the right. It's a great finisher."

Brett's Rating - 10/10

Your intrepid author will throw out three of my favorites: Oakland Hills, National Golf Links of America and Garden City Golf Club.

Oakland Hills not only has the four hardest finishing holes in major championship golf, but four of the most interesting finishing holes as well. 15 has a bunker in the middle of the fairway, making players think. The idyllic 16th has seen great history for seven decades from Hogan to Littler to Garcia's flame-out to open the door for Harrington. 18 is a brutal, but fascinating finisher, and it doesn't need a drop of water, let alone 500 yards of it like Atlanta Athletic Club. My rating - 9/10

Garden City Golf Club, home of the Travis Invitational - the "Masters" for amateur players, features the wonderful "Wall hole" at 15, a long, uphill par-4 with a green tilting severely left to right, a reachable par-5 where you aim your drive at the steeple, and the "best Eden hole in America," according to Tom Doak, as the finisher, a beautiful par-3 playing to the clubhouse with the Garden City Hotel towering over the whole scene. My rating - 9/10

National's finish goes "Narrows, Punchbowl, Peconic, Home." National is the beginning of all discussion of golf course architecture in this country. My rating - 10/10
Since launching his first golf writing website in 2004, http://jayflemma.thegolfspace.com, Jay Flemma 's comparative analysis of golf designs and knowledge of golf course architecture and golf travel have garnered wide industry respect. In researching his book on America's great public golf courses (and whether they're worth the money), Jay, an associate editor of Cybergolf, has played over 420 nationally ranked public golf courses in 40 different states, and covered seven U.S. Opens and six PGA Championships, along with one trip to the Masters. A four-time award-winning sportswriter, Jay was called the best sports poet alive by both Sports Illustrated and NBC Sports writers and broadcasters. Jay has played about 3 million yards of golf - or close to 2,000 miles. His pieces on travel and architecture appear in Golf Observer (www.golfobserver.com), Cybergolf, PGA.com, Golf Magazine and other print magazines. When not researching golf courses for design, value and excitement, Jay is an entertainment, copyright, Internet and trademark lawyer and an Entertainment and Internet Law professor in Manhattan. His clients have been nominated for Grammy and Emmy awards, won a Sundance Film Festival Best Director award, performed on stage and screen, and designed pop art for museums and collectors. Jay lives in Forest Hills, N.Y., and is fiercely loyal to his alma maters, Deerfield Academy in Massachusetts and Trinity College in Connecticut.