Enhancements at Harbour Town Complete
Pete Dye has completed enhancements to Harbour Town Golf Links in Hilton Head Isle, S.C. The course is the home of the PGA Tour's RBC Heritage.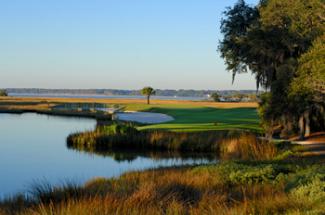 The 17th at Harbour Town Golf Links
The layout was lengthened by 150 yards, a handful of trees were removed to improve sightlines and a select number of bunkers were reshaped or extended to bring hazards back into play.

"Pete Dye is a dear friend of Sea Pines' and his name and legacy are intrinsically tied to this resort. We are honored he returned to prepare Harbour Town for the next chapter in its colorful history," says Cary Corbitt, director of sports division of Sea Pines Resort.

"Harbor Town made my career," says Pete Dye. Forty years ago Harbour Town opened to much fanfare and hosted a nascent PGA Tour event - the Heritage Classic. Arnold Palmer staged one of his patented final round charges for the inaugural victory and the Lowcountry "must visit" destination was launched. During an onsite evaluation in early 2011, Dye toured the course and charted a series of enhancements, ensuring the layout would retain its lofty status.
To complement Harbour Town, Sea Pines also recently tapped Dye to create Heron Point on the site once occupied by the Sea Marsh course. Rather than simply renovate Sea Marsh, Sea Pines elected to give Dye free rein to fashion an entirely new layout using the existing routing. The outcome was another creation that has been lauded in national and regional golf publications.
At 7,000 yards maximum, Heron Point can play considerably shorter if needed via a sextet of tees on each hole, but length has little to do with the layout's overall strategic challenge. Golfers will face a sequence of risk-reward shots, fairways that slope devilishly towards hazards and Dye's signature mounding and swales framing target areas.
Says Corbitt, "With two Pete Dye classics - Harbour Town and Heron Point - we now offer as fine a 'one-two' golf combination as you'll find anywhere in the game."
Sea Pines also boasts the Ocean Course - the island's first and a George Cobb/Mark McCumber design with an emphasis on traditional principles of course architecture. For more information about the resort, visit www.seapines.com, or call 866/561-8802.