Estrella Mountain Ranch
By: Rick Corcoran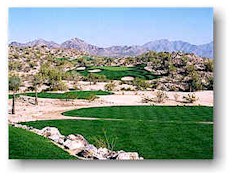 In Spanish, Estrella means "star," and if you look toward the southwest from Phoenix, you can see a new star rising.

Estrella Mountain Ranch, located about 30 minutes from downtown Phoenix in the city of Goodyear, is definitely a shooting star in its own right. The course is relatively new in the constellation of golf, but it's making an impact on the Arizona golf scene already. Built in February 1999 by Jackie Nicklaus II, Estrella Mountain Ranch is a true desert golf experience.

The bear cub layed this course into the natural terrain without disturbing too much of the existing landscape. The course looks like it belongs there, meshing very well with the rest of the surrounding desert beauty. The amazing thing is how quiet it is when you're out on the course. The layout isn't one of those side-by-side designs that have all the holes packed together, but follows a path cut through the desert that has some subtle elevation rises. There's nothing artificial to the eye. There is also only one road that gets you there, so there's no traffic noise to worry about, either.
Nicklaus wanted to create a course that makes every golfer have to use every club in the bag. Large landing areas make it very fair, but the key to scoring well is the second shot because a lot of the 83 bunkers are around the greens. Once you're on the greens, don't relax because these babies can roll at light speed, around a 10 on the stimp meter. The one tip to help you out is the ball will break toward Gila Bend Arizona to the Southwest.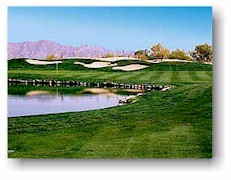 "The Chute," "The Scorpion" and "Sidewinder" are names of holes that give you a sense that there is some tough real estate to negotiate. Other names such as "Morning Star," "Oasis" and "Mountain View" give you an idea of the sights that await you out on the course.

Most top-tier courses in Arizona are going to land in the $150-range to play during high season, but Estrella Mountain Ranch is down around the $100-mark, depending on the day you play. It's even cheaper during the week with a fairly inexpensive replay rate in the $40-range. It was voted in the Top 10 daily fee courses by the Phoenix Business Journal, which translates into a big bang for your buck.

Customer service is also big at Estrella. Ninety-eight percent of comment cards give very positive marks in regard to the way the course is run. If you can stay around the 19th hole until sunset you're in for a treat. The Estrella Mountains will turn purple to the eye just before the sun goes down. When the darkness takes hold, the stars come out and one of them is named Estrella Mountain Ranch.