Excitement Grows Over Old Macdonald
By: Tony Dear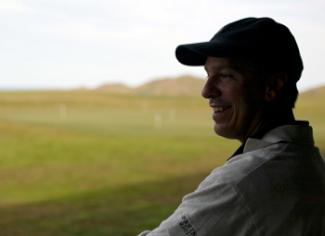 Tom Doak
The debut of Old Macdonald, Tom Doak's second design at the Bandon Dunes Golf Resort in southwest Oregon, can't come soon enough for an ailing golf industry.

Six months from now, the fourth course at Bandon Dunes will open and, for a moment at least, all will feel right with a world beaten down by recession and largely deprived of great new golf courses.

Modeled on the historic designs of Charles Blair Macdonald, the man regarded as the "Father of American Golf Course Architecture," Old Macdonald will shine in an already dazzling corner of the golf world as it fits in alongside a trio of famed siblings: the eponymous Bandon Dunes, which David Kidd wrought from a sea of gorse, Tom Doak's Pacific Dunes, which certainly wasn't the 48-year-old visionary's first design but which trumpeted his arrival as one of the game's most talented designers; and Bandon Trails - Bill Coore and Ben Crenshaw's heathland classic that opens and closes with a couple of links beauties but which saunters through a forest of manzanita, hemlock, white fir, and cedar for most of its enthralling journey.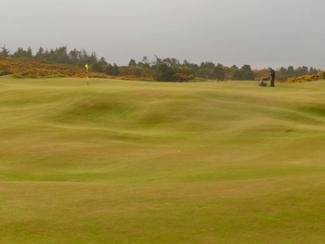 The wildly undulating 10th green at Old Macdonald
Each of these three layouts is so good, they all appear in the top 15 of Golf Magazine's most recent ranking of the country's top public-access courses, and during your stay you're every bit as likely to encounter golfers who say Trails is the pick of them as you are those who insist the original is still the best.

It is Doak's 2001 design of Pacific Dunes that invariably edges out the other two in most publications' rankings, however, placing first on Golf's 2008 list of Top 100 Courses You Can Play, and No. 2, behind Pebble Beach, on Golf Digest's 2007 register of America's 100 Greatest Public Courses.

If early indications, such as the already-full tee sheets, are anything to go by, Old Macdonald will waste little time in throwing its hat into the rankings' ring by joining its near-neighbors at the top of the tree. Indeed, as of early January 2010, there are more rounds booked at Old Macdonald for the year than any of the other courses.

"That's pretty unbelievable," says Doak, who resort-owner Mike Keiser rehired for the task of building course No. 4. "From the beginning, we said that if the new course winds up with 25 percent or 26 percent of the play at the resort, then we will have done something we can be proud of. So far, the reaction from people who have played the first 10 holes (available for preview rounds since last April) is much stronger than that. I really didn't expect people to tell me they thought it was the best course of the four. I'm sure some of that is just the excitement and the novelty factor of having another course to play, though."

Returning to the Oregon coast, site of his most critically acclaimed work to date, was an easy decision for Doak even if he harbored one or two minor reservations over the concept of the new course. "On one hand, going back to work in Bandon was the easiest thing we've ever done," he says. "We are so comfortable in that place and with all of the people there: Mr Keiser, Ken Nice the superintendent, everybody really right down to the wait staff who serve breakfast. It's pretty much a second home to me and to all my associates."
On the flip side, however, Doak says creating a layout in the style of a designer who has been dead for 70 years presented a unique challenge. "It was a very unusual job," he says. "To start from the very beginning, and design a course with a different theme and style from our own was tricky, especially with Pacific Dunes so close."

Macdonald was born in 1855 to a Scottish father and Canadian mother in Niagara Falls, Ontario. He grew up in Chicago and studied at St. Andrews University in Scotland from 1872 to 1874, discovering golf for the first time and quickly becoming hooked. After his return to Chicago, he became a wealthy stockbroker but had nowhere to play. New York's "Apple Tree Gang" would not get together until 1888 and the game did not really take hold in the new world until the mid-1890s.

In 1892, Macdonald built an 18-hole course - the first 18-holer in the U.S. - in Belmont, 20 miles west of downtown Chicago, and a year later the Chicago Golf Club was born. In 1894, the members uprooted and headed for a 200-acre parcel in Wheaton that Macdonald had chosen because it reminded him of the "Auld Country." There, he modeled many of the holes on those he had played in Scotland, preferring their bold, natural look to that of the tedious, straightaway holes Scottish and English immigrant pros were being paid $25-50 to stake out in an afternoon elsewhere in the U.S.

In 1900, Macdonald left Chicago for New York, where he grew ever more frustrated with the unimaginative designs he saw. Starting in 1906, he began "gathering" 70 founders, each of whom contributed $1,000 for the construction of a new course on Long Island that Macdonald hoped would share many of the great features and attractive characteristics of the British links he thought so highly of.

The first rounds on the National Golf Links of America were played in 1909, with the club officially opening in 1911. Its holes, though not direct copies, were clearly inspired by some of the best in Britain: the 3rd a nod to the 17th at Prestwick; the par-3 4th a superb version of North Berwick's Redan hole; the 7th a treacherous adaptation of St. Andrew's Road Hole.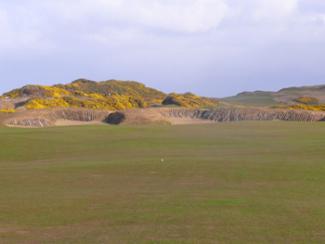 Hell Bunker on 6th hole at Old Macdonald GC
(photos by Blaine Newnham)
"Macdonald was a classicist who revered the great courses of Britain," says Doak, "His approach was not just to wander around the land and try to find the best holes he could; instead, he had a short list of what he considered to be ideally designed holes, and he tried to find the right spots on each property to build new versions of them."

Doak's starting point was to go back to the roots of Macdonald's thinking, rather than simply study the holes he, and his protégé Seth Raynor, had built. Having played all of his "copies," Doak is well aware that Macdonald's Redan holes and Road Hole renderings were not all the same, and that some diverged slightly from their Scottish roots. "That gave us license to do the same," he says. "So we weren't building 'replica' holes per se; we were replicating Macdonald's process and trying to find good places to build another version of the holes he admired."

One advantage Doak had over Macdonald, in addition to bulldozers, computers, and Keiser's generous financing, was the extraordinary talents of associates Jim Urbina, Brian Slawnik and Bruce Hepner, each of whom has between 10 and 20 years' experience building golf holes. "With them around, it would have been silly to build the same simple geometric forms (rectangular greens and bunkers) that Macdonald did, specifically at Chicago. I decided if Macdonald had had those guys to work with, he would have done things differently, and tried to make his golf course in Bandon look more like the original links courses."

The result is probably not what people are expecting, says Doak, who adds that if a member of the Chicago Golf Club were standing on the 1st tee not knowing the course's name, he probably wouldn't see the connection. "But when that Chicago member walks on to the first green, a huge backwards 'L' shape with plateaus at the front left and back right, he would feel at home right away because Macdonald built a green like that on nearly every course he built. At the next hole, a par-3, he would see the flag stuck right behind a nasty little pot bunker, and if he'd ever been to St. Andrews, he would instantly know where that idea came from."

Just reading Doak's words quickens the pulse of the devoted golfer who can no doubt picture the rumpled fairways, the oversized greens (one of which is 18,000 square feet!) and the type of tight, sandy turf off which the purest, most responsive contact is made. Geoff Shackelford, author of 10 books - most on the subject of golf course architecture - and an architect himself who has collaborated with Gil Hanse, a former Doak associate, is confident Old Macdonald will be a popular alternative to Bandon's other treasures. "I'm sure it will be very well received," he says. "It sounds like it's going to be great fun. I'm for anything that gets people better understanding and appreciating the old architects. Being a 'theme' course celebrating the work of C.B. Macdonald and Seth Raynor, it will certainly do that."
It's a little early to start making predictions about which new course is likely to be the year's best, but Old Macdonald is bound to appear somewhere on the short-list. It promises to be so well received, in fact, it would likely vie for the top spot in any year. In 2010, however, the competition will probably be a little thin on the ground.

Just 39 18-hole courses opened in the U.S. in 2009, and this year's figure might not be that high. The recession, coupled with an unfortunate, but not altogether unforeseeable, surplus of courses resulting from manic over-development in the 1990s and early part of this century means that course construction can't keep up with course closures.

Had it not been for final construction work on Old Macdonald and a course named Bay of Dreams (Bahia de los Sueños) in Baja California, Mexico, Doak and his team might have had a pretty quiet year. "It really was a very slow time for us," says Doak, "and probably indicative of what lies ahead. We didn't start any new projects in 2009, and four or five of the projects that we had under contract just went into deep freeze. The ones that were housing-related will probably never be built now, because that whole end of the market has dried up, and that was 60-75 percent of new golf development."

Thankfully, Renaissance Golf, and Urbina in particular, is still in demand for its remodeling and restoration of classic courses (San Francisco GC, Yeaman's Hall, Pasatiempo, the Valley Club of Montecito, Claremont CC), something Doak hopes will keep his troops busy. "My associates still love to do all that consulting work at older clubs," he says, "which is good because that might be all there is for a while. I've told them they will need to transition to becoming independent contractors, and to take more responsibility for finding work on their own.
"Jim will be the first to test the waters. He's really to the point where I don't need to look over his shoulder, so I'm trying to help him get some more consulting work on his own. I still expect to work with him on a new project here and there, but he really ought to be in demand on his own. And by the same token, some of my lesser-known associates ought to have their turn in the spotlight too."

As well as relinquishing some of the responsibility he feels for his employees by allowing each one space to look for work on their own, Doak has been trying to offset the slump in orders in the U.S. by seeking jobs in places he never expected to go looking for work.

"Next week I'm going to Brazil to look at a potential project," he says. "And last year I went to Japan to scout a possible renovation of Keiyo CC in Tokyo, South Korea, India, Japan, Spain and China. We've actually signed contracts for new projects in three of those countries, so we ought to be busy for the next couple of years. But we have all learned lately that those contracts are meaningless until construction has begun."

(Just before this article was published, Doak had signed up to build one of the two courses at a new resort development in Central Florida. Coore and Crenshaw are lined up for the other course - an exciting prospect . . . but like Doak says, "prospects" don't put food on the table.)
As is the case with several American architects, Doak predicts most of his appointments in the near future will come from China, where he currently has two courses in the works. Both, not surprisingly perhaps, are on Hainan Island which at the moment seems to be at the epicenter of China's golf boom with the 22-course Mission Hills Hainan set to take over the mantle of the world's largest golf facility from its "mother" development, the original Mission Hills Golf Club in Shenzhen.

Both were commissioned by the same developer, Han Xiding, who made a fortune in advertizing before buying the rights to the Golf Channel in China. "Mr. Han is our kind of developer," Doak told Golfclubatlas.com last June. "Before he was in advertizing, he was a landscape painter, so he might appreciate what we do on an artistic level more than any client we've ever had. He appreciates the importance we place on the detailing of the course, and he's an avid golfer who understands the short-game shots that make our designs fun. He's aware not all of his potential customers will initially think of golf the way we do, but believes that the Chinese golfer is becoming more sophisticated, and is ready to embrace a different type of course."

For now, the first of Doak's China designs goes by the name of the Island Club, because it sits on a 300-acre island in the Nandu River, located in the city of Haikou, Hainan's provincial capital (the second will be built on Mulan Bay, Hainan's northernmost point).

Instead of sending out newsletters, Doak likes to keep friends, associates, media and prospective clients up to date with what the firm is doing by mailing postcards detailing the current status of each job and the nature of the work. Last fall, his postcard from Hainan Island showed a slightly apprehensive-looking Doak standing a few yards in front of a large water buffalo that was barely visible through the Haikou smog. "This setting is unlike any we have worked in before," says Doak, understating the point somewhat. "It's located practically within the city of Haikou and features a lot of waterfront property. As a New York native, I would compare it to building a course on Roosevelt Island." Except for the buffalo, of course.
Doak will certainly be stepping out of his comfort zone traveling to, and working in, China, but he knows he has to. "There is a growing population of Chinese people who can afford to play the game, and all of a sudden they have found that they actually like it," he says. "A friend of mine there tells me the main reason they love it is because it's a great venue for gambling, but whatever the appeal, there are only 400 or 500 courses in the whole country right now, and in 10 years' time there will probably be millions of golfers. So it is the one true growth market for new courses."

One firm that saw this coming several years ago and established itself just as golf began gaining popularity in China is Schmidt-Curley, whose principal designers, Brian Curley, originally from California, and Lee Schmidt from Indiana, had worked for Pete Dye and Jack Nicklaus before setting up their own company in 1997. "We had been involved with numerous projects in Asia before we formed our own firm, so in many ways we were in a position to hit the ground running," says Curley. "When we founded the firm, we were able to capitalize on our many contacts here. China, with its large population and burgeoning middle-class, was the next, logical place for golf to thrive."

In addition to the numerous courses they have built in association with famous player/designers (Nick Faldo, Fred Couples and Gil Morgan) in Arizona, California and Nevada, Schmidt-Curley has now built more than 40 courses in China and recently opened an office in Kunming to supplement its original Asia headquarters in Haikou.
Their most fortuitous association has been with the Chu family that began developing the original Mission Hills in 1992. Schmidt-Curley has worked on 10 of the club's 12 courses, and they continue to visit periodically to tweak them as club chairman Dr. David Chu sees fit.

Back in the States, course architects continue to gnash their teeth waiting for the good times to return. Curley, for one, doesn't ever see it happening. "I don't know that we'll ever have a boom approaching what we saw in the 1990s," he says. "On top of the economic downturn, younger players are growing up with different priorities and demands on their time. Most western courses have policies against cell phones, yet most potential 35-to-40-year-old players have grown up sending texts every minute of their lives on their Blackberries. Telling this person to not be 'connected' for five hours is a difficult task. It's not an issue in Asia where golfers are allowed to use their cell phones and encouraged to use the club as a place to do business."

For Americans that are part of that demographic to ever be attracted to golf, and if new courses are to start reappearing, the game will need to take a decisive turn, says Shackelford, not only eschewing the excesses so common at high-end facilities but also making a serious effort to put the emphasis back on fun. "The present situation certainly isn't ideal," he says, "but the future actually looks bright if you like golf courses a certain way: less expensive, drier, lower-key, quicker to get round and more entertaining.

"Clubs are going to become more affordable to join and more accessible to play. But we have to find a way to make golf less of an ordeal and get it back to a simpler, more relaxing pastime. We have to convince people that just because someone is not there to greet you at the porte cochere, or because the course only rakes its bunkers once a week, you still can have a great time. We'll get no help from the PGA Tours and USGAs of the world, but the one positive to come out of our dire economic times is that we are going to be saying goodbye to many of the game's overblown amenities."

Back in Oregon, the Bandon Dunes Resort is refreshingly understated, modest even. The lodgings are simple, yet elegant; the dining probably as good as anything you've sampled before, but without the fanfare. The closest Bandon Dunes gets to overblown, in fact, is a stable of 350 caddies, and the preposterously gigantic practice area (32 acres).

And though Old Macdonald won't be inexpensive at $220 a round in high season, it will at least be dry, fast and, best of all, fun. Really, all the game in America needs is a few hundred more like it . . . if just a little more affordable.
Tony Dear is an Englishman living in Bellingham, Wash. In the early 1990s he was a member of the Liverpool University golf team which played its home matches at Royal Liverpool GC. Easy access to Hoylake made it extremely difficult for him to focus on Politics, his chosen major. After leaving Liverpool, he worked as a golf instructor at a club just south of London where he also made a futile attempt at becoming a 'player.' He moved into writing when it became abundantly clear he had no business playing the game for a living. A one-time golf correspondent of the New York Sun, Tony is a member of the Golf Writers Association of America, the Pacific Northwest Golf Media Association and the Golf Travel Writers Association. He is a multi-award winning journalist, and edits his own web site at www.bellinghamgolfer.com.