Exclusive Club Taking Shape near Roanoke
Construction of Ballyhack Golf Club in the Blue Ridge Mountains outside Roanoke, Va., is gradually providing a preview of the upcoming private facility. Six holes on front nine are rough-graded and drainage is being installed, said golf course architect Lester George of Richmond. In early December crews from Landscapes Unlimited will start clearing the back nine.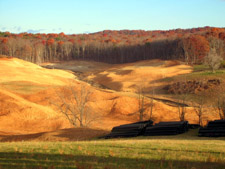 "This is huge, huge terrain. It's amazing," said George, best known for his 2001 design of Kinloch Golf Club outside Richmond, rated ninth-best private course in the country. "Some holes are 120 yards wide because the wind howls through there. It's called Windy Gap for a reason."
Ballyhack will be an exclusive golf development, with only 80 home sites and 60 local members. The course is scheduled for a spring 2009 opening.
The property is only a 15-minute drive from downtown Roanoke, but is isolated on undeveloped farmland, according to Ballyhack's director of golf operations, Jonathan Ireland. Because it is federally designated as "view-preserved," no development will ever abut Ballyhack.