Expansive Sandia GC is Downright Friendly
By: Steve Habel
There's nothing small about the Sandia Resort & Casino just north of Albuquerque, whether it's the huge hotel and gaming area that looms over the neighboring golf course, the expansive clubhouse or the setting that stretches from the end of the horizon to the base of Sandia Peak.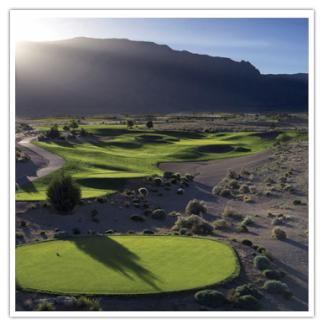 The Daunting Par-3 8th Hole at Sandia GC
The course is big-shouldered and fun, routed by golf architect Scott Miller through a high-desert landscape. Opened in June 2005, Sandia Golf Club was developed by the Pueblo of Sandia as an adjunct of the resort and casino. Carded at 7,772 yards from the tips, it's the longest course in New Mexico. But it doesn't play that way thanks to a number of elevated tees and rolling fairways with the amenable knack of pushing wayward shots back into play.

Sandia GC offers panoramic views of the Sandia Mountains, Rio Grande River, Corrales Bosque and the greater Albuquerque area. Fairway bunkers - there are 48 of them - enter play, and each hole gives the illusion of offering far less landing area than is actually available. Transition areas of decomposed granite and sparse desert landscaping line the fairways.

Laid out between the hotel and mountains, and offering a pueblo-style clubhouse and patio area for lunch, Sandia GC was on Golf Magazine's 2005 list of "Top 10 New Courses You Can Play." Miller, who designed the award-winning layouts at We-Ko-Pa Golf Club in Arizona and the Coeur d'Alene Resort in Idaho, is no stranger to creating courses that gain national, if not global, recognition.

Yet Sandia's layout is quite different from many contemporary target-style golf courses. Miller and the Pueblo felt it was important to build a layout where players were given adequate areas that place a premium on well-executed shots versus indifferent ones, and a course that is accessible but tough to score on.

Rated at 75.1 and sloped at 125 from the tips, Sandia has a little bit of everything. "While I think the everyday golfer will find the course very enjoyable and relatively easy to play, Sandia will offer a challenging test of golf for even the best players in the world," Miller said.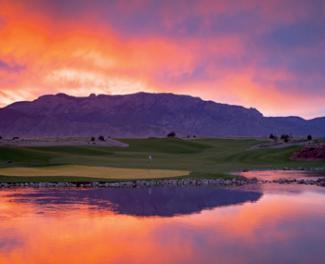 Sandia's 18th Hole at Sunset
You'll Use the Driver a Lot

Sandia's canted fairways keep stray tee balls in play and when shots do find the scrub, these areas are usually clear enough to allow an escape. So it's "bombs away" with the driver here, and success with your longest club is the key to low scores.

Sandia has six par-4s of 459 yards or longer - including two (the 515-yard fourth and 505-yard closer) that weigh in at more than five bills. All four of the courses par-5s are true three-shot holes as even the shortest (No. 7) plays at 592 yards. The 662-yard fifth is the lengthiest offering at Sandia, followed by the 655-yard 11th.

The course's par-3s are also salty, especially the 208-yard eighth, which plays uphill to a long and narrow green heavily dotted by bunkers. Its companion on the back nine is the 208-yard 16th with its elevated green with a huge false front.

Other memorable holes include the 403-yard sixth, a par-4 with a double fairway split by a ribbon of desert wash. The shorter route to the hole (374 yards from the tips) requires a strong drive over the wash, most carry.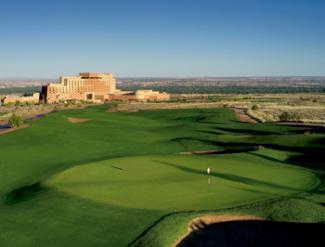 No. 1 Hole with Sandia Resort & Casino in Background
A Great Time On & Off the Course

Sandia Golf Club was named to the "Top 25 Casino Courses in America" in 2007 and has been a fixture since joining the top tracks in the Land of Enchantment. In 2006, the course was augmented by a world-class resort with 228 oversized guest rooms, including more than 30 suites. Every accommodation offers vistas of the Albuquerque skyline or the rugged Sandia Mountains.

The resort also includes over 35,000-square feet of "state of the art" entertainment, meeting and convention space for groups up to 3,000, a 12,000-square-foot spa and a plethora of dining options, including a 410-seat signature buffet, a steakhouse and Bien Shur, a rooftop gourmet restaurant with an indoor/outdoor entertainment lounge offering wonderful views.

Don't be intimidated by Sandia GC's length as this is a friendly and fun track with lots of opportunity to attack and few places that balloon your score. Believe me, it's a lot more of a sure thing than you'll find inside the casino.

For more information or a tee time, visit www.sandiagolf.com.
Steve Habel is one of Cybergolf's national correspondents, contributing news stories, features, equipment and book reviews and personality profiles from his base in Central Texas. He is also the managing editor for Texas CEO Magazine and works as a contributing editor for Horns Illustrated magazine, a publication focusing on University of Texas sports. He also writes a blog (www.shotoverthegreen.blogspot.com), which features news on golf and the Longhorns, and another (www.checkinginandplayingthrough.blogspot.com) on his many travels, which took him across the nation and to 105 different golf course in 2009. Habel is a member of the Golf Writers Association of America and the Texas Golf Writers Association.