Expect the Unexpected at Resort at Pelican Hill
By: George Fuller
Travel raters need to come up with a new six-star award for The Resort at Pelican Hill, because five just isn't enough. The setting itself - 504 gently sloping hillside acres just south of Newport Beach, Calif. - is magnificent, as anyone gazing out from the palatial hillside lobby across a bright-green golf course winding through russet-hued canyons and out to the shiny-blue Pacific will verify. But what this property can boast without blushing are service levels rarely attempted these days and a commitment to quality at every turn.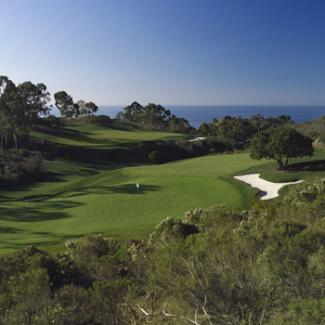 18th Hole at Pelican Hill South
Though independently managed, top brass and many line employees are veterans of Ritz-Carlton and Four Seasons properties, and they know the difference between lip service and true service. In other words, expect the unexpected.

From the beginning, Pelican Hill has been synonymous with great golf. Two Tom Fazio-designed courses opened here in 1991, with panoramic ocean views from almost every one of the 36 holes. Called Ocean North and Ocean South, both tracks are known to challenge even the best players with a combination of demanding length, forced carries and precision shots.

The Irvine Company, which owns the resort and golf club, closed both courses in 2005 to expedite construction of the long-anticipated hotel along with a new golf clubhouse. At the same time, Mr. Fazio was invited back to "re-perfect" his 14-year-old designs. When the courses re-opened in 2007, we got a sneak preview of what to expect at the hotel. The grand new clubhouse and Pelican Grill restaurant were built in the same architectural style and provide the same service quality as the then still-under-construction hotel.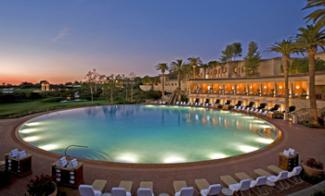 The Coliseum Pool at Pelican Hill
So when The Resort at Pelican Hill finally opened its doors in November 2008, it was not so much a surprise as a pleasant affirmation that Orange County's iconic company had indeed delivered what they had long promised.

The unexpected begins as soon as you pull into the large, circular driveway and realize there are no "hotel rooms" in the traditional sense of the word. Instead, 128 two-, three- and four-bedroom villas (starting at $1,450/night, with private clubhouse and butler service) and 204 spacious, luxury bungalows (starting at $495/night) are spread out on both sides of a hotel core.

That core consists of a Great Room (piano, champagne cart, fireplace), several restaurants - including Andrea, an authentic Italian experience not to be missed when visiting, the resort's signature Coliseum Pool & Grill, a 22-treatment-room spa and an array of meeting rooms.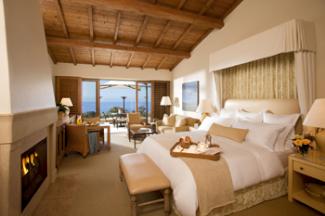 Interior of a Pelican Hill Bungalow
The former golf pro shop now serves as a wedding suite, where bridal parties can primp and gather before making their grand entrance to the cliff-side, ocean-view wedding cupola. Adjacent to that is a ballroom for the reception and other special events.

The distinct architectural style at Pelican Hill was inspired by the work of Andrea Palladio, an Italian architect (1508-1589) whose stately villas, cathedrals and ornate palaces epitomize Italian Renaissance ideals. Palladio believed that architecture should have a grand and uplifting effect on the human spirit. And, set against the majestic California landscape, The Resort at Pelican Hill's grandeur and symmetry do just that.

Of course, symmetry, order and grace are also traits that serve golfers well here, and even before you step on the first tee, the golf experience exudes excellence. As you are shown to the locker room, for example, an attendant asks if you'd like the spikes changed on your golf shoes, compliments of the house . . . where else does that happen? A few minutes later your shoes are delivered and you have time to stop at Caffé II for a cappuccino or deli sandwich before heading to the practice range.
You stretch and get ready to hit a few iron shots with the Nike Platinum balls provided, and notice that up at the top of the ocean-view driving range someone is getting a private lesson. Next time your game needs a tune-up, you know exactly where to go.

As you head to the first tee, a forecaddie introduces himself. You drive over the gracefully arched bridge - its design based on a Roman viaduct - and take in the inspiring views of the nearby Pacific Ocean and Catalina Island on the horizon.

The resort spreads across the golden hillside to the right. Guests are on their patios reading newspapers and sipping orange juice and coffee in the warm morning sun. Your Pelican Hill golf experience is already divine, and yet you've not gotten your first tee shot in the air.

Then there are the golf courses. "The North course has wonderful panoramic ocean views from all 18 holes and is one of the few places in the world where you can tell a playing partner to aim at that sailboat for your tee shot line," says Steve Friedlander, golf general manager. "The North has wide-open fairways, places a premium on shots into the green complexes and can be greatly affected by the ocean breezes.
"The South course," he continues, "has more vertical challenges (trees) and routes through native Southern California habitat, crosses arroyos and has three holes right on the ocean bluffs."

Of the ocean holes to which Friedlander refers, two are back-to-back par-3s (Nos. 12 and 13) where players pull out the cameras and feel as though a tug left will land on the beach below. No. 13 is a double-green par 3 that is one of the best short holes in Fazio's design portfolio. The illustrious architect has been quoted as stating that if the only two courses he had ever designed were the Ocean North and Ocean South at Pelican Hill, he would have had a fantastic career. "I personally couldn't pick a signature hole, because there are just so many of them," he said.

Friedlander agrees. "I have been fortunate to have played golf at many of the finest courses around the world and the golf experience at Pelican Hill ranks with any top 100 property for an all-around test, providing any golfer a chance to use all of the clubs in his bag and particularly that 15th club called a golfer's brain."
It all adds up to an unforgettable experience. "Still," says resort Managing Director Giuseppe Lama, "you can have the greatest architecture in the world, but in the end the experience is all about the staff."

For my wife - a tough critic - the detail that stood out most came as we were leaving lunch at Pelican Grill. As is her wont, she ordered the molten chocolate lava cake for dessert, which was so good it left her raving about it to everyone who would listen, waitress, chef, general manager included.

As we left, our waitress came up to us with a to-go bag. In it were two unbaked molten lava cakes with specific instructions so we could make them at home. "Wow," she said as we walked outside. "Now that's delivering the unexpected!"
For more information, visit www.pelicanhill.com.
Award-winning publisher, editor, writer and photographer George Fuller has been covering golf travel and lifestyle for more than 30 years. His book and magazine assignments and projects have taken him throughout the United States, Canada, Europe, Asia, Polynesia and Mexico.

From 1992 to 1997 he was editor of LINKS-The Best of Golf, based in Hilton Head, S.C. In 2005, after having spent several years in the Pacific starting two magazines for Continental Micronesia Airlines and writing two books, Fuller launched GOLF LIVING Magazine for the Los Angeles Times, a "super-regional" magazine of travel, real estate and the lifestyle surrounding the game of golf. After a successful year of publication, he purchased GOLF LIVING from the newspaper and sold it to Media That Deelivers of Scottsdale, Ariz., with a contract to operate it for them.

In 2007, he launched TEE IT UP Magazine in partnership with the nationally syndicated radio show of the same name; and in 2009 he gained the contract to redesign and re-launch TEXAS GOLFER, a magazine with 25 years of history in the Lone Star State.

He has nine published books to his credit, the most recent being I Golf, Therefore I Am...Nuts! (2008, Human Kinetics Publishing). Others include Discover Hawaii's Best Golf (2001, Island Heritage Publishing) and California Golf: The Complete Guide, (11th edition, 2005, Avalon Books). He has contributed to many guidebooks, notably the Berlitz Travelers Guide, Birnbaum Guide, Citibank's Great Resorts of the World and several city editions of Guest Informant.

Fuller's newspapers and magazines credits include TIME, Wall Street Journal, San Francisco Chronicle, The Los Angeles Times, Robb Report, Coastal Living, Palm Springs Life, Estates West, GOLF Magazine, Golf Digest, Travel & Leisure Golf, LINKS, Successful Meetings, Honolulu and many others. He has reported for Reuters, United Press International (UPI), written for Copley News Service and is still a regular on-line travel correspondent for CBS Sports.com.

George Fuller is based in Newport Coast, Calif. He can be contacted directly at: gfuller@earthlink.net; 310/245-9550 (cell).