Extreme Clubhouse Makeover - When to Pull the Trigger on a Renovation
Losing members, losing revenue, under-utilized space and loss leaders - a variety of critical situations lead operators and owners to search for solutions to stop the bleeding.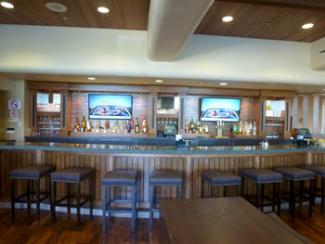 The New Bar at Camelback Mountain
For those mired in day-to-day operations, disrupting the flow of business with capital improvements doesn't spring to mind. However, a clubhouse makeover can help the bottom line and boost the top by creating new revenue centers, restoring the morale of members, guests and daily-fee golfers.

A remodeling project is an investment in a golf club's future with a tangible return, not an expense or luxury. A new-look golf shop, a revamped dining experience, a brand-new spa - these enhancements can be the difference between member retention and attrition.

Below are some signs and solutions that will help public courses and private clubs wrestling with the questions of when to renovate and how to pay for it.

Signs It's Time for a Makeover

Two leading (and visible) indicators that a clubhouse is in need of a makeover are dated interior furniture and finishes, and aging equipment, such as HVAC systems, plumbing and kitchen appliances. If an interior finish is more than five years old, it is time to consider an upgrade. If it is beyond seven years (the hotel-industry standard), mold and other allergens can emerge as health issues.
Other less obvious indicators, however, can be "silent revenue killers" that pass unnoticed.

For example, rooms and entire wings that are unoccupied and seldom-used not only create an unnecessary operational and maintenance expense, they drain energy from the clubhouse and excitement and pride from members and guests.

Revitalization of dining areas has emerged as more than a trend over the past two years. Having an inviting, fun and comfortable space with fresh, local culinary and drink options is a must. Open kitchens, chef-driven menus and specials, and even wood-fired ovens are popular items for our clients.

We recently reinvented and refreshed food and beverage operations and spaces at a number of private and resort courses, including Marriott's Camelback Golf Club and Hammock Bay Golf and Country Club. Both of these projects included major modernization of bars and lounges to make them more inviting.
At the end of the day, the litmus test for upgrading the culinary front and back of house at a golf property is simple: if it isn't on the level with the best local area restaurants in its category, changes are in order.

When to Pull the Trigger

For northern golf courses with a true off-season, planning, design, building and installation of a full clubhouse interior renovation can place while the club is closed. Courses open year-round can take advantage of shoulder seasons to complete wholesale or spot renovations before the peak season hits.

Since the golf course - and even the clubhouse - can remain fully open throughout the project, even facilities in regions with no true off or shoulder season can pull off a renovation with minimal disruption to customers and revenue.

Moreover, it is much less expensive to remodel a clubhouse than it is a golf course. If a club is in search of a way to restore its brand, retain members or daily-fee golfers and attract new players - but doesn't have the budget for a full golf course renovation, an interior makeover is a cost-effective way to accomplish these goals.

While the economy is presenting a challenge for clubs, it's also creating an opportunity. The cost of building supplies and construction materials is near a five-year low, and clubs with a sense of urgency can make major changes for less money than it might cost in a stronger economy.
Tom Hoch is the president of Tom Hoch Design, a leading design-build firm based in Oklahoma City, Okla. Founded in 1963, Tom Hoch Design specializes in club, resort, hotel, restaurant and recreational spaces. The firm has revolutionized the category via its "revenue-based design" model, a space planning, sizing and mapping process for retail-driven spaces such as golf shops and food- and-beverage operations. For more information about the firm, visit www.tomhoch.com.