Falconhead GC Ranks atop Daily-Fee Offerings in Central Texas
By: Steve Habel
There's no lack of great daily-fee courses in Central Texas area. In 2008, Austin and its environs were lauded by golf.com as the nation's top place to play golf. But even among the best, one course must stand out and many experienced players believe that Falconhead Golf Club is the finest public-access course in the area.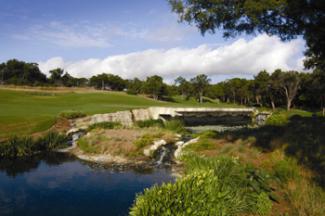 Falconhead's 17th hole
Designed by Chris Gray and the PGA Tour Design Center, Falconhead offers outstanding and challenging golf in one of the most beautiful areas of Texas: the rolling terrain of the Hill Country west of Austin. The course was the first constructed as part of the PGA Tour Signature Series projects (Falconhead has since dropped the PGA logo from its signage and scorecard) and is intended to give public players an upscale experience at a reasonable price while testing top players.

This is a track you'll mentally revisit long after the round. It's fun, challenging for any skill level, and fair. Opened in 2003 and stretching 7,302 yards from its back set of five tees, par-72 Falconhead carries a rating of 75 and a 129 Slope from the tips, but can be much harder when the wind is up, which it always seems to be.

The layout blends with and complements the terrain. By utilizing existing topography, carefully saving trees, capturing long views and providing a variety of shot-making opportunities, Falconhead is a unique golfing experience unlike any around Austin.

Its minimalist nature is evident in the subtlety of the greens. Don't be fooled however, as this is a Hill Country course and the "valley effect" is ever present. Green speed and firmness must constantly be noted.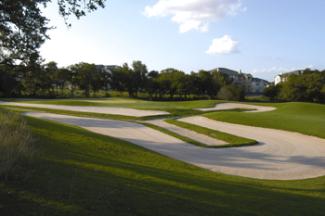 The Drivable Par-4 16th at Falconhead
A round here is balanced. The mixture and sequence of holes allow players a fair and honest start, but the middle portion intensifies yet provides a breather at just the right time. The diverse hole lengths, coupled with dramatic elevation changes and views, give players a fair and enjoyable experience.

That variety is seen by the four par-3s which play in four different directions. There are also holes that move left, right or are straight. It seems as if every aspect of a great course was considered when Falconhead was routed.

As with most Hill Country layouts, golfers enjoy some great vistas at Falconhead. There are viewpoints here that are a pleasure; some tees are lofty enough to peer down at the routing to see how the holes blend together.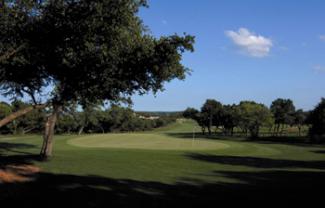 Falconhead Golf Club
Some of Falconhead's most striking holes - the ones that impress you visually and technically - are its sixth, ninth, 11th and 17th. All these demand sound analysis to pick out the right landing area from the tee.

The 17th is the most photographed hole. The 184-yard par-3 was built out on a ledge that hangs over a pool of water and a flowing stream. It's beautiful and can be downright daunting at the end of a round.

Course knowledge helps scoring because of deceptive elements that boggle club selection for the uninitiated. An example of this is the par-3 second. From the tee, it appears there's little room between the front bunker and green. However, with a front pin it's easy to come up short of the green if you hit short expecting the ball to run to the hole. Go ahead and fly it to the yardage.

Falconhead throws a little bit of everything at you, with forced carries, elevated tees, dramatic uphill approaches, blind shots, doglegs, water hazards, huge bunkers, narrow approaches and more.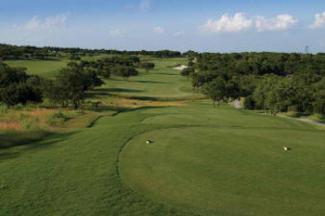 The 12th at Falconhead GC
Other highlights include:

• The 442-yard par-4 fourth, which involves an elevated tee shot and a carry over a creek that must avoid a fairway bunker left and trees right;
• The 474-yard par-4 sixth (the No. 1 handicap hole) which has a narrow, sloping fairway that ends at a tricky putting surface slightly situated left of center and guarded along the right by a cavernous bunker;
• The tougher-than-nails 11th, a 484-yard par-4 with a fairway tree and bunkers, steep ravine, and uphill shot to a green with a steep and deep drop-off on the left side;
• The risk-reward, 306-yard 16th. It's the shortest par-4 at Falconhead and will tempt you to get home with driver, but you'll need to avoid a huge bunker complex front and lateral of the green.
Falconhead is a fun place to play and the experience is memorable. I'm always struck by the fact that I'm rewarded for good shot-making here; seldom have I hit a shot that left the club as I wanted but took a bad bounce or ended up in a poor lie. That may be the epitome of a course you can call "fair."

For more information, visit www.falconheadaustin.com.
Steve Habel is one of Cybergolf's world correspondents, contributing news stories, features, equipment and book reviews and personality profiles from his base in Central Texas. He is also works as a contributing editor for Horns Illustrated magazine, a publication focusing on University of Texas sports, covers the Longhorns for CBS Sports, is regional editor for Texas Golfer magazine and files stories for Golf Oklahoma magazine, Texas Links magazines and Golfers Guide. Habel's main blog (www.shotoverthegreen.blogspot.com) features news on golf and the Longhorns, and another (www.checkinginandplayingthrough.blogspot.com)chronicles his many travels, on which he has played more than 350 golf courses since 2009. Habel is a member of the Golf Writers Association of America and the Texas Golf Writers Association.