Fall Debut for Cliffs at Mountain Park Course
An opening date has been set for the Cliffs at Mountain Park Golf Course in Travelers Rest, S.C. One of only a few courses currently under construction in North America, the Gary Player-designed layout - slated to open this fall - is part of the 5,000-acre Mountain Park residential community.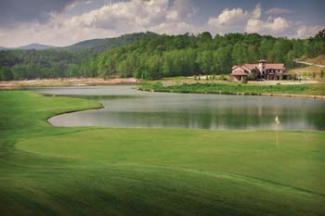 The Cliffs at Mountain Park
Occupying a wooded valley alongside the North Saluda River, Gary Player's course will be a bump-and-run design that was routed to preserve native flora, fauna, trees and grasses.

A new ownership group, Silver Sun Partners, LLC, has established Cliffs Club Partners and Cliffs Land Partners to manage club operations as well as real estate sales, marketing and development, respectively, at all seven Cliffs communities.

"We come into 2013 with high anticipation and strategic goals to build on the strong momentum generated during the second half of 2012," said Brett Johnston, CEO of Cliffs Land Partners.

"With continued investments planned, our team is committed to further enhancing the member lifestyle experience through strategic development and new Club offerings," added Davis Sezna, CEO of Cliffs Club Partners.
Real estate sales at The Cliffs held strong throughout 2012 with a reported $80-plus-million in transactions throughout all seven communities. The Cliffs currently has more than 2,200 members from around the U.S.

Situated in the heart of the Blue Ridge Mountains, The Cliffs is a collection of residential communities involving a million acres of protected national forest reaching north to Asheville, N.C., and south to Greenville, S.C. Members can choose from three regions - Mountain, Lake Keowee and Asheville - across seven communities - The Cliffs at Mountain Park, The Cliffs Valley, The Cliffs at Glassy, The Cliffs at Keowee Springs, The Cliffs at Keowee Falls, The Cliffs at Keowee Vineyards and The Cliffs at Walnut Cove.
A single membership provides access to a range of amenities at the seven communities, including clubhouses, golf courses, wellness centers, hiking trails, tennis courts, equestrian center, marinas and restaurants.

The Cliffs at Mountain Park is within minutes of Greenville and Asheville and spans 5,000 acres on the southernmost edge of the Blue Ridge Mountains, a region blessed by mild weather, towering peaks, streams and waterfalls. With elevations upwards of 1,800 feet, Mountain Park features hiking and biking trails, organic gardens, nature preserves and private parks.

For more information, visit www.CliffsCommunities.com.