Fallen Oak Diaries (Part 2)
By: Jay Flemma
[Editor's Note: This is the second of a two-part series on Beau Rivage Resort in Biloxi, Miss. For the first part, visit http://www.cybergolf.com/golf_news/fallen_oak_diaries_part_1. ]

Chapter 5 - Biloxi Greens

Two more 5:15 a.m. wake-up calls to make a pair of 8:00 a.m. tee times meant I needed caffeine. As a bogey golfer fighting a horrible reverse pivot problem, it's tough enough facing a course tough enough to host a Champions Tour event (The Mississippi Gulf Coast Class each March), as Fallen Oak does, but playing with the professional staff - the head pro and first assistant in this case - takes the pressure from the normal "dull roar" to "New Years Eve" crazy.

Happily, the wait staff at the resort's Roasted Bean coffee shop (where they roast their own beans!) became friends, so much so that by the third time they were ready with a double chai latte waiting for me. That's actually a microcosm of all the wait staff throughout Beau Rivage Resort. They're clairvoyant; what you need materializes at your side instantly. These folks love doting on the guests.

Fallen Oak is typical of the modern business model of casino resort courses in that - just like Shadow Creek, Cascata, or Atunyote at Turning Stone Casino near Utica, N.Y. - one must stay at the Beau Rivage to book a tee time. Moreover, two other Fazio facilities make for good comparison and contrast with Fallen Oak: the purely public, daily-fee 39-Fazio-hole facility at World Woods in Florida (yes, 39 holes), and the twin Fazio layouts at Ventana Canyon Resort in Arizona. As Fallen Oak was originally the vision of Steve Wynn, the idea was for Beau Rivage to be an Eastern rejoinder, a bookend so to speak, to Shadow Creek.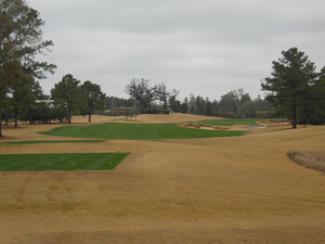 The Center-line Bunker on No. 16
From a golf-architecture standpoint, Fallen Oak is similar to what you find at other many Fazio courses - the doctrines of symmetry and framing. The doctrine of symmetry was born in the 1970s and '80s out of tour players' complaints that those who started on one side of the golf course might be disadvantaged against those who started on the other side of the course. The idea is that each nine has two par-5s and two par-3s so that the nines are "balanced."

As we proceed in this "Second Golden Age of Golf Architecture," we've learned that asymmetric courses (as many original Golden Age courses are), frequently have more character and individuality and reflect the uniqueness of the property on which they are situated. Nevertheless, Fallen Oak is not demeaned in any way by being symmetrical because Fazio only moved 400,000 cubic yards of earth to build the course, which for him is remarkably little. He moved 1.3 million yards to build Atunyote, more at Shadow Creek, and routinely moves well over a half-million to a million wherever he goes. Here, Fazio had 510 acres of the DeSoto National Forest to work in, the largest single plot for an 18-hole golf course I've ever seen, so he had plenty of terrain to work with and his restraint with the bulldozers gives the course an excellent natural flow. The shaping looks equally natural and ties in smoothly to the surroundings.

Also typical of many Fazio designs, the course is "hard par, but easy bogey." Fairways are 40 yards wide but, factoring in the buffer of rough on either side, playing corridors can be up to 70 yards wide. That means most of the water hazards and trees are sufficiently recessed from the fairway that the golfer won't have a problem unless he gets greedy or hits the ball completely sideways. Even bogey golfers stand a good chance of playing all day with one ball, especially with Fallen Oak's battalion of professional caddies, many of whom came over from the LPGA Tour.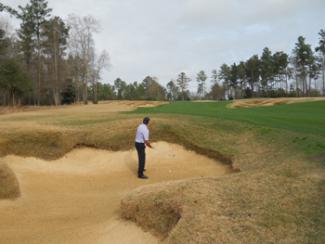 Even Head Pro John Hurt Needs a
Wedge out of the Fairway Bunkers at Fallen Oak
I drew the lucky straw when I got "Big Tex" for my caddie, a former LPGA Tour looper on the bag for numerous wins and myriad stars, including Val Skinner, quite the superstar in her day. Tex was everything a great caddie should be, and then some. He knew every putt on the course, especially the ones that break in ways you'd never guess. He clubbed me absolutely perfectly - so well that I made a point of asking for him again the second day. He knew just the right thing to say to keep my head in the game, and the two of us laughed all the way around; he was fun, he was funny, he was fantastic. Tex brought several LPGA caddies with him to Fallen Oak, including Dale, who caddied for LPGA player Moira Dunn, another affable and talented player.

We got the typical January weather in Mississippi, a mix of windy 50s and 60s the first day, sunny short-sleeve 70s the second, so you can consider Fallen Oak both a year-round destination and a quintessential winter-vacation golf option. Once spring comes in March, the entire region will enjoy a full reinvigoration of color and fragrance, and Fallen Oak's wondrously diverse flora is no exception. Magnolias, azaleas, pecans (pronounced here as Pi-KAHNS!), moss-covered oaks and flowers in all colors of the rainbow make for an idyllic scene.

In January, the course is over-seeded, a marvelous decision strategically, agronomically and esthetically. The rough is dormant, which to golfers in the know is golf-speak for "absolutely gorgeous, go play at once." A crown of glory on her brow, the over-seeding at Fallen Oak rings the playing surface with burnished gold color and a playable texture. It's another of those simple measures that every club can take in winter that's playable, beautiful and inexpensive. Head superintendent Matthew Hughes and his staff have the rest of the course in outstanding condition as well. The greens roll perfectly true, and the fairways are flawless.
As Fazio courses tend to do, Fallen Oak debuted high on many major rankings (19th on one list). As Fazio courses also tend to do, Fallen Oak dropped a little as the initial excitement ebbed (some lists have it hovering around the high-30s, perhaps slightly lower, the most recent Golf Digest Top 100 Public list had Fallen Oak at a respectable 40th). One other magazine's list gave it a rating of 8.5 out of 10 - a "B," which for reasons elaborated herein I feel is a bit low.

The course can be divided into three parts. Hole Nos. 1-5 are a long, watery abd tough start. Nos. 6-15 are more benign, yet they are among the most interesting holes architecturally. Then it's back to gargantuan length for the 16-18, a wicked finish.

It seems that when Fazio took his foot off the gas pedal when it came to Fallen Oak's length and difficulty, he came up with holes that were more varied and had greater character. The strength of the course is the par-5s, particularly six and 15. At the sixth, an S-shaped fairway skirts a specimen live oak, then turns uphill past a centerline bunker to a green with two distinct sections and a severe side-slope left to right. It's the most strategic and interesting hole on the course, highly similar to the adventurous holes you'd find at World Woods, and much stronger from a design strategic standpoint from the holes at Turning Stone or Ventana Canyon.

The fairway at 15 also winds serpentinely around two bunkers that jut into the fairway. This point cannot be overstated because such strategic nuances are what make the difference between a course that is just pretty but under-designed on the one hand, and a course that is intelligent and has character on the other. The former just requires a straight shot, the latter requires thoughtfulness and planning - and that's what makes a course stay high on the rankings list rather than debut high, then vanish off the list like a rabbit in a conjuring trick.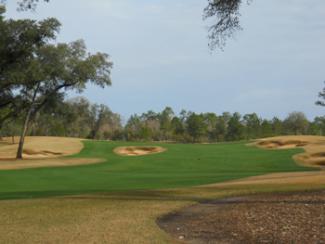 Great Strategic Bunkering like at the 9th
Gives the Player Options
Rather than the penal, bowling-alley look and playability of the bunkers at, for example, Turning Stone, the bunkering at Fallen Oak always offers you options to carry them with a perfect shot or play around them. There are other examples as well, most notably the difficult par-4 ninth and 16th where you can drive over the bunker guarding the right side of the fairway, or play safely around or short of it.

Other interesting holes include the short saddle-fairway at the par-4 12th, with its green guarded by a criminally small and deep pot bunker (it'll fit the proverbial angry man, wedge and ball, but not much else), and the uphill par-4 10th where if you challenge the bunker on the left you have a shorter approach and, better still, you won't have to contend with a deep greenside bunker when playing to a pin on the left. There's plenty of room to the right (again common theme at Fazio courses and at Fallen Oak), but the further safe to the right you play the more that bunker will be directly in front of you on the approach. The green is equally interesting, with a slight bowl on the left, a ridge and then a steeply left-to-right canted second section that can send balls scurrying even further right.

Indeed, the greens and bunkering are the two greatest defenses to the golf course. The greens at Fallen Oak are light-years better than their flat, oversized counterparts at Turning Stone. Fallen Oak's greens are merely "large" in the industry vernacular, not "oversized" as Fazio employed elsewhere, and as anyone who studies architecture knows, one of the easiest, cheapest and fairest ways to make a golf course tougher is to build smaller greens. (Look to Pebble Beach for a perfect example: It's not atop many lists only because it's built on pretty cliff tops.)
The slightly smaller greens at Fallen Oak provide one admirable defense to par. The internal contours of the greens, with both macro- and micro-movement, are the other. While the boldly contoured greens at World Woods are arguably Fazio's greatest, the greens at Fallen Oak are clearly among his best, and give the course some of its inimitable character and personality. Gone are the unnatural, ultramodern, overly-shaped swales and hollows of some of his earlier designs; Fallen Oak's greens are bold without being overdone, subtle and cunning on some places, but beguiling at all times. In places, they run away from the player or to the side, a departure from Fazio that purists and architecture critics like a great deal and one we hope he continues to employ going forward. It gives the greens a wonderful variety and depth. Therefore a good caddie is crucial as the micro-movement on some putts is difficult. Along with the bunkers, it's the greens that make Fallen Oak a venue worthy for holding professional tournaments.

Whatever you do, don't get in the bunkers; avoid then like they're water hazards. Remember how they describe the bunkers at Royal Lytham when the Open Championship comes around? "They're like little ponds." Consider the fairway bunkers at Fallen Oka the same. Between being carved deep and having sharply-rising faces above grade, they exact a half-stroke penalty or more. Your only hope is to escape with a wedge, a short-iron if you're lucky. It's tough, but fair and looks good too. There are only 84 bunkers, but if you place them properly they'll defend the course well. You also won't make your golf course look like a wedding cake with a million swirls. (Cough! Cough! Tom Weiskopf . . . cough, cough!)
If there are drawbacks, they are slight. Early in the round, there are too many right-to-left tee shots that look the same (Nos. 1, 2, 5 . . .); 11 is 90-degree dogleg left, always a bit penal and dictatorial architecturally. I also have mixed feelings about the par-3s. Two uphill, all-carry one-shotters are one too many (some purists might say two are too many), but I do like the short, downhill 14th with its sharp left-to-right slope, bowlish front, and deep bunker guarding the front and left.

Fazio should make a point of reprising some of his bolder strategic ideas at Fallen Oak going forward. If there is a shortcoming, it's that he needs to press his finger more firmly on the button of the new collective consciousness and post-modern, Second Golden Age zeitgeist that is resurrecting golf course architecture in such a meaningful and beneficial way. That's a fancy way of saying if he added just a few more Golden Age strategic design elements to his courses he might finally earn himself a major championship for one of original designs. It's the strategic design tenets differentiate between a "truly great" golf course and a "really, really good" one. That makes all the difference in trying to attract a major.

That being said, Fallen Oak already hosts a Champions Tour event. It'd be a great choice for a women's major; the ladies would love Beau Rivage. A U.S. Open is probably a reach, but a U.S. Amateur might not. Perhaps an NCAA Championship would be a good litmus test to see how the course holds up against the young Turks and their cannonade equipment.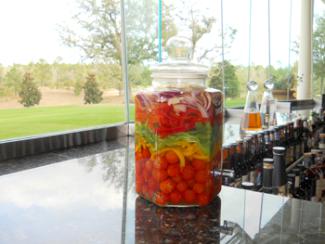 The Best Bloody Mary
Starts with Infused Vodka!
All in all, while World Woods is still Tom's best public effort, Fallen Oak ranks extremely high in his pantheon of great courses. It decimates Turning Stone (not even the same ball park, same league, or even the same sport: not for golf, food, accommodations, service, anything), it surpasses Ventana Canyon in terms of strategy and green complexes, and it's also stronger than Pine Hill and both Fazio courses at PGA Village in Port St. Lucie, Fla. It's a steep green fee, but worth it, even more so in the shoulder season when the price goes down but the rough lightens up.

One can't complete their round at Fallen Oak without a big bowl of the club's award-winning seafood chowder and the best Bloody Mary in America. It's on par with the lobster bisque at National Golf Links of America, bacon-peanut-butter-and-jelly sandwiches at Fishers Island, and burger dogs at Olympic Club. You can add seafood gumbo to the short list of definitive golf course specialties nationwide that you haven't lived until you've tried. Spicy Andouille sausage and huge chunks of fish swim in rich broth. Meanwhile, Rob the mixologist infuses his vodka for days in spices and vegetables for the smoothest yet most savory Bloody you'll ever drink. You'll never ruin another Bloody Mary with horseradish ever again. (Everyone knows horseradish bruises the drink and overpowers the flavor. Guys who don't know how to mix properly, lean on horseradish like a crutch. It's a Bloody Mary, not a shrimp cocktail.)

Most importantly, the impeccable service is what sets the Beau and Fallen Oak apart. Head pro John Hurt and his first assistant are the consummate golf pros - excellent players, terrific teachers and stalwart gentlemen, Southern class and hospitality all the way. But that's what makes the Beau Rivage the crème de la creme of golf and casino resorts are the people. They're glad to have you, and that makes all the difference in the world.

For more information, visit http://www.beaurivage.com.
Since launching his first golf writing website in 2004, http://jayflemma.thegolfspace.com, Jay Flemma 's comparative analysis of golf designs and knowledge of golf course architecture and golf travel have garnered wide industry respect. In researching his book on America's great public golf courses (and whether they're worth the money), Jay, an associate editor of Cybergolf, has played over 420 nationally ranked public golf courses in 40 different states, and covered seven U.S. Opens and six PGA Championships, along with one trip to the Masters. A four-time award-winning sportswriter, Jay was called the best sports poet alive by both Sports Illustrated and NBC Sports writers and broadcasters. Jay has played about 3 million yards of golf - or close to 2,000 miles. His pieces on travel and architecture appear in Golf Observer (www.golfobserver.com), Cybergolf, PGA.com, Golf Magazine and other print magazines. When not researching golf courses for design, value and excitement, Jay is an entertainment, copyright, Internet and trademark lawyer and an Entertainment and Internet Law professor in Manhattan. His clients have been nominated for Grammy and Emmy awards, won a Sundance Film Festival Best Director award, performed on stage and screen, and designed pop art for museums and collectors. Jay lives in Forest Hills, N.Y., and is fiercely loyal to his alma maters, Deerfield Academy in Massachusetts and Trinity College in Connecticut.