Farm Neck Golf Club Gets Presidential Seal of Approval
By: Rob Duca
Celebrity sightings are common at Farm Neck Golf Club. That's hardly surprising considering its glitzy Martha's Vineyard location. Larry David plays the course twice a week. Bill Murray was there on a recent August morning. Prince Andrew has made appearances. Though not a golfer, Spike Lee owns a home overlooking the 18th fairway.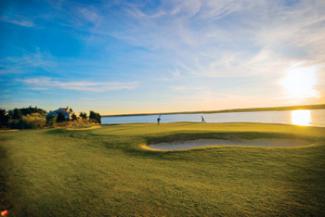 The Spectacular 14th Green
Tucked Alongside the Ocean
But celebrities are one matter, presidents quite another. Since Bill Clinton first visited Farm Neck in 1993, this spectacular ocean-side layout has become an annual retreat for the most powerful man in the world to relax and rejuvenate. Clinton has spent time here virtually every summer over the past 20 years. Barack Obama has also made regular pilgrimages to the island since taking office in 2009, although he decided to pass on a trip this summer to focus on the presidential campaign.

"It's a little disappointing that Obama's not coming this year, nor is Clinton," said Mike Zoll, Farm Neck's head professional. "The staff gets very excited by it. We'll miss it."

Zoll was the club's assistant pro when Clinton chose the island for his summer vacation shortly after entering the White House. Zoll remembers tourists lining up three deep along Beach Road in Oak Bluffs, which runs parallel to the course, and photojournalists clamoring to take pictures.
"It was pretty crazy," he said. "We had to corral the photographers so they could only take pictures at the first tee."

Security is obviously tight whenever the president comes to town. "There's a ton of staging for the Secret Service and a long list of requirements," says Tim Sweet, Farm Neck's general manager. "But we've gotten used to it through the years."

Security increased dramatically following 9/11. "It went up two or three levels. More people were on duty, more rigid requirements, more backup, more agents. But we adapted and it went pretty smoothly," Sweet said.

Presidents aren't required to make tee times in advance. Rarely has the Farm Neck pro shop received more than two or three hours notice that the president would like tee it up - a situation the club has learned to prepare for.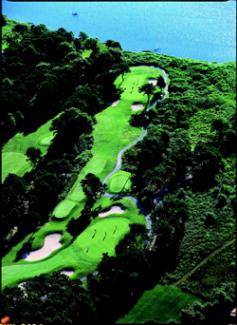 Aerial View of 3rd & 4th Holes
"Because [the president] is on vacation he usually makes up his mind on the day of play," Sweet said.

Although Farm Neck is normally booked solid in summer, the club always finds an opening for the president. Once he completes his warm-up and is ready to head to the first tee, Zoll offers the group on the tee the choice of playing in front or behind the nation's chief executive. "Most want to go in front because they feel there will be undue delays," he said.

Contrary to popular belief, no other concessions are made. "Most people think we close the course," Sweet said. "But we don't. We slip him in between tee times."

Obama was waiting to hit on the par-3 fourth hole two years ago when Zoll asked if he'd like to play through the slow group ahead. Obama demurred, saying he didn't want to disturb anyone.
Clinton was notorious for dropping a second ball when the first shot wasn't to his liking and for taking putts without holing out. Reports are that Obama counts everything, and he won't go into his pocket even if his score reaches double-par.

Zoll played nine holes with Clinton in the early 1990s and has spent time on the practice range with Obama. He said the prospect of playing with Clinton "was intimidating in advance, but once we were out there it wasn't.

"We talked about fishing on the island and conservation trails while waiting to hit," he said. "He hit it pretty good. He's a very strong guy. He was very focused on his game. Every putt, every shot."

Zoll's most memorable moment during a presidential visit took place when he made the decision to tell Clinton that he had to leave the golf course. He wasn't tossing him for slow play or for using too many mulligans; impending thunderstorms were the reason.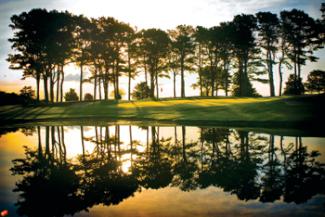 The 7th Hole at Sunset
"I went to the Secret Service and asked them if they were going to pull him off the course. They said, 'We're not doing it. That's up to you,' " he said. "We sent out word to bring him in, but they kind of got soaked on the way to the clubhouse."

Doug DeBettencourt, the previous head pro, was once playing the dogleg-right par-5 18th hole, waiting to cut the corner with a 3-wood. Clinton lined him up and told him to hit directly over his head. "That was a pretty nerve-wracking moment," DeBettencourt said.

In his first visit, Clinton reported carving out a 79, a score that was not, at first glance, particularly shocking until you consider that he reportedly hit three tee shots on the first hole and sliced his drive into the woods on the 10th. (Maybe Secret Service agents kicked the shots back to safety.)

I made a request through the White House to play with Clinton in 1997, but after previously questioning his integrity in a newspaper column and maintaining that stranger things have happened than the president adhering to the rules of golf - such as "a college kid in the '60s smoking pot without inhaling" - my letter was ignored.

Maybe next summer, if Obama is still president, I'll get another chance.

For more information about Farm Neck Golf Club, visit www.farmneck.net.
Rob Duca is an award-winning sports columnist who wrote for the Cape Cod Times for 25 years, covering golf, the Boston Red Sox, the Boston Celtics and the Boston Bruins. He is now managing editor of Golf & Leisure Cape Cod magazine and has written for a variety of other publications, including Sports Illustrated, the Boston Globe, Yankee magazine and Cape Cod Life.