Father's Day 'Locomotion' Gift Ideas
By: Joel Zuckerman
Participation in golf has been flat for most of the decade - for every neophyte getting started there's another permanently consigning their clubs to the attic. But golfers themselves, much like the nation's overall trend, continue to get bigger and bigger. So in summation, the game is flat, and players are fat.

To combat that sensibility just a little bit, here is a "locomotion gift guide" for your perusal - a series of potential Father's Day golf gifts that, for the most part, are designed to make it easier to keep the golfer afoot, be it in the fairway, or even the airport terminal. Anything to get him out of the darn buggy!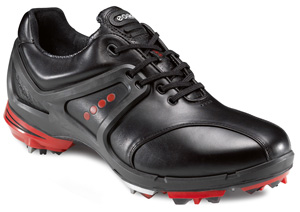 ECCO
Shoes

ECCO

Manufactured by the renowned Danish shoemaker, ECCO has become the worldwide luxury golf-shoe market leader. ECCO shoes are worn in competition by scores of professionals, including international Tour stars Fred Couples, Aaron Baddeley, Colin Montgomerie and Thomas Bjorn. ECCO offers a number of classic and contemporary styles with water- and weather-proof guarantees of up to three years. Each model is made using a direct-injection process unique in the field of golf footwear to increase comfort, cushion and durability. Retail prices are from $150--$430. For more information, visit www.eccousa.com.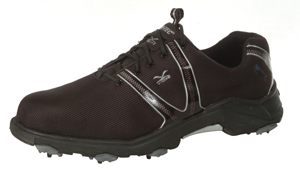 VL Zero G WPI BlS
Hi-Tec

The Hi-Tec V-Lite Zero G shoe, weighing in at just 10 ounces, is the lightest waterproof golf shoe sold today. The combination of innovative materials and precise construction means that golfers can now purchase an ultra-light shoe with no performance compromises. During an 18-hole, five-mile round, a golfer will take approximately 10,000 steps. A 16-ounce shoe converts to 10,000 pounds lifted, or five tons. The V-lite will reduce the energy required by 38% - almost two tons lighter during an 18-hole round. Less lifting means more energy to play better. Priced around $100, this shoe can be ordered at www.hi-tec.com.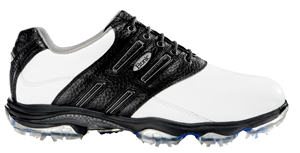 Etonic Stabilizer
Etonic

Dad will look great walking down the fairways in the new Etonic Stabilizer. The Stabilizer golf shoe not only looks good on the course, but with the new PowerPlay Outsole the performance is superior. The Stabilizer shoe is a full-grain, waterproof leather upper with a Shocksorb™ insole bed for premier cushioning, injected EVA midsole for lightweight comfort. The PowerPlay Outsole System features an inside-out spike placement that maximizes traction, stability and balance throughout the swing. The Stabilizer comes in a traditional saddle style in black and white, brown and white and all black. The suggested retail is $165. For more, visit www.etonic.com.
Tour Edge Exotics Driver
Clubs

Tour Edge Exotics

These clubs are an up-and-coming brand, particularly noted for delivering real power off the tee. Their attention-getting XCG-V driver combines a "v-shaped" titanium cup face, ultra-light magnesium crown and a heavier high-density steel sole plate which are brazed together for permanent bonding. The magnesium crown is half the weight of a titanium crown, allowing more weight to be placed in the heavy steel sole. This helps the club face keep square at impact with more force for a quick launch and longer, more accurate drives. Priced around $499, the driver can be ordered by calling 800/515-3343 or visiting www.exoticsgolf.com.
Heavy Putter MID-WEIGHT Series

Priced at around $169, the MID-WEIGHT Series is lighter than previous Heavy Putter models yet still heavier than traditional offerings. It features the company's proprietary weighting system of added mass in the head and grip, which forces the use of larger, more stable muscles to create a perfect pendulum stroke. The line includes five classically designed models. Call 888/788.8374 or visit www.heavyputter.com for details.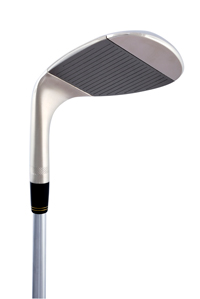 Bobby Jones Wedge
Bobby Jones Wedge

This wedge designed by Jesse Ortiz and Dave Pelz is cast from a soft 302 stainless steel. A pocket and deep-set channels are milled to accommodate the club's wear-resistant Carpenter 440XH face material, which is a remarkably wear-resistant metal alloy. These wedges, priced around $120, maintain face friction and groove integrity far longer than conventional wedges, thus providing consistently high-backspin longevity. With new USGA regulations on the horizon, wedge durability will be more important than ever for maintaining shot trajectory and control. For details, visit http://www.bobbyjonesgolf.com/pelz-wedge.
Train Reaction Set #1 (Red side)
Luggage & Gadgets

Club Glove's Train Reaction 'Weightless' Luggage System

Designed to let travelers stroll effortlessly with ALL their luggage, the Train Reaction System will forever change the way globetrotting golfers haul their bags. Using a unique leverage system to create a perfect center of gravity, this system precisely balances three pieces of luggage to make them feel weightless. For people with clubs in tow, Train Reaction is available in combinations that include the company's industry-leading golf travel bags - like the Last Bag and Burst Proof with Wheels - along with a carry-on and shoulder, or laptop, bag. Effectively outsmarting the Smarte Carte, Train Reaction eliminates the stress of getting luggage from one place to the next. The suggested retail price of the system ranges from $667-$757. For more information or to order, call 800/736-4568 or visit www.clubglove.com.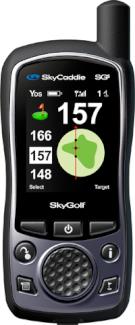 Sky Caddie
SkyGolf's Sky Caddie

This is the bellwether distance-gauging product for use on the course itself. The new pro version of the standard rangefinder uses patented IntelliGreen technology, which provides measurements to all major green contours, hazards and mounds. Only SkyGolf devotes the painstaking time to map every course from the ground, and not from satellite images. In testing by Golf Digest, SkyCaddie, priced at $399.95, was the only Gold Medal recipient in the 2009 "Hot List" for GPS rangefinders. For more, call 866/759-4653 or visit www.SkyGolf.com.
OGIO's Bus

This is state-of-the-art efficiency in a rolling duffel bag. At first glance, the substantial, 7,500-cubic-inch suitcase ($299) looks like the epitome of organized travel gear with multiple grab handles, oversized zipper pulls and sturdy urethane wheels. But with the simple release of a few clips, the front panel - which also is secured with strong hidden magnets - separates and folds together to become a perfectly-sized carry-on messenger bag. It's a clever solution to avoid an "overweight luggage" surcharge. To learn more, call 800 922-1944 or visit www.ogio.com.

Joel Zuckerman, called "One of the Southeast's most respected and sought-after golf writers" by Golfer's Guide Magazine, is an award-winning travel writer based in Savannah, Ga., and Park City, Utah. He has written five books, including the epic "Pete Dye Golf Courses" in 2008. Joel's course reviews, player profiles, essays and features have appeared in more that 100 publications internationally, including Sports Illustrated, Golf, Continental Magazine, Travel & Leisure Golf, Sky Magazine, Golf Connoisseur, Golfweek, Estates West, Millionaire and Golf International. For more of Joel, visit www.vagabondgolfer.com.