Favorite Designers: Alister Mackenzie
By: Tony Dear
Editor's Note: In each month of 2011 Cybergolf correspondent Tony Dear will cover his favorite course designers and explain why he rates them so highly. Now up: Alister Mackenzie.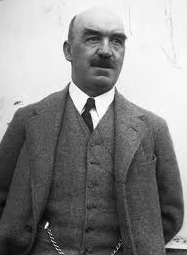 Alister Mackenzie
It's quite likely that Alister Mackenzie is the very first golf course architect golfers become familiar with. It's also true he may well be the only golf course architect whose name non-golfers ever hear in their entire lives. That has nothing to do with the fact Mackenzie was especially brilliant - though he most certainly was - and everything to do with the fact he was responsible for the design of Augusta National GC, the home of the Masters, which is the tournament most golfers grow up wanting to play in and/or attend, and the only one the majority of non-golfers make a point of watching.

At some point during the telecast, one or more of the broadcast personnel break off from calling the action to recall the history of the gorgeous, almost psychedelically-green golf course on our screens. The story of the English doctor who fought in the Boer War and World War I, and how he was commissioned by Bobby Jones to build the great amateur's dream course on what was once a plant nursery in eastern Georgia gets another telling. And even though the course he built is quite different from the one we see now, and the reason we are so mesmerized probably has more to do with the course's conditioning than its actual design, Mackenzie, for a week at least, becomes the only golf course architect who matters.

Mackenzie started work on Augusta National during the dark days of the Depression in 1931. Jones had chosen him over Donald Ross, A.W. Tillinghast and other more prominent East Coast architects, having been impressed with some of the Englishman's other courses, most notably Cypress Point in California, and having discussed the merits of the Old Course at St. Andrews, about which they were in complete agreement.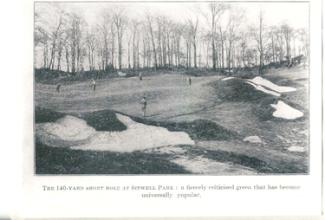 The 140-Yard Short Hole at Sitwell Park
It isn't exactly clear when or how the two first met, but it is thought they had become acquainted during Jones's trip to Britain for the 1926 Walker Cup at St. Andrews and Open Championship at Royal Lytham and St. Anne's, or perhaps a year later when Jones returned to the Old Course where he defended his Open title.

It was in 1927 that Mackenzie sent Jones a copy of his book "Golf Course Architecture," which he had written seven years previously and which included a foreword by H.S. Colt, the fine English architect with whom Mackenzie had formed a partnership between 1919 to 1923. In it, Mackenzie listed 13 principles of golf course architecture he considered profoundly important and, as Jones read each one, it became increasingly apparent the two were kindred spirits who shared a similar philosophy on what golf courses should look like, how they should be built, and how they could appeal to everyone who played them regardless of ability.

Mackenzie roughed out Augusta National's holes in July of 1931, and returned in October to finalize the routing with Jones. In March of the following year, Mackenzie came back one last time to shape the greens and observe Jones playing the holes the two had conceived.

But despite the closeness of the bond he and Jones had formed, Mackenzie still hadn't been paid for his work by the time the course opened in December 1932, so bad were the club's finances. To raise some money, he embarked on a second book, "Spirit of St. Andrews," which, like Augusta National, he never lived to see the finished version of. The book, a collection of his finest essays and anecdotes, was lost until 1995 when it was eventually published by Wiley.

Jones had written a foreword for the book in which he made clear why he prized Mackenzie so highly. "Dr. MacKenzie has proved that it is entirely possible to construct a course that will provide interesting, yet not unreasonable problems, for every golfer according to his skill," Jones wrote.

And that, as anyone who has ever read anything about Augusta National - or even been fortunate enough to play it - will tell you, sums up in a nutshell just why the course is so good. One week, the finest players in the world are challenged to match the par of 72, the next club members are having a fine time trying to match their 18 handicaps (admittedly, the members play the forward tees and slower greens). It's demanding and playable, beautiful and treacherous all at the same time. As he frequently said in his two books, Mackenzie sought to give those playing his courses "pleasurable excitement."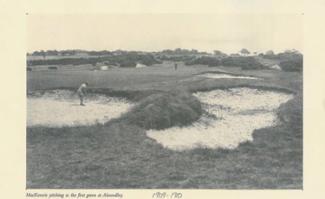 Mackenzie Pitching to 1st Green at Alwoodley
Mackenzie was born in 1870 in Normanton, England - just a few miles from Leeds - to Scottish parents. He attended Leeds and Cambridge universities, earning degrees in Chemistry, Medicine and Natural Science. He joined his father's medical practice upon graduation, but was called into service as a surgeon during the second Boer War in South Africa, probably in 1899. Mackenzie served again in World War 1, but this time not as a surgeon but a camoufleur.

He had become intrigued by the Boer's effective use of camouflage and their ability to make man-made shelter look entirely natural, a skill that inspired the course design principle with which he would became most closely associated: that "the chief object of every golf course architect worth his salt is to imitate the beauties of nature (and presumably also the hazards) so closely as to make his work indistinguishable from nature itself."

Mackenzie returned from war ready to abandon the medical profession and instead become a golf course architect partly because he felt the game was so beneficial to people's health and partly because, despite not playing the game to any great standard, he was convinced he could do a better job than the architects who had laid out the rather uninspiring courses that already existed in his particular part of the country. A regular player at both Leeds GC and Headingly GC, Mackenzie was anxious to design a new course from scratch, and he got his chance when he and a group of businessmen came together to form the Alwoodley Golf Club on Wigton Moor.

Mackenzie and fellow enthusiast Arthur Sykes designed the original course, but the club's founding committee, seeking the opinion of a tried and tested architect, bought in Colt shortly after it opened to advise on possible alterations. Colt stayed at Mackenzie's house and the pair agreed on many aspects of Alwoodley's design.

"MacKenzie's understanding of camouflage techniques gave him a very good appreciation of how to create natural golfing features and bunkers at a time when many architects were building more functionally-shaped features," says architect Ken Ken Moodie, who was hired in 2009 by the Greens Committee at Alwoodley to refurbish the course as the bunker faces had become grassed over and the fairways too narrow, taking many of Mackenzie's original bunkers out of play.

"There is no doubt he also inspired Harry Colt to follow a similar direction when they met at Alwoodley as can be inferred by reading Colt's introduction in 'Golf Architecture,' " Moodie added. "Mackenzie's appreciation of the Old Course and fondness of large, undulating greens meant he was relatively adventurous in his green designs. He would also look to work with and accentuate the natural features of a site for maximum benefit, but was not afraid to move considerable amounts of earth when required to create a great golf hole. And he built large bunkers on a scale which had not previously been seen."

From Alwoodley, Mackenzie moved a mile south and built another superb moorland course at Moortown, which hosted the Ryder Cup in 1929 - 20 years after opening, and which is also being updated by Moodie and his Creative Golf Design team. Then, with his reputation growing all the time, especially after winning a competition sponsored by the popular Country Life magazine to design a hole for the Lido GC in New York, Mackenzie designed a number of courses that might not have become major professional venues necessarily but which hold true to his maxim of providing pleasurable entertainment as much today as they did 90 years ago. Reddish Vale in Stockport opened in 1912, Sitwell Park in Rotherham a year later. Also in 1913, he was retained by Headingly GC to update the course he had not been particularly thrilled by prior to his move to Alwoodley.

His most prolific period came at the start of the next decade with the opening or redesign of Bolton Old Links, Bramall Park, Bury, South Moor, West Herts, Weston Super-Mare, Willingdon, Hadley Wood, Teignmouth and the excellent Cavendish in the Derbyshire town of Buxton, among others.

In the middle of the 1920s, however, Mackenzie got an urge to go overseas. His marriage to Edith Wedderburn was failing, and opportunities were emerging in other parts of the world, specifically the United States, Australia and New Zealand. On January 13, 1926, he set sail for the U.S., docking in New York a week later. He didn't stay on the East Coast for long, however. By the 28th he was in San Francisco to meet with Robert Hunter, who led something of a double life, first as a hard-line socialist who, in 1904, had written "Poverty" - the first general statistical survey of America's poor - and later a right-winger and golf course architect who designed or co-designed many of the West Coast's finest courses.
At some point in February, he met with Samuel Morse, who Golf Digest's Dave Kindred described as the "Monterey Peninsula Emperor," and Morse's employee Marion Hollins, who commissioned Mackenzie to build Cypress Point after the untimely death of their first choice, Seth Raynor. Before leaving for home, Mackenzie also redesigned the eighth and 13th greens at Pebble Beach, and consulted at Monterey Peninsula Country Club and Redlands Country Club, halfway between Los Angeles and Palm Springs.

In September of that year, Mackenzie set sail for Australia and New Zealand where, in four short months, he planned, routed, redesigned and consulted with a dozen or more courses, some of which are now ranked among the best in the world. The golf clubs of New South Wales, Metropolitan, Royal Queensland, Royal Adelaide, Indooroopilly, Bonnie Doon and Flinders all contracted with him, as did Kingston Heath in Melbourne, which was originally laid out by Sydney professional Dan Soutar and which, before Mackenzie arrived, had no bunkers. Mackenzie is thought to have liked Soutar's routing, but he did change the short par-4 15th into a superb uphill par-3 and built what might be the finest set of bunkers on any course in the world.

Course designer Tom Doak, perhaps Mackenzie's biggest fan and author of the highly-regarded biography entitled the "Life and Work of Dr. Alister Mackenzie," says the work he did at Kingston Heath was among his best. "He took a so-so site at Bayside, near the Throgs Neck Bridge on Long Island, and built a great course, which sadly didn't survive the Depression," he says.

"The Jockey Club in Buenos Aires is another that was dead-flat to start with, where he created a lot of interest by moving one-tenth as earth, much as a modern designer would. And at Kingston Heath, the property was small and pretty flat with only one hill to set it off. But Mackenzie took the existing routing, changed two holes, added an entirely new set of bunkers, and turned it from a fairly boring course into one of the best in the world."
Though the work of an undisputed genius, what Mackenzie did to Kingston Heath takes second billing to his original design of Royal Melbourne's West Course which, invariably, gets ranked somewhere inside the world's top 10. Mackenzie built a huge course there with large, heaving greens, massive bunkers and generous fairways that adhered beautifully to his ideal of giving every player a chance to post a decent score, while asking serious questions of the proficient golfer hoping to go low.

At Royal Melbourne, Mackenzie partnered with club member Alex Russell and superintendent Mick Morcom, both learned golfers able to take Mackenzie's plans and build the course he had envisioned.

"MacKenzie was a great collaborator," says Moodie. "He was very good at conveying his design ideas and working method to others. Before leaving Royal Melbourne, he worked with Morcom to create the par-3 fifth hole as a model for the green and bunker shaping on the rest of the course. He also realized his limitations in greenkeeping knowledge, as he acknowledged in his book 'The Spirit of St Andrews,' and the need to involve expert consultants in such specialist fields."

Doak agrees Mackenzie had a habit of picking quality associates. "I think Royal Melbourne, Cypress Point and Crystal Downs (1929) were his best courses and each of them was completed by a different associate - Robert Hunter and Jack Fleming at Cypress, Perry Maxwell at Crystal Downs, and Alex Russell and Mick Morcom at Royal Melbourne. None of those guys were as great a designer as MacKenzie on their own, but each of them brought something valuable to the mix."

In New Zealand, Mackenzie visited the Rotorua Club and Maungakiekie GC, which later became Titirangi GC and another world-class course.

From here, Mackenzie crossed the Pacific, returning to San Francisco where he met again with Hunter. They worked on the Meadows Club in Fairfax, Calif., the Shore Course at Monterey Peninsula CC, and Cypress Point, which would eventually open 18 months later on August 11, 1928.

Cypress Point was owned by Morse, but it was really Hollins who provided the energy and momentum to get the concept off the ground. A vivacious entrepreneur, multi-talented athlete and bon viveur born into wealth, Hollins had designed the Women's National Golf and tennis Club on Long island, N.Y., and quickly won the respect of Mackenzie, who credited her with the design of the course's most famous hole, the long par-3 16th.

Hollins obviously thought very highly of Mackenzie too, for it was the Englishman she chose for her own project - Pasatiempo GC in Santa Cruz, into which she had plowed much of the $2.5 million she banked from a successful oil exploration near Bakersfield, Calif.
At Pasatiempo, Hollins instructed Mackenzie to build her a course as good as any in the country, and he produced one that Doak, who worked on its restoration from 1996 to 2007, thought of as "the most Mackenzie of Mackenzie courses." Given Doak's admiration for the man who, in 2005, became the first golf course architect to make it into the World Golf Hall of Fame, it's probably safe to assume that was something of a compliment.

There to celebrate the opening of the course on September 9, 1929, was Bobby Jones, who had lost to Johnny Goodman in the first round of the U.S. Amateur at Pebble Beach a few days previously and who had got his first taste of Mackenzie's creativity at Cypress Point shortly before that. At Pasatiempo, Jones and Mackenzie, who would later build a house off the sixth fairway and officially immigrate to California, renewed the acquaintance they had made in Britain. Jones no doubt complimented Mackenzie on both his designs, saying how admirably he had stuck to the 13 principles listed in "Golf Course Architecture."

After playing Cypress Point and Pasatiempo and swapping stories with Mackenzie about the greens on the Old Course at St. Andrews, it's little wonder Jones asked him to be his lead architect at Augusta National. Their collaboration was perhaps the most successful in the history of golf course design, and golf fans around the world get to enjoy the results every April as the best players in the game come face to face, once again, with Mackenzie's masterpiece.

Well, one of the many.

This story originally appeared in Cybergolf on August 1, 2011.
Tony Dear is an Englishman living in Bellingham, Wash. In the early 1990s he was a member of the Liverpool University golf team which played its home matches at Royal Liverpool GC. Easy access to Hoylake made it extremely difficult for him to focus on Politics, his chosen major. After leaving Liverpool, he worked as a golf instructor at a club just south of London where he also made a futile attempt at becoming a 'player.' He moved into writing when it became abundantly clear he had no business playing the game for a living. A one-time golf correspondent of the New York Sun, Tony is a member of the Golf Writers Association of America, the Pacific Northwest Golf Media Association and the Golf Travel Writers Association. He is a multi-award winning journalist, and edits his own web site at www.bellinghamgolfer.com.