Favorite Designers: H. Chandler Egan
By: Tony Dear
Editor's Note: In each month of 2011 Cybergolf correspondent Tony Dear will cover his favorite course designers and explain why he rates them so highly. Now up: H. Chandler Egan.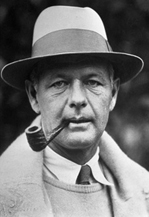 Chandler Egan
Unless you play golf in the Pacific Northwest where H. Chandler Egan lived and worked for the second half of his all-too-short life, the likelihood of your including the Chicago native on a list of favorite golf course designers would be remote to say the very least. If you had heard of him at all, you'd probably know him as a player rather than an architect, and even if you did know he designed courses, you might struggle to name a single Egan original.
It's also likely that only golf course architecture buffs could tell you Egan formed a partnership with Alister Mackenzie in the late 1920s, and those same aficionados might surprise you by describing the extent to which he remodeled Pebble Beach Golf Links in 1928.

Egan certainly wasn't one of the game's more prolific designers, and of those courses he built from scratch only one appears on any top-100 list, and that was a course altered dramatically by Robert Trent Jones 42 years after it opened. The fact remains, though, I have never played an Egan course I didn't really enjoy and make quick plans to play again.

Born in 1884 into a wealthy family that lived in the affluent Chicago suburb of Highland Park, Egan first played the game at age 12 during a family vacation in Lake Geneva, Wis. His game developed rapidly thereafter on the home-made course that he, his brother Bradford and some friends laid out on the family's cow pasture. Shortly after beginning his college career at Harvard, the 18-year-old Egan was made captain of the golf team, a team that would win three national intercollegiate championships in a row. Egan himself claimed individual honors in 1902, the same year he won the first of four Western Amateur titles.

In 1904, already one of the finest young amateurs in the world and with a year still remaining to go at Harvard, Egan confirmed his growing stature by winning the first of two U.S. Amateur titles when he beat high-schooler Fred Herreshoff 8 & 6 in the final at Baltusrol. Expected to win Olympic gold in St. Louis two weeks later, Egan surprisingly lost in the final to Canada's George Lyon. But he successfully defended his Amateur crown in 1905, defeating Daniel Sawyer 6 & 5 at Chicago GC, just 40 miles from Exmoor CC, which his father had joined in 1899 and that bestowed an honorary life membership on the younger Egan following his second win in the national championship.
In 1909, having moved to Louisville, Ky., and wanting to remain the honorable amateur with a "paying career" outside the game, Egan took a job in the railroad business and then stunned the golf world by instructing his father to announce his retirement from competition. In 1992, Egan's daughter Eleanor recalled that her father had been ". . . torn between duty and pleasure, the tragedy of the amateur athlete. He was as meticulous and honorable about observing the spirit of his amateur status as his friend Bobby Jones was to be."

Just 25 years old and with the world seemingly at his feet, Egan apparently accomplished all he wanted to in the game and was ready to put his education to good use and settle down with his intended bride, Nina McNally, whom he would marry in June of 1910.

The decision to retire from competitive golf had been a little hasty, however, as Egan could not resist entering the 1909 U.S. Amateur in his hometown. At Chicago GC, he advanced to the semifinals where he came up against his good friend Chick Evans. Despite suffering from food poisoning, Egan took that match 1-up but lost in the championship 4 & 3 to Robert Gardner.

Egan would not play another match at the U.S. Amateur until 1924 at Merion Cricket Club as he was about to embark on a phase of his life and career that still has historians, even family members, speculating today. A few months after his defeat to Gardner and shortly after his wedding day, Egan and his new wife boarded a train for Medford, Ore., where they were going to forge a new life as fruit farmers.
Why a Harvard grad and world-class golfer would eschew a cozy and enviable existence east of the Mississippi in favor of the wild, and largely unknown, West in order to grow apples and pears is up for debate. But according to a U.S. Department of the Interior document dated January 9, 1997, and which nominated the house Egan would build in Oregon's Rogue Valley for inclusion on the National Register of Historic Places, wealthy Chicagoans were flocking to the Beaver State in large numbers at this time intent on cashing in on the '"boom of the orchard industry, which spanned the period 1908 to 1913."

A report in a January 1911 edition of the Medford Mail Tribune estimated that Chicagoans alone had invested over $28 million in Southern Oregon's orchards thanks largely to the well-documented success of Honoré Palmer (heir to the Potter Palmer hotel fortune) and her Modoc Orchard.

Apparently Egan sought a similar bounty and purchased a fertile 117-acre parcel, known as the Bates Orchard, for $67,000 in May 1911. Four months later he began work on the one-story house that came to be known as the "Egan Mansion," which cost $2,600 to build. (Sadly, he would live in it alone for a few years as the marriage failed, his wife returning to Chicago with their daughter Eleanor. Egan would marry again in 1916.)

A raw nine-hole course belonging to the Medford Country Club, which was formed just two weeks before Egan arrived in the area, sat "at the foot of his driveway," but it seems Egan felt little inclination to make it his new home course and contribute to its development. (In "Breaking 100," a history of Eugene Country Club's first 100 years, Todd Schwartz wonders if Eugene's original layout - 165 miles away - was Egan's nearest 18-holer.)
"The golf links out there are crude yet," Egan told "American Golfer" in 1912, "because there has not been the amount of work done on them that should have been done. But in time we shall have a very interesting and pleasing course."

Meanwhile, back home in Chicago, Donald Ross had been hired, in 1914, to remodel the course at Exmoor, a move that club historian Don Holton says Egan would have approved. "There is little doubt in my mind Egan would have welcomed Ross coming in," he says. "The original 18-hole course was getting tired, and Egan having played many of the top courses in the country would have wanted Exmoor to modernize.

"In 1910 golf course architecture was entering its Golden Age, when new design concepts were capturing the attention of club leaders nationwide. Egan would have wanted the best for his home club, which had a tradition of employing the top designers of the day, as it did on its original nine-hole course which was, designed by C. B. Macdonald, H. J. Whigham and H. J. Tweedie, beginning in 1897."

Some have argued that Egan might have caught the course-design bug having observed this trio, and later Ross, at work. Holton disagrees, saying Egan was just 13 when the original nine holes opened and that he would not have made many trips, if any, from Medford back to Chicago at the time Ross was making his many changes. "He would have been kept abreast of Ross's alterations via his cousin Walter, himself a Western Open champion (1903) and a member of the Exmoor Greens Committee," says Holton. "But there is absolutely no evidence Egan had a hand in designing or influencing any rendition of the Exmoor golf course at any time."

It's more likely Egan's move into course design happened gradually as Oregon developers recognized the growing popularity of the game and on their doorstep they had a national champion who surely knew a bit about how to build a golf course.
Though sometimes credited with the design of the original nine at Tualatin CC in 1912, it now appears Egan was responsible only for the second nine, which opened in 1923, and that the first course he designed was actually Eastmoreland, a lovely Portland municipal track adjacent to the Crystal Springs Rhododendron Garden that debuted in 1918.

By now, seemingly settled in the West, with his house built and orchard ticking along nicely, Egan revived his playing career. In 1914 he was runner-up at the Pacific Northwest Amateur, but he won the tournament the following year and would again in 1920, '23, and '25.

Course-design work in his adopted home state continued to appear and he welcomed the opportunity to mix it with growing fruit. He built nine-hole courses at Seaside, Hood River, Coos Bay and Medford, where the original country club had twice failed financially but came back to life in 1923 as Rogue Valley CC, to which Egan donated his services and became the project's "Driving Spirit."

In 1924, his course at Reames CC in Klamath Falls opened and, a year later, the first nine at Bend GCC and Eugene CC, the top-100 course that Trent Jones later reconfigured. Oswego Lake CC opened in 1926 but, far more significant that year was Egan's victory at the California State Amateur Championship, not just because he became the first non-Californian to win the title but also because the event was played at Pebble Beach.

The year 1926 was when Alister Mackenzie first visited the Monterey Peninsula. The busy, globe-trotting Englishman had little time for a complete revamp of Douglas Grant and Jack Neville's original layout (not that owner Samuel Morse wanted one), but he did build new greens at the eighth and 13th holes. "Morse was looking for some quick improvements so the course would shine for the professionals coming out to play in the Monterey Peninsula Open in December, a few weeks before the 1927 Los Angeles Open," says Neal Hotelling, author of the 2009 book "Pebble Beach Golf Links: The Official History."
Egan's victory, coupled with his fondness for the course and a growing reputation as a designer, would have enabled him to develop a good relationship with Morse. And, as an architect now with several years' experience, he would have found it hard resisting the temptation to tell Morse what he thought. "I think it would have been difficult for Egan not to offer suggestions," says Hotelling, "but there is no evidence to show that he did, or that Morse asked for his ideas."

Either way, when an architect was sought to prepare Pebble Beach for the 1929 U.S. Amateur, the USGA's Roger Lapham - no doubt in consultation with Morse - chose Egan. Robert Hunter, a fine amateur golfer himself who had won the national college title with Yale in 1910 and worked with Mackenzie at Cypress Point, was also selected, and course superintendent Joe Mayo made a vital contribution as well.

Egan wrote an article entitled 'What We Have Done to Pebble Beach', but he was considered the project leader. "The credit for the work should be shared by all, but Egan gets most of it," says Hotelling. "He was the spokesman and active supervisor."

Regrettably, today we have an assortment of accounts of what Egan actually did and the reaction to the results are equally wide-ranging. All Herbert Warren Wind said about the changes in 1975 was that Egan had "pushed up" the bunkers. In "The Architects of Golf" published in 1993, Geoffrey Cornish and Ron Whitten were similarly under-whelmed, saying Egan had merely "revised the bunkering on several holes." But a "Northwest Golfer" article published in October 1928 said Egan's plan "included an intricate series of traps through the course and smaller, entirely re-contoured greens as well as longer holes." Ran Morrissett, writing on golfclubatlas.com, said "Egan's work gave Pebble the artistry that it presently lacks."

Whatever the feedback, we do know Egan did indeed remodel all the greens (even the eighth and possibly the 13th - after consulting Mackenzie, of course), move the first tee, ninth green and 16th tee, and build a series of exposed, eye-opening sand dunes that looked remarkably natural but which have sadly weathered away over time. (Contrary to reports that appeared prior to 1999, however, it is now clear Egan did not extend the rather uninspiring final hole into the epic 548-yarder it is today. Credit for that goes to Herbert Fowler, who moved the tee back in 1921 and the green forward in 1922.)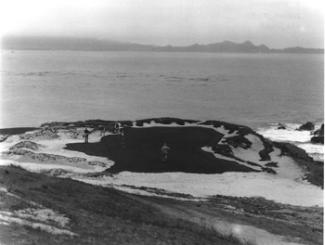 The 7th at Pebble Beach After Egan's Changes
(Julian P. Graham/Pebble Beach Company Lagorio Archive)
"Egan added a lot of sand to the course," says Hotelling. "The company was mining the sand out of the dunes at Spanish Bay so getting it wasn't a problem. The fourth, sixth, seventh and 17th were probably the most dunesy-looking, but Egan added sand to every hole. Morse might not have made such extravagant changes had the USGA not insisted they be made, but he clearly trusted the men doing the work."

It's possible Mackenzie did play a minor role, conferring with Hunter on occasion, but he was ultimately so impressed with Egan's results he entered into a partnership with him in 1929, changing his California letterhead from "Mackenzie and Hunter" to "Mackenzie and Egan." Together, they worked on a handful of California courses, most notably Union League CC (now Green Hills CC) in Millbrae, and Sharp Park in Pacifica, before Mackenzie's death in 1934.

Pebble Beach was far from Egan's final work as a designer, but it was undoubtedly his most significant even if, as his good friend Bobby Jones said, "he never received proper credit for the quality of his work." (Incidentally, Egan made it to the semifinals of the '29 U.S. Amateur and was a member of the U.S. Walker Cup team in 1934.)

In 1930, Egan made some modifications to Waverly CC in Portland and designed Indian Canyon in Spokane, Wash., a course that is regularly included among America's top-50 municipals. In '32, he built nine wonderful links-style holes for Pacific Grove GC on the northern edge of the Monterey Peninsula (the back nine, added in 1960, was designed by Jack Neville). A year later came the front nine at Baywood GCC in Arcata, and in '34 Jones, who appears to have regarded Egan as something of a mentor/father figure, arranged for him to travel to Georgia and create the North Fulton course in Chastain Park, Atlanta's largest public space.

Back in the Pacific Northwest, Egan worked on West Seattle, whose back nine is especially memorable, and Legion Memorial in Everett, half an hour north of Seattle's Space Needle. Tragically, he saw neither course open for play as he came down with pneumonia in March 1936 and died a few days after being admitted to an Everett hospital. He was just 51.

It is paying Egan a very great compliment to suggest he had no conspicuous design style. Always sensitive to nature, he kept it low-profile and worked on nearly two dozen courses that are as enjoyable to play now as they were 80 years ago. "Unlike so many modern architects, he never once built up some massive sand dunes and asked for a bagpipe player to start banging away," said Ran Morrissett.

Perhaps the most appropriate and telling estimation of Egan's worth as a designer comes from John Fought who, working with Bob Cupp, made some alterations to Tualatin CC in 1990. "I grew up at Tualatin and was always very fond of the course," said Fought, like Egan, a U.S. Amateur champion. "Egan's holes were squeezed into such a small piece of land, but he routed them so well. He really was an excellent router of courses and doesn't get nearly the recognition his work deserves.

He was immensely important to golf in the Pacific Northwest and had some great ideas," added Fought. "Had he built more courses in more parts of the country, he would be a lot better known than he is."
Tony Dear is an Englishman living in Bellingham, Wash. In the early 1990s he was a member of the Liverpool University golf team which played its home matches at Royal Liverpool GC. Easy access to Hoylake made it extremely difficult for him to focus on Politics, his chosen major. After leaving Liverpool, he worked as a golf instructor at a club just south of London where he also made a futile attempt at becoming a 'player.' He moved into writing when it became abundantly clear he had no business playing the game for a living. A one-time golf correspondent of the New York Sun, Tony is a member of the Golf Writers Association of America, the Pacific Northwest Golf Media Association and the Golf Travel Writers Association. He is a multi-award winning journalist, and edits his own web site at www.bellinghamgolfer.com.