Favorite Designers: H.S. Colt
By: Tony Dear
Editor's Note: In each month of 2011 Cybergolf correspondent Tony Dear will cover his favorite course designers and explain why he rates them so highly. Now up: H.S. (Harry) Colt.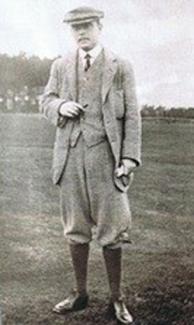 H.S. Colt
It has been said that H.S. Colt's course design legacy is diminished by the fact he never built an all-defining layout - a course so brilliant and distinct it could only have been created by someone with his enormous talent, and which stands alone as the Colt Classic.

Huh?

That seems like nitpicking to me and suggests, somewhat illogically, that Colt could conceivably be held in higher regard had he not created or redesigned quite as many world-class courses as he did.

Take Royal Portrush on Ulster's northern coastline, 50 miles north of Belfast and the site of the only Open Championship played outside Great Britain. The club's original 18-hole course had been laid out in 1889 by Old Tom Morris on flattish ground a little inland. Forty years later, after additional land had been purchased, Colt was hired to design two new courses in amongst the dunes closer to the Atlantic. The Valley Links, occupying space immediately south of the town's East Strand beach, would grace any club and is an entertaining walk through the sand hills. But it is the formidable Dunluce Links, named after a nearby castle and host of that 1951 Open (won by Max Faulkner), for which the club is best known.
There is so much to admire here, most notably the superbly positioned greens, surrounded by or on top of dunes that give the course its character and definition, and which make approach shots so inviting and interesting and yet so challenging. And the routing takes clever advantage of the best golfing terrain, changes in elevation and wind direction. Topping it all off is the par-4 fifth hole, a picture-postcard setting above the ocean.

When he ran low on dunes (the southwest portion where the final two holes are found is flat in comparison to the rest of the course), Colt made the most of what ripples and rises he had to play with and positioned the fairway bunkers just so in fashioning two thought-provoking holes only slightly less engaging than their neighbors.

It all adds up to a course so good, Colt actually considered it his best work which, coming in the second half of a career that had already produced a dozen or more truly great courses, is terribly significant. Should the Open ever return, a notion that has attracted a lot of support following Ulstermen Darren Clarke, Rory McIlroy and Graeme McDowell's recent major victories, Colt will surely be given the credit and recognition he has long deserved but seldom received from anyone other than golf-architecture geeks.

"I think Colt is actually the most important designer in the history of the game, and that he essentially laid the foundations for modern golf design," says Adam Lawrence, editor of Golf Course Architecture. "But he has always been a little underrated because quite a few of his most important courses were redesigns."
There are redesigns and there are redesigns, however. One involves little more than a basic renovation with the installation of a new irrigation system, new pond liners and perhaps a bit of bunker reshaping, while the other spawns an entirely new course, one with an entirely new routing and holes that share few similarities with those that were there before.

Colt, born Henry but better-known as Harry (the "S" stands for Shapland), carried out a number of what could be described as substantial renovations where the original routings remained intact, but where several improvements were made.

At Northern Ireland's Royal County Down in 1926, he built a new fourth hole, a typically outstanding par-3; altered the ninth, 11th and 18th; built up a few of the punchbowl greens and took out a couple of blind shots. At Woodhall Spa in Lincolnshire, he updated Harry Vardon's original layout. At Ganton in Yorkshire he is believed to have introduced the gorse and built the excellent fourth, 13th and 17th holes during three visits in 1907, 1911 and 1930.

At Sunningdale, where he was the club secretary from 1901 to 1913, Colt modernized Willie Park Jr.'s Old Course, extending it to accommodate the new rubber ball (in a Golf Club Atlas interview earlier this year, the present club secretary, Stephen Toon, said that while the members still considered the Old Course a Willie Park design they could "see Colt's influence"). He made significant changes to Robert Chambers and George Morris's 43-year-old course at Royal Liverpool (Hoylake) and, starting in 1919, strengthened George Lowe's original design at Royal Lytham & St. Anne's by repositioning greens and adding bunkers.
The work Colt carried out at each of these venues certainly enhanced their playing characteristics, but in nearly all cases the long-time member who observed Colt's changes would have recognized the course he left behind.

That might not have been true at Muirfield, however, where in 1923 Colt did to Old Tom Morris's often-criticized original what Alister Mackenzie would later do to Dan Soutar's Kingston Heath or what Mike Stranz did to Bob Baldock's Shore Course at Monterey Peninsula; i.e. turn a mundane, rather insipid sleeper into an unfailingly stimulating course full of probing questions and interesting shots.

For the Honourable Company of Edinburgh Golfers, Colt created 14 new holes and routed the course so the front nine played clockwise around the perimeter while the back nine played anticlockwise-ish - inside the outer loop. It was pure genius, nothing more, nothing less. "Colt's rerouting of Muirfield may be the most innovative routing in the game's history," says Lawrence.

Another reason why Colt's impact on the game is sometimes misunderstood, especially in America, is because the course with which he is most readily associated in the States was neither his original work nor a redesign.

Pine Valley in New Jersey was the dream of Philadelphia hotelier George Crump, who sold his hotel (the Colonnade) to help finance his magnificent ambition. In 1913, Crump and his similarly golf-mad friends spent $9,200 on 184 acres of sandy scrubland covered in pine trees 20 miles southeast of the city, and embarked on a massive clean-up project draining swamps and removing tree stumps to prepare the site for Crump's very carefully thought-out design.
But while Crump, a design novice, had some very specific ideas about how his course should look and play - no parallel holes, each hole cut off from the rest, four par-3s, two holes unreachable in two shots, no more than two holes running in the same direction, etc., he also sought the wisdom of established designers like George Thomas, Walter Travis, Henry Fownes, Hugh Wilson and A.W. Tillinghast.

The designer he gave most credence to, however, was Colt, whom it is believed, Crump may have met during a trip to Europe in 1910. Colt, well-known in the UK by this stage thanks to his well-documented redesign work as well as splendid original designs at Rye, Stoke Park, Swinley Forest, Denham, Blackmoor, St. George's Hill and the Eden Course at St. Andrews, which demonstrated an ability to turn land lacking sufficient natural features into an intriguing layout, had also begun to make a name for himself in North America following successes at the Toronto GC and the Country Club of Detroit, whose first course at Wier Farm debuted in September 1912.

The debate over how great an influence Colt's input had on Crump is still going on 92 years after the course eventually opened (a year after Crump's tragic and untimely death). "You could spend a lifetime researching exactly how much 'help' Colt gave Crump at Pine Valley," says Lawrence. "But (Colt) did include his work at Pine Valley on his adverts. He was not a great self-promoter like Mackenzie, rather a typical upper-middle-class Englishman with a stiff upper lip, so to mention the course on whatever promotional material he generated I think suggests his contribution was fairly significant."

What is known is that Colt spent a week at the site in May and June 1913 assessing the work already completed and ruminating with Crump over the optimal routing. Apparently, he slept in a tent erected close to the lake that divides the first four holes from the rest of the course, and was utterly enthralled by what he saw, liking the topography to his home course at Sunningdale and telling Crump he had the makings of something very special.
He did come up with a routing which Crump later altered after discovering a better site for the 13th green (forcing adjustments to the length and position of the 12th, 14th and 15th holes - sadly, Crump never saw the final version of the 13th, which was completed after his death by Hugh and Alan Wilson); drew pencil sketches of all his intended holes and conceived the dramatically long par-3 fifth that solved Crump's dilemma of how to get from the fourth green over the water and up to the sixth tee.

Colt historian Paul Turner isn't surprised that Colt's greatest bearing on the course came in the form of unforgettable par-3s, as Colt was renowned for them. "The par-3s are nearly always standout holes on Colt's courses," Turner says, adding that the designer wasn't averse to moving some earth when he had the budget ("if the ground is comparatively dull and featureless, the architect should do all he can to relieve its monotony," Colt once said). This is seen at Sunningdale New, which he built in 1922 and bears an uncanny resemblance to Pine Valley. "You can see some similarities in the mounds and shape of the green complexes on holes where he was forced to improvise by moving earth," Turner says. "He also liked diagonal chains of bunkers."

Beyond that, Lawrence believes that Colt's work is hard to recognize sometimes as he didn't really have a formula or any unmistakable features. "Colt was the first to understand how to build features that created great golf but which also blended into the natural environment," Lawrence says. "His courses therefore fit more seamlessly into their surroundings. People think Colt was a relatively conservative designer, certainly by comparison to MacKenzie, or even Tom Simpson, but you only need look at some of the old photos of Sunningdale or St. George's Hill to understand how dramatic his features often were. They've just been softened over time."

Lawrence also acknowledges Colt tended to start at a new site by selecting the best natural locations for the par-3s, and says he used naturally elevated greens where possible to encourage surface drainage. Colt was also the first architect to implement tree-planting programs on golf courses and said in his book, "Some Essays on Golf Course Architecture," published in 1920, that the architect "need not be afraid of introducing an occasional blind approach for he will remember that strokes of this sort are almost always popular, if they do not come too frequently."
Among Colt's other morsels of wisdom were that high and steep hills should be crossed diagonally rather than face-on as golfers were "disinclined to mountaineering"; a few good holes should not be sacrificed for the construction of one great hole; forced carries from the tee "should not greatly exceed 110 yards" as it was undesirable to "terminate the interest of a hole at the first stroke," but that it was also prudent to provide the option of long carries for the able golfer to give him the opportunity of gaining a substantial advantage over his more timid or less skillful opponent.

It is evident from these and the book's countless other sensible, pragmatic statements that Colt was an architect whose primary goal was to ensure pleasure and excitement for all levels of golfer. He championed strategy over penal design and advocated using sand-dune country near the sea as a model when constructing artificial hazards, cutting bunkers into irregular shapes and placing them in the face of hillocks.

During his 50-year career Colt had a trio of associates who, having learned from the master, would forge exceptional design careers of their own. Charles Hugh Alison, who no doubt met Colt through the Oxford and Cambridge Golfing Society (both men attended Cambridge, Colt earning a law degree, Alison being sent down - thrown out - for drunkenness as well as not doing particularly well with his studies), began working for him around 1906, and was a keen traveler.

As Colt spent more time at home and on the Continent designing courses in Britain, Ireland, France, Holland, Belgium and Spain, Alison went further afield, working in the USA, Canada, South Africa, Morocco, Malaysia and especially Japan where, during a six-month stay in 1930, he built four new courses, including the superb Hirono GC, and remodeled several others (he also designed Huntingdale in Melbourne without actually setting foot in Australia).
John Morrison began working for Colt in 1923 and, five years later, together with Colt and Alison, formed the design firm of Colt, Alison and Morrison Ltd. Also a Cambridge man and, perhaps coincidentally, another big drinker (he once celebrated winning a beer-drinking contest with a pint of sherry), Morrison accompanied Colt on projects in Europe and Britain, creating a handful of highly-regarded solo efforts in Italy, France and Germany.

Alister Mackenzie, yet another Cambridge graduate, first worked with Colt at Alwoodley in Yorkshire in 1907 and would eventually establish a formal partnership with him in 1919, an arrangement that lasted until 1923 when the pair went their separate ways. Turner isn't sure why they broke their agreement but is confident the two remained friendly. "It seemed amicable because Mackenzie only writes complementary comments about Colt in his book, 'The Spirit of St. Andrews,' which was written after the split," Turner notes.

Really, anything anyone ever wrote about Colt was complementary. In a letter to Colt written shortly after the end of the First World War, two-time Amateur Championship winner Horace Hutchinson talked of Colt's huge influence on enabling golf to be played somewhere other than on the coast. "I am old enough to remember a time when they said golf, real golf, could not be played on inland soil," Hutchinson wrote. "You have gone far to change all that."

John Low, a respected golf writer who set out his 10 principals of design in "Concerning Golf" (published in 1903), wrote that Colt had developed a special sense enabling him to see the weak point of a hole at once and strengthen it. "It is not a matter of rules," he penned, "it is a gift."

Peter Thomson said it best, however, in his foreword to "Creating Classics: the Golf Courses of Harry Colt" (published in 2008). "Harry Colt was a giant of his craft with an extensive list of brilliant courses to his credit," Thompson wrote. "His contribution to the game of golf is immense."
Tony Dear is an Englishman living in Bellingham, Wash. In the early 1990s he was a member of the Liverpool University golf team which played its home matches at Royal Liverpool GC. Easy access to Hoylake made it extremely difficult for him to focus on Politics, his chosen major. After leaving Liverpool, he worked as a golf instructor at a club just south of London where he also made a futile attempt at becoming a 'player.' He moved into writing when it became abundantly clear he had no business playing the game for a living. A one-time golf correspondent of the New York Sun, Tony is a member of the Golf Writers Association of America, the Pacific Northwest Golf Media Association and the Golf Travel Writers Association. He is a multi-award winning journalist, and edits his own web site at www.bellinghamgolfer.com.