Favorite Designers: Keith Foster
By: Tony Dear
Editor's Note: In each month of 2011 Cybergolf correspondent Tony Dear will cover his favorite course designers and explain why he rates them so highly. Now up: Keith Foster.

Keith Foster
Ask a golf course architect to name another golf course architect whose work he admires and 99 times out of 100 he will give you the name of a dead golf course architect. Tillinghast, Ross, Colt, Mackenzie, Thomas, Flynn, Thompson, Raynor, Fowler, Maxwell and a handful of others will roll off the tongue, and eulogies gush forth. Ask the same architect to comment on his contemporaries, however, and the neck will stiffen as his jaws lock tight.

With too many architects for too few jobs (true in the good old days of golf course development, too), even the best, most acclaimed practitioners feel uncomfortable acknowledging the merits of their living and breathing competitors lest a big-spending developer with a blank check be listening/reading.

Exceptions are very few and far between. Some happily sing the praises of Bill Coore and Ben Crenshaw who, together over the last two decades, have produced a number of exceptional courses - Sand Hills, Friars Head, Bandon Trails, Colorado GC, Lost Farm - as well as several thoughtful renovations, most notably of Pinehurst No. 2. Architects understand that when a developer wants a high-profile design team to build him a classic-looking course that will appeal to sophisticated and knowledgeable golfers (not to say affluent golfers), C&C more or less have that corner of the market covered.

A few might give a tip of the cap to Tom Doak, albeit reluctantly. The designer of Cape Kidnappers, Pacific Dunes, Barnbougle Dunes, Ballyneal and Sebonack, among others, is given his due for pushing the virtues of minimalism, but Doak would be the first to admit he hasn't made a lot of friends in the business along the way. And with so many courses ranked among Golf Digest's Top 100 in America (15 in the latest list) it's only right Tom Fazio gets a mention. Again, the name is offered reluctantly, the thinking being anyone could build a top-100 course with the sort of budgets Fazio has to work with.

Then there's Keith Foster, hardly the most conspicuous of architects and yet, when the question is posed, a name that comes up with surprising regularity. It's possible much of Foster's popularity comes as a result of his being by far the most personable, humble and downright pleasant golf course designer you could ever wish to meet. But to suggest it is based solely on being a nice guy does his talent, skill, hard work and vision a great disservice.

Though devoted to restoration projects for the last 10 years, Foster does have a number of high-ranking originals to his credit, most of which were built in a five-year window between 1994 and '99. My particular favorites are Haymaker in Colorado, Sunridge Canyon in Arizona, Coral Canyon in Utah, Harvester in Iowa and Druids Glen in Washington, all of which have been ranked among their state's finest public courses and, in the case of the first four, among the nation's best courses you can play.

A graduate of Miami Dade College and Florida International University, Foster got his start in the game in 1980 when he worked in the maintenance department at the Country Club of Miami for $2.90 an hour. "Although I loved to play obviously, I wasn't a terribly gifted golfer," he says. "Plus, I preferred being outdoors so although I knew I wanted to work in golf it would have made no sense to be in the pro shop."
The Par-5 6th at Harvester
In 1982, he moved to a course in Tampa and worked there for a year before joining course construction firm Wadsworth Golf. He completed 11 major projects in five years for Wadsworth, rising to construction superintendent and benefiting hugely from the vast knowledge and experience of company founder, Brent Wadsworth. "He was so good to me," Foster recalls. "He taught me so much about the technical aspects of building a golf course."

The benefits didn't stop there though. Foster's talents were on display to every course architect Wadsworth worked with and one of them, Arthur Hills, was particularly impressed. One of the last jobs Foster worked on for Wadsworth was building Hills's eponymous layout at Palmetto Dunes in South Carolina. "I led that project, and after it finished Art asked me if I'd like to go to Atlanta to work on a course for him," says Foster. "It was the Standard Club in John's Creek and I was the project manager. About two months before the job was finished, Art approached me about joining his company."

Foster accepted and set up an office in Scottsdale, Ariz., where his role was "to make Hills famous in the West." "My job was to make Art look good," says Foster. "I didn't really have my own design philosophy at the time. It was Art's work, his design. All I was interested in was being a loyal employee and doing my job."

It was while working on a Marriott property back east in Washington D.C., however, that Hills asked Foster to take over the firm. The year was 1991, roughly four years after Foster had begun working for Hills. "I was genuinely surprised Foster he says. "There were three or four guys who were more senior in the company than me, so it was actually a little awkward."

But Hills was sure Foster was the man to lead his company. "Keith was extremely affable and energetic, a great contact person and excellent at building and maintaining relationships," he says. "A lot of his work with us was marketing-oriented, but we also tried to increase his design perspective. By working as construction manager on a number of projects, his knowledge of design inevitably grew."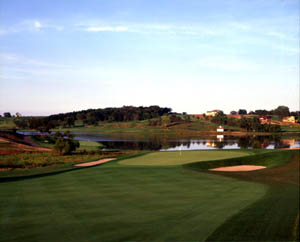 The Par-4 16th at Harvester
Foster's concerns over leapfrogging other members of Hills's team were well-founded, however, and after three or four months it became clear the new arrangement wasn't working. With Hills's blessing, Foster left to set up his own design firm. "I was so fortunate to work first with Brent Wadsworth, then Arthur Hills," says Foster. "I learned too many things from Brent to list, and whatever words I use to describe Art Hills and the impact he had on me and my career would be inadequate. You couldn't get a better grounding."

Even though the two worked closely together and it was Hills who taught Foster how to draw up plans, the protégé does not believe the teacher's design fundamentals rubbed off on him at all. "I don't think you see any Art Hills in my courses," he says.

It's not uncommon for the acolyte's work to differ from that of his master. Robert Trent Jones's layouts were quite distinct from those of his mentor Stanley Thompson; you don't see many Pete Dye characteristics in Coore or Doak's courses, and Mike Strantz deviated from Tom Fazio's line.

"To be honest, I never really had any definite design principals anyway, other than to trust my foundation and be guided by my eye," says Foster. "I did make several visits to the UK in the 1990s and played so many wonderful courses with interesting characteristics which I wanted to incorporate into my own courses, but really I just learned to trust my instincts."

Far more often than not, that meant taking an approach similar to that of the minimalists. Foster was never afraid to build dramatic "signature" holes: the 12th at Druids Glen, sixth at Coral Canyon, 11th and 12th at Haymaker, 17th and 18th at Harvester, much of the back nine at the Quarry. But he was not an avid earthmover, a fact emphasized emphatically by the design of his own nine-hole course on the Kentucky farm he now calls home and which he named the "Morris Course" after Old Tom Morris. Foster created its holes using mule-drawn plows and now maintains it with the help of his sheep. He plays it with gutta-percha balls and 19th Century clubs. "Old School" is how he describes it on his website.
Besides the Morris, the last time Foster created an original layout was in 2000 after Iowa entrepreneur Dickson Jensen hired him to build the Harvester in the tiny settlement of Rhodes (population 294), half an hour northeast of Des Moines. Founder of the Ames, Iowa-based Jensen Group, which has developed much of the town's south side with new housing, shopping malls and community buildings, Jensen first contacted Foster in 1998 around the time Foster was working on Gateway National in St. Louis, Mo., and Shepherd's Crook 50 miles north of Chicago.

"Dickson called and said he would like to spend a day with me in the field," Foster recalls. "Since I was heading to Chicago for a weekly visit, I suggested we meet there. He drove from Ames and we talked for a few hours. By mid-morning he was ready to leave and asked where I was going after finishing up at the course. I told him I was going to be on-site until the evening and then would be going home to St. Louis. He said he wanted to drive down to St. Louis to continue the conversation."

While Foster flew, Jensen drove the 300 miles along with his wife and business partners, clearly keen on the idea of Foster designing his course. Foster's reputation and design credentials weren't in doubt, but Jensen wanted to get a better idea of the man he would be working with so closely. "We went to dinner and after just a few minutes, Dickson looks me directly in the eye and asks what's important in my life," says Foster.

The question wasn't exactly standard for a multimillionaire developer looking to hire a golf course architect, but Jensen, a devout Christian, wanted to see how his faith aligned with Foster's. "I replied 'To honor God in all I do,' " says Foster. It was the start of a great friendship and resulted in the professional project Foster still regards as his favorite and a course that has been named the best in Iowa for the last nine years by Golfweek and last eight by Golf Digest.
For Foster it was a fitting end to his design career, the part requiring him to create his own holes, at least. "Because of the wonderful relationship I forged with Dickson and because the course worked out so well, the Harvester turned into what I regarded as the ideal project," he says. "We worked very closely together and built something truly special. But I was becoming more and more interested in renovating existing courses and, to be honest, wasn't at all interested in doing new stuff after Harvester. I discovered that I loved uncovering old course plans and trying to recreate the challenges the original architect intended."

To date, Foster has completed some form of renovation work or other at 26 courses, some of them among the finest in the land. In 2004, he worked at Southern Hills in Tulsa, Okla., preparing the Perry Maxwell-designed masterpiece for the 2007 PGA Championship by renovating the tees and bunkers and building the greens to USGA specifications while maintaining Maxwell's contours. The following year, he worked at The Country Club of Detroit then, in 2006, Garden City CC on Long Island, N.Y., and Baltimore CC in Maryland, where he softened the slopes on a number of greens, removed trees, and restored tees and bunkers on Albert Tillinghast's superb East Course, also known as Five Farms.

In 2008, he completed a similarly extensive undertaking at Colonial CC in Fort Worth, Texas (which he had actually first worked on in 1997), drawing praise from Tom Kite who said it was the best redesign of a classic course he had ever seen, and Davis Love, who said Foster had done a "fabulous" job.

After "five or six very busy years" and having established himself as one of the best course renovators in the world, Foster is now seriously considering where he goes from here. After 28 years in the golf business, he wonders how much longer he can proceed.
"I've got to a stage in my life where I don't need to do it anymore," he says. "I've asked myself if I really want to spend the next 28 years doing this. I don't need the money and certainly don't want the fame. And I don't need golf course design work to define who I am. I want to be in control. And you shouldn't take this the wrong way, but it has become less challenging than I'd like it to be."

Currently waiting on three major renovation projects - Philadelphia Cricket Club, Orchard Lake in Michigan, and Sands Point in New York - to get the green light, plus a number of smaller jobs, Foster sees a time when he limits himself to one golf job a year. The rest of the time he'll climb ("probably two climbs a year"); become more involved in charity work contributing to nonprofits Heifer International, Opportunity International and the Christian Appalachian Project; and work on setting up an antique furniture business with his wife. "I've been interested in antiques and interiors for 20 years," he says. "I love it. We'll trade Georgian furniture. We've been thinking about it for several years."

With that one golf job a year though, Foster won't disappear from golf entirely and will no doubt give of his best on the few assignments he does choose to take. And if he maintains the high standard his output of recent years has reached, his good reputation will endure and his contemporaries will continue to recognize his ability. "Of course it's nice to be commended by other architects," he says. "But I certainly never saw myself as a great designer, just someone who built an enjoyable course on budget and on time."

Fair enough, but when you do that repeatedly, as Foster did throughout the 1990s, you become part of a very special group of architects.
Tony Dear is an Englishman living in Bellingham, Wash. In the early 1990s he was a member of the Liverpool University golf team which played its home matches at Royal Liverpool GC. Easy access to Hoylake made it extremely difficult for him to focus on Politics, his chosen major. After leaving Liverpool, he worked as a golf instructor at a club just south of London where he also made a futile attempt at becoming a 'player.' He moved into writing when it became abundantly clear he had no business playing the game for a living. A one-time golf correspondent of the New York Sun, Tony is a member of the Golf Writers Association of America, the Pacific Northwest Golf Media Association and the Golf Travel Writers Association. He is a multi-award winning journalist, and edits his own web site at www.bellinghamgolfer.com.