Favorite Designers: Old Tom Morris
By: Tony Dear
Editor's Note: In each month of 2011 Cybergolf correspondent Tony Dear will cover his favorite course designers and explain why he rates them so highly. Now up: Old Tom Morris.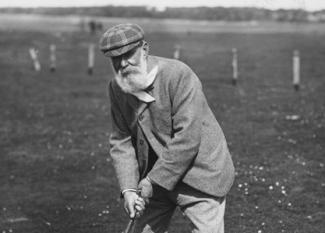 OId Tom Morris
Of all the architects/designers included in this series, Old Tom Morris was always going to be the trickiest to profile. Not only has he long since departed - keeping the Lord's green now for 103 years, but not one of the courses he created from scratch remains exactly as the good Tom laid them out. So much water has passed under the Swilcan Bridge since he repositioned the Old Course's first green on the western side of the burn, and the game's equipment has evolved so much, his originals have been updated not once, not twice, but three or four times in many cases.

There's also the question over how many courses Old Tom actually had a hand in building, what his role was exactly, and which of them survive. Scour the Internet looking for courses associated with Morris and you'll see estimates ranging from the low-40s to "roughly 90," suggesting his contribution at some was so small it often went unrecorded.

In his excellent book "The Golf Courses of Old Tom Morris," Robert Kroeger lists 69 layouts. Ernie Payne, after becoming the first man to play all of Scotland's courses - therefore completing the "Ultimate Challenge," took on the "Old Tom Morris Challenge" in 2008, playing the 68 Morris courses he believed still existed. Melvyn Morrow, Old Tom's great-great-grandson, has for decades been working on a comprehensive list in which he breaks down courses that are "Still in Play," those that have "Moved," and those that have "Closed." He says a new course is added "every six weeks or so," thanks to new research. But Morrow currently has knowledge of 101 courses that benefited - at some stage or other - from Morris's creativity.
And that raises another issue: just how creative was Old Tom Morris? He surely didn't have many golf course construction tools in his shed; what earth he moved, he moved by hand. And he lived at a time when much of Britain's finest linksland was still available, meaning that he probably didn't need to be very creative at all. The undulating dunes gave him all the challenge, beauty and drama a good golf course required.

It would perhaps be easier to hail Morris as the first great greenkeeper than as a course architect. As the Keeper of the Green at Prestwick, which stole him away from his hometown of St. Andrews in 1851, Morris discovered that by adding sand to the greens their drainage improved considerably, allowing him to weed and roll them almost as often as he liked. He also began the practice of maintaining hazards which, until then, had been truly noxious. And he made the actual hole uniform in size and shape (yes, round) by introducing the metal hole.

For me though, a sufficient number of solid examples of Morris's design work remain to justify his position among history's most important golf course architects. Most compelling among them are surely his changes to the Old Course at St. Andrews, where he returned after 14 years at Prestwick and which, under his watch, was transformed into the great links we recognize today.

"Of all his design work, I'd have to say that which he carried out on the Old Course was his greatest achievement," says Morrow. "Many say it was designed by nature, and that's true, but from the mid-1860s to the 1890s it was Old Tom who transformed it into a great course. Through his tenure, it nearly doubled in size with land bring reclaimed from the North Sea. He had a battle with the Eden Estuary to keep a few of the greens from being washed away during violent storms around 1870, but he managed to save them."

Kevin Cook, author of the highly-acclaimed book "Tommy's Honor," which told the heartbreaking story of Old Tom's son, agrees Morris made some colossal changes to the existing course. "He made great improvements to the greens turning threadbare surfaces into lush surfaces which he sanded and raked until they were the best anywhere," he told www.golfclubatlas.com in 2007.
"Tom also enlarged many of the greens, continuing the work his mentor Allan Robertson had started (before his untimely death in 1859)." Morris thus created the course's famous double-greens, establishing the outward and inward loops.

"Widening the fairways was just as important," Cooks adds. "Tom cut back the whins that had crowded the edges of the course for centuries and which forced golfers to follow a narrow path from tee to green." Not only did the wider landing areas prevent lost balls, it also allowed Young Tom, who would win four Open Championships before his untimely death at the age of 24, to give it a rip and make the most of his power.

By the time he finally allowed himself to retire from his role as Custodian of the Links in 1904 at the age of 83, Old Tom had also extended the 18th green northwards, bringing the Valley of Sin into play, built that new green on the first, and given each hole its own teeing ground.

All of his innovations endure to the present, but it was his work on the greens that makes the Old Course so special and keeps it from slipping into a deadly coma, slowly degenerating into the derelict museum piece no one wants to see it become.

"One can argue that the main reason the Old Course still tests the finest golfers in the world is the green complexes Old Tom both built and perfected," historian Richard Goodale wrote in "Golf Course Architecture" in 2006. "This in itself would put the man in the pantheon of the finest architects of golf."

Yet there is really so much else about Old Tom.
Neither his holes, layout, nor indeed, his routing may have survived at Muirfield, Portrush, County Down, Prestwick, Dornoch, Carnoustie, Machrihanish, Lahinch, Wallasey, Elie, Nairn, Westward Ho! or St. Andrews New. But to suggest that the man largely responsible for these original courses wasn't a visionary is - at least - a little short-sighted.

And don't forget Askernish.

Last year, this most natural of links courses, laid out by Old Tom in 1891 and recreated as close to the original as possible by Martin Ebert in 2007, was de-quirked slightly by Tom Doak, who was called in by Mike Keiser (who put some of his own money into the restoration project) to help make it more playable. Only then, Doak felt, would American visitors be "more likely to sing its praises," and "make return visits to pad the club's coffers," - necessary if the course is to avoid being lost to time, sand and sheep again.

I was fortunate to play it three years ago when, in the cold, sideways rain of December and out by myself, I had as much fun playing golf as I can recall. This was golfer against nature; as pure and unadulterated a challenge as you'll find. Approaching the tiny greens with their wild undulations called for a vivid imagination and deft execution. I had neither, but the challenge of deciding which club to select and on what trajectory to hit the ball was exquisite.

"We can't be sure that we found the original holes at Askernish," says Ebert now, "but we certainly adopted principles which we think Old Tom would have applied himself - no earth movement, greens in hollows, blind shots, away-sloping greens and small tees."
Though clearly enamored of Askernish, and certainly aware of his skill as a greenkeeper, Ebert, like a number of architects, can't quite make up his mind about Morris the designer. "I've read about his influence on the Old Course and, assuming he did carry out all the improvements in the second half of the 19th Century, he obviously did an excellent job," Ebert says.

"But how great was his input at new courses? Did he just mark out a layout and then have virtually no input thereafter, or did he really school the constructors and make visits throughout the building process? I can't believe he had the time to visit during the construction of his designs, bearing in mind the difficulties of traveling in those days."

That said, Ebert adds that if Morris were alive today he hopes the old man would design courses much the same way he did 100-plus years ago. "I would hope that he didn't use any earth-moving machinery," Ebert says. "On natural linksland like Askernish, zero earth movement leads to courses that are completely at one with their environment.

"And on sites which weren't quite as ideal for golf (Lanark, Strathpeffer Spa and Glasgow Killermont, for example), very limited earth movement made possible by horse and cart led to an old-fashioned look which is classic in its own right."
At Askernish, a handful of holes - the awesome 438-yard seventh (Cabinet Minister), the perplexing 582-yard 12th (Piobarachd), and the most notable of all, the 359-yard 16th (Old Tom's Pulpit) - will doubtless join the list of Morris masterpieces, holes that Richard Goodale says subsequent designers had the good sense not to tamper with, and therefore still look and play much as they did when Morris designed them.

"Battery," the stellar opener at Machrihanish where you decide how much beach you can carry; "Foxy" - Royal Dornoch's majestic 14th hole; "Klondyke" and "Dell" - Lahinch's two most memorable moments; the terrifying Cape hole at Royal North Devon; the always engaging "Bluidy Burn" at Cruden Bay; and the cliffside fifth at Anstruther offer the best glimpses into what Morris was capable of.

As a groundbreaking (well, ground-nurturing) greenkeeper, clubmaker of some distinction, instructor and influential course designer, Old Tom Morris was undeniably the central figure in golf's first boom.

And with four Open Championship belts, the man could play a bit too.

This story originally appeared in Cybergolf on July 1, 2011.
Tony Dear is an Englishman living in Bellingham, Wash. In the early 1990s he was a member of the Liverpool University golf team which played its home matches at Royal Liverpool GC. Easy access to Hoylake made it extremely difficult for him to focus on Politics, his chosen major. After leaving Liverpool, he worked as a golf instructor at a club just south of London where he also made a futile attempt at becoming a 'player.' He moved into writing when it became abundantly clear he had no business playing the game for a living. A one-time golf correspondent of the New York Sun, Tony is a member of the Golf Writers Association of America, the Pacific Northwest Golf Media Association and the Golf Travel Writers Association. He is a multi-award winning journalist, and edits his own web site at www.bellinghamgolfer.com.