Favorite Designers: Stanley Thompson
By: Tony Dear
Editor's Note: In each month of 2011 Cybergolf correspondent Tony Dear will cover his favorite course designers and explain why he rates them so highly. Now up: Stanley Thompson.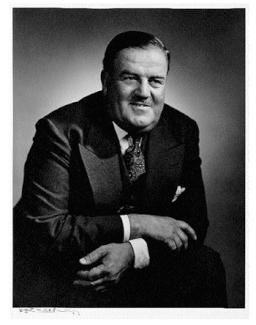 Stanley Thompson
It might seem unreasonable, unjustifiable even, that anyone could list a certain course architect among his favorites having played only two of his courses. But when those courses are Jasper Park Lodge and Banff Springs, it makes perfect sense.

A few years ago, I had the good fortune to tee it up at Jasper Park Lodge GC in the Alberta Rockies. Opened in 1925, the course was designed by Stanley Thompson, who had been commissioned by the Canadian National Railway to make the resort of which it was part irresistible to vacationers from the great cities in Canada's east and Vancouver in the west.

I'd heard of Thompson, but probably couldn't have picked out one of his courses in an anonymous line-up. And I was certainly aware that, though Jasper Park Lodge was considered a bit special, it wasn't the most conveniently-located course in the world.

By the fifth tee, I'd become a Thompson convert and determined that however much money a golfer spent and whatever hassle he encountered reaching this mountain paradise, it would be worth it.

The first is a nice enough, medium-short par-4 that gets you on your way but possesses none of the thrills of the next three holes. The second, a short par-5 that you play mostly in silence as you gawp at the surrounding peaks, is followed by as good a two-shotter as can be imagined, and then a tremendously long par-3 where you might just need to hit driver. The fun, challenging holes keep coming, and the panoramas make you ponder if this might actually be the most beautiful course you've ever played.

Count the great Alister Mackenzie as among those who were impressed. "In Jasper Park Lodge, Canada has taken the lead in golf course architecture and has produced eighteen holes that within the scope of my experience and knowledge are not surpassed," he said following a visit in 1928. "Quite apart from its scenic features, which are glorious, and considering it purely from the golfing standpoint, I think it is the best course I've seen."

Mackenzie's experience and knowledge would expand somewhat in the coming years at Crystal Downs, Pasatiempo, Cypress Point, Royal Melbourne and Augusta National, to name a few, but the good doctor had obviously seen, indeed built, several world-class courses before playing Jasper Park Lodge, so his comments obviously weren't insignificant.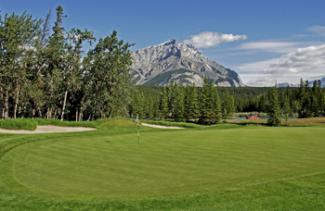 No. 12 at Banff Springs GC
Unless you play it with a loud, obnoxious fool in a cold downpour with dark clouds concealing the mountains, you simply can't fail to have one of your all-time most enjoyable rounds at Jasper Park Lodge.

And then you play Banff Springs.

Thompson's second Rockies masterpiece opened three years after the first and was the Canadian Pacific Railroad's response to being one-upped (well, four- or five-upped actually) by its rival company. The course that at last complemented the imposing Banff Springs Hotel, the "Castle in the Rockies," replaced a fair but unspectacular Donald Ross layout, itself a major upgrade on the first course, a nine-holer that had opened in 1911.

For Thompson to build the course he wanted, he required new parcels of land to become available, plus an awful lot of money. In the end, Banff Springs cost more than $1 million to build, becoming the first course in the world with a seven-digit price tag. But though CPN's President William Van Horne was at one point extremely vexed with his architect for spending so much of his money, Thompson was able to convince him the investment was sound and that ultimately he wouldn't regret a penny of it.

Sure enough, 10 years after Banff Springs opened it was named the eighth-best course in the world by an esteemed panel of judges that included Bobby Jones, Walter Hagen, Gene Sarazen, Robert Trent Jones and Bernard Darwin, whose opinions had been sought by the National Golf Review, a once-prestigious publication to which Darwin, Grantland Rice and O.B. Keeler contributed. Van Horne's temper had been placated, Thompson's genius confirmed.
Thompson's Early Days

Thompson was born in 1893 in the eastern suburbs of Toronto, though he often claimed to have been born in Scotland simply because owning a Scottish background assured a golf course architect greater credibility. He learned the game as a caddie at Toronto GC and, like his four brothers, grew into a fine player (collectively they were known as the "Amazing Thompsons"), winning stroke-play qualifying at the 1919 and 1923 Canadian Amateur Championships.

He first showed signs of an interest in course architecture around the age of 16 when H.S. Colt, England's finest designer at the time, laid out a new course at Thompson's home club. His curiosity grew two years later when Colt returned to design 18 holes for Hamilton G&CC.

Before he could explore his possibilities in golf, either as a player or architect, however, Thompson had to go to war. As a member of the Canadian Corps' 4th Brigade, 23-year-old Gunner S. Thompson fought bravely against the German Sixth Army at the Battle of Vimy Ridge in northern France in April 1917, and was recognized for his gallant service.
At the end of the conflict, Thompson took the opportunity to play the great British courses with younger brother Frank. "Practicing golf architecture without studying the links of Scotland is like a divinity student not reading the Bible," he would say later. But it was his eldest brother Nicol - who actually had been born in Scotland - with whom Thompson went into business upon returning to his homeland.

The brothers, together with Toronto GC professional George Cumming, set up a design and construction company named Thompson, Cumming and Thompson that lasted only a year or two as Cumming and elder Thompson found it impossible juggling their design duties with club jobs. They returned to teaching and serving their members, leaving the business in the not-quite-yet-capable hands of Stanley. After a brief alliance with a construction firm from the U.S., during which the company became known as Lewis & Thompson, the Toronto man set out alone, establishing Stanley Thompson & Company in 1922.

By now, the novice designer had half a dozen or so courses in the books and was quickly gaining a solid reputation for building sensible, cost-effective layouts that engaged the golfer's brain as well as his body. At the time, his work betrayed a fondness and respect for Colt's methods and his allegiance with Cumming. But as golf in southern Ontario became ever more popular and a succession of designers - Walter Travis, A.W. Tillinghast, Willie Park Jr., Herbert Strong and Donald Ross - found work in the area, Thompson's list of influences grew.
In 1923, he published "General Thoughts on Golf Course Design" in which he spelled out his philosophy: "The most successful course is one that will test the skill of the most advanced golfer without discouraging the duffer, while adding to the enjoyment of both," he wrote, echoing the beliefs of Colt. "I firmly believe the only means whereby an attractive piece of ground can be turned into a satisfying golf course is to work the natural features of the site in question. Develop them if necessary, but not too much; and if there are many nice features, leave them alone as far as possible, but utilize them to their fullest extent, and eventually there will be a chance of obtaining a course with individual character of an impressive nature."

Thompson also took heart from the many golfers who were opposed to the direction some architects were taking. "Lately there has been a reaction - and rightly so - against the artificiality and grotesqueness of certain architecture. Nature must always be the architect's model."

Even though he was a fine player, Thompson recognized that the vast majority of golfers were unable to break 90 and asserted courses should be built "not for the men who play in the 70 class," but for the average golfers who "support the clubs."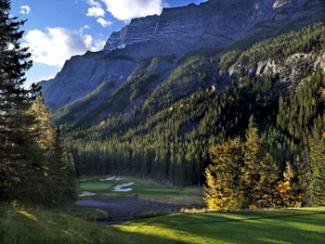 The Famed 'Devil's Cauldron' at Banff Springs
A Master Emerges

He often began a project by seeking out the best sites for the short holes, a lift from Colt and undoubtedly the reason why so many of Thompson's par-3s are listed among Canada's finest. The 15th at Jasper Park for instance, is just 138 yards long. But because the green is so small and the drop-offs surrounding it so sharp, it's a hole that can cause more trepidation, dismay and embarrassment per yard than any other in the game save, perhaps, for Royal Troon's devious "Postage Stamp." The long, par-3 eighth at Uplands in Thornhill, Ontario, is regarded just as highly, but it is of course the "Devil's Cauldron," the fourth at Banff Springs, that tops Thompson's list of par-3s and probably that of any other architect.

I remember seeing a picture of the "Devil's Cauldron" at the age of about 15 and thinking a hole that gorgeous couldn't really, possibly, actually, literally exist. It had to be an artist's rendition of what the perfect hole might look like. And though, by the time I set foot on the course, I had seen enough pictures in enough books to realize it probably was legit, I was still full of anticipation as I walked off the third green (actually, I had been thinking about it for days).

The downhill tee shot over a glacial lake to a green set in a bowl with bunkers all around would be pretty spectacular in any setting. But with 10,000-foot Mt. Rundle looking down on you, the anticipation quickly turns to awe and you inevitably play the tee shot knowing that just finding the green with a high, well-struck 6- or 7-iron will make you feel like a king. Of course, anything landing in the lake will spoil your day, if not the entire trip.
I happened to find the putting surface with my tee ball, but after three-putting, walked off with mixed feelings. Mind you, I'd rather hit the green from the tee and eight-putt than find the lake and hole out for a three from the drop zone.

The Devil's Cauldron might all be about location and beauty, but Thompson was a fine strategist too. Not quite as eager to ask intriguing questions of the golfer as Mackenzie, George Thomas or William Flynn perhaps, Thompson did at least offer some risk/reward opportunities, giving golfers who successfully took on the carry over some of his beautifully-formed bunkers a much easier shot into the green. He liked to use deception occasionally too. "Every now and then I get a mean streak and like to fool the boys a little," he said. "But, I never hide any danger. It's all out there for the golfer to see and study."

Around the same time as he worked on Banff Springs, Thompson was creating a course that many believe represents his crowning glory - St. George's G&CC within Toronto's western suburbs and which hosted last year's Canadian Open won by Carl Petterson, who shot an incredible 10-under-par 60 in the third round.

"St. George's rests comfortably on the list of the top courses in the world," says Ian Andrew, a Canadian architect who was hired by the club in 2002 to restore the bunkers as closely as possible to Thompson's originals.

"Thompson built many great courses including Jasper, Banff, Capilano and Highlands Links, each of which has at one time or another enjoyed the distinction of being acclaimed the best in Canada. And they are still regarded as the yardstick against which all other courses in Canada are measured. But Thompson's greatest test was, and still is, the Royal York Hotel Golf Club, later renamed St. George's GCC."

Built on a beautifully-wooded site with natural valleys crisscrossing the property, St. George's adheres superbly to Thompson's adage that every shot needs to be planned and the holes arranged so that "each one is different from the following one."

"As soon as a player departs from the straight and narrow path, some penalty should follow," he wrote in his booklet "About Golf Courses: Their Construction and Upkeep," published sometime in the 1930s. "Unless this is so, the game loses some of its enjoyment, for it is only by accomplishing what is difficult that gives satisfaction and pleasure. The most popular courses are by no means the easiest ones and the wise committee will see that the course is difficult, but not impossible."

By this stage in his career, Thompson was almost the finished article, happier expressing his inherent artistry and, as Andrew suggests, able to show his idiosyncratic side. "It took him a while to become really good, but I personally believe his style and confidence just took time to evolve," he says. "He admired many designers' work and visited numerous courses built by others. Eventually, though, his unique and bold use of landforms and wonderfully elaborate bunkers began to emerge. But it was his sense of humor and willingness to embrace a really quirky opportunity that ultimately made him quite distinct from the rest."

In addition to his other architectural qualities, Thompson is probably best known for his ability to route courses, a skill that coaxed a world top-100 layout out of a less than ideal hillside property at Capilano in West Vancouver, which opened in 1937. "Capilano was undoubtedly the best routing he ever did," says Andrew.
The course starts with six holes on a headland that move down to the ocean. It then shifts inland along a beautiful river valley and into forested highlands where the holes, framed by mountains and trees, possess a distinctly more intimate feel. A couple of flatter, more open holes act as a breather in the middle of the round before Thompson takes you back onto the rolling land and a tough stretch from the 13th to 15th, which offer views of the ocean and some inviting walks. The closing trio returns to the evergreens that characterize the setting of the opening holes.

(Editor's Note: Highland Links sustained substantial damage when the Clyburn River - which flows through the course - flooded twice in December 2010. Situated within the Cape Highlands National Park, the course needs repairs estimated at $2 million due to silt and other problems. Canadian government officials are now deciding whether to finance a project overseen by golf architect Andrew. On a related note: Cabot Links, a design by Ben Cowan-Dewar that is being built near Highland Links thanks to backing from Bandon Dunes' owner Mike Keiser, is slated to open this July.)

"Highlands is by far is the most unusual of Thompson's routings, and it is why the course is one of the most enjoyable experiences in golf," Andrew says on his blog (www.ianandrewgolfdesignblog.blogspot.com). "After he had finalized the routing, he made a decision of sheer genius. He separated each unique area with a long walk, making the course unfold like a series of chapters from a great book, each chapter (or set of holes) in its own unique setting. When combined, it makes for a wonderful journey."

One of Thompson's closest associates and the construction superintendent at Highlands was Geoffrey Cornish, who will turn 97 in August and was one of several Thompson protégés (Robert Trent Jones was another) who benefited from observing the master's combination of common sense and creative flair. "Stan was a very inventive man who marched to a different drummer," Cornish once said of his former boss. In an interview with writer Thomas Dunne just a few weeks ago, Cornish elaborated. "There has never been as creative an architect as Stan," he said. "He was a tough guy to work for but he tried to educate us in a rough way.

"He may have been a tyrant," Cornish continued, "yet he never spared himself, creating several of the world's greatest golf courses and adding magic to even the most modest. He was pure genius. Yet, as the Roman emperor said, pure genius is always accompanied by a touch of madness."

The 'madness' Cornish alludes to certainly wasn't a medical condition but hints at Thompson's lively spirit and natural, sometimes wild, exuberance. On the Stanley Thompson Society's website (www.stanleythompson.com), he is described as a raconteur and imbiber. During the good times, he is said to have enjoyed 12 cigars a day, 15-ounce steaks and more than his share of Canadian Club whiskey. And he wasn't exactly cautious when it came to money either, spending an estimated $80 million on his designs and losing three or more fortunes during his lifetime.

Because of his personal shortcomings and eccentricities, Thompson earned the nickname the "Toronto Terror," the title of an acclaimed book written by James Barclay and published in 2000. "I think Terror is actually an unfortunate nickname," says Andrew. "His design work always leaned heavily on playability. He designed almost all his projects with the average golfer in mind. I think 'loveable rogue' would be more appropriate."

Golf course architecture's loveable rogue died from a stroke he suffered in the Royal York Hotel in 1953, seven years after the American Society of Golf Course Architects (ASGCA) was founded, an organization of which he was a charter member. He was inducted into the Canadian Golf Hall of Fame in 1980 and, in 2005, was recognized posthumously as a Person of National Significance by the Historic Sites and Monuments Board of Canada. According to the Stanley Thompson Society, he worked on a total of 178 courses - 144 in Canada, 26 in the U.S. (mostly in New York and other parts of the Northeast), and eight in the Caribbean and South America.

I've played precisely two of them. But to put Stanley Thompson on my list of favorite designers, 36 holes was all I needed.
Tony Dear is an Englishman living in Bellingham, Wash. In the early 1990s he was a member of the Liverpool University golf team which played its home matches at Royal Liverpool GC. Easy access to Hoylake made it increasingly difficult for him to focus on Politics (his chosen major) and, after dropping out, he ended up teaching golf at a club just south of London where he also made a futile attempt at becoming a "player." He moved into writing when it became abundantly clear he had no business playing the game for a living. A one-time golf correspondent of the New York Sun, Tony is a member of the Golf Writers Association of America, the Pacific Northwest Golf Media Association and the Golf Travel Writers Association. He is a multi-award winning journalist, and edits his own web site at www.bellinghamgolfer.com.