Fazio Course at Barefoot Resort & Golf to Reopen July 1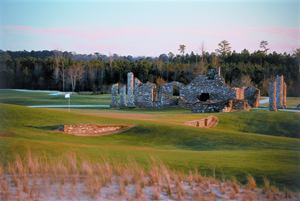 4th Hole of Love Course at Barefoot
Representatives from Barefoot Resort & Golf in North Myrtle Beach, S.C., have announced that the Love Course at Barefoot Resort will reopen for public play on June 1, while the Fazio Course at Barefoot Resort is scheduled to resume play on July 1.
Both courses suffered cosmetic damage to the trees, plants and access bridges when a wildfire damaged the area April 22 and 23. Thankfully, neither course received any damage to the fairways or greens.
The Love Course reopened Saturday, April 25, as soon as the Barefoot Resort Bridge was cleared for traffic. It offered 18 holes for golfers by utilizing 15 holes on the Love Course and three from the Fazio Course. The Love Course closed on April 28 to allow time for crews to repair the access bridges damaged by the fire.
The Fazio Course has not reopened after it lost two bridges that connect the 12th, 13th and 14th holes during the fire. The Dye Club and Norman Courses were not affected by the wildfires and have stayed open.
"We are very pleased with the condition of both the Love and Fazio courses and look forward to their reopening," said Dave Genevro, general manager of Barefoot Resort & Golf. "The access bridge on Love Course has been restored and the Fazio bridges are in the process of being repaired. Both courses underwent aeration in early May so they are both in pristine condition and ready for golf."
For a tee time or more information, call 800/320-6536 or visit www.BarefootGolf.com.