Ferry Point Taking Shape
With a decade of missteps behind it, Ferry Point, the long-awaited golf course on a former landfill on the edge of the East River in the Bronx, is well underway.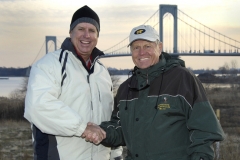 John Sanford & Jack Nicklaus at Ferry Point
The routing for the course is complete and construction is transforming 185 acres of treeless land into a links-style golf course. The layout is a Jack Nicklaus Signature Golf Course design in collaboration with Sanford Golf Design, a Jupiter, Fla., company whose principal is architect John Sanford. Sanford is also the project manager.

Ferry Point marks the second time Sanford has teamed up with Nicklaus and his company to bring in a new golf course. The two have known each other for years and Sanford is the design associate on a Nicklaus Design course for a major Egyptian golf-hotel development, the Palm Hills Golf Resort, opening this year in Cairo.

"I have great respect for John as a person and a designer," said Nicklaus. "This is a Signature Golf Course, but John is an important part of this process. I think John and I have a mutual working relationship, where I am going to be the lead designer but if there are places where John can add to it or contribute - very similar to the way one of my design associates would work - then I will absolutely listen and take into consideration everything he says."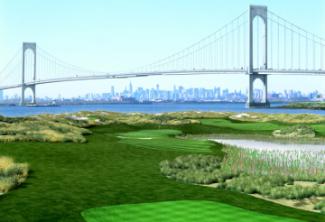 An Artist's Rendering of Ferry Point
Before following Nicklaus into his own career as a successful course designer, Sanford played junior golf with Nicklaus' oldest son, Jack II. "I've known the Nicklaus family for years and was always amazed by the amount of time Jack was able to dedicate to his family," he said.

At Ferry Point, Sanford is coordinating the work of eight consultants, including Nicklaus Design, engineers, landscape architects, architects, and surveyors among others. "The site is most special," Sanford said. "It is a former landfill in a spectacular location. It borders the East river on the south side, it is at the base of the Whitestone Bridge on the Bronx side, and most of the 18 holes have spectacular views of the Manhattan skyline."

In an interview with the Wall Street Journal, Nicklaus said the wide-open site is ideally suited for a challenging links-style course that will be playable for the public but capable of staging major tournaments as envisioned by New York City mayor Michael Bloomberg and his administration. He said rather than go in and plant 10,000 trees that would take decades to mature, a links design lends itself to what he referred to as a "now course."
"Now courses are ones that look like they have been there forever," Nicklaus said. He said the design will create a course tough enough to challenge professional play but one that everyday players can enjoy and keep coming back.

Sanford said building the course on a former municipal solid waste dump has design advantages. "The city has been bringing fill material to this site for the past 10 years," he said, "so we have plenty of material to create landforms emulating an Irish links course. I think that will separate this golf course from others. Shaping the landforms to the strategy that Jack is supplying us with will create risk-reward possibilities to make it special."
Because the site is a former landfill it also presents environmental challenges. Sanford believes the experience he gained building Granite Links Golf Club on a landfill in Quincy, Mass., a few years ago, helped his company's bid for the Ferry Point assignment.

Sanford Golf Design used 10 million cubic yards of dirt dug from Boston's mega-underground highway project nicknamed the "Big Dig" to cover the Quincy landfill.

Reclamation projects like Granite Links and Ferry Point are especially satisfying, Sanford said. "Unlike a park, a golf course will create revenue for the city and we are transforming a degraded piece of land into a beautiful landscape," he said.

For more about Sanford and his firm, visit www.sanfordgolfdesign.com.