Fiddler's Elbow in New Jersey to Unveil Renovated River Course
Fiddler's Elbow Country Club will unveil this season its renovated River Course, one of three golf courses at the private corporate club that follow the Lamington River in Bedminster Township, N.J.
The new River Course consists of two original nines designed by golf course architect Hal Purdy in 1965, combining what most recently were the front nine of the Meadow Course and front nine of the River Course.
"We have retained the classic style of the River Course, while adding a modern touch," said Tom Breiner, GCSAA, Fiddler's Elbow golf course superintendent who directed the renovation.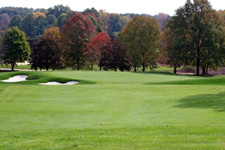 Among the major changes to the River Course, the No. 1 hole was shortened from a par-5 to a par-4, complete with a new green complex. No. 6 hole has been lengthened from a par-4 to a par-5, which stretches 550 yards from the new back tees. The course will remain a par 72.
Bunkering changes can be found throughout the River Course. Existing bunkers were redone or replaced with new traps. Further infrastructure work included a complete modernization of the irrigation and drainage systems, along with several miles of new asphalt cart paths.
"The course will be a better test of golf," Breiner said. "Each hole will be more interesting and more appropriate for today's modern game."
The River Course routing is along the Lamington River, the Meadow Course is within the confines of the old dairy meadows and pastures and the Forest Course is situated amongst the hardwoods and evergreens on the southwest corner of the property. All three layouts feature bentgrass greens, fairways and tees, with Kentucky bluegrass/fescue roughs.
"The latest improvements have been made to maintain our standard of playing conditions and improve the aesthetics of the course," Breiner said. "The redesign is nothing severe. Our goal was to make improvements, but maintain the integrity of each golf hole."