Fine Field Slated for Abu Dhabi HSBC Golf Championship
The European PGA Tour-sanctioned event will offer a total purse of $2.7 million prize and be held January 26-29 at Abu Dhabi Golf Club. Among those slated to play are 2011 major winners Charl Schwartzel (Masters), Rory McIlroy (U.S. Open) and Darren Clarke (British Open).

That trio will be joined by Luke Donald, currently ranked No. 1, defending champion and three-time winner Martin Kaymer, Lee Westwood and Tiger Woods. Also entered are Australia's Jason Day and South Korean K.J. Choi. More players are expected to be announced in the coming weeks.

"The giants of golf are coming to Abu Dhabi," said Faisal Al Sheikh, Events Manager, ADTA. "Traditionally, we have prioritised depth of field at the Abu Dhabi HSBC Golf Championship and that has not changed for our seventh year. It is safe to say we are amassing the finest field to ever contest a Middle East tournament.

"Much-loved by Abu Dhabi galleries, the ever-popular Martin Kaymer will be back; but to win a fourth title he must overcome his sternest challenge yet. The collection of world-class contenders includes familiar faces and some new ones. We are confident that record crowds will gather to see Tiger Woods make his Abu Dhabi debut in what will be his only competitive Middle East appearance of the year."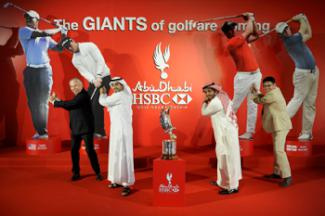 Promotional Photo for 2012 Abu Dhabi Tournament
The 2011 event was attended by 40,000 spectators. "Today, we are cementing the Abu Dhabi HSBC Golf Championship's position as the region's preeminent date on the Tour calendar. In our second year as sponsor, we are delighted to see such major steps forward in terms of players and in the overall offering for spectators," said Simon Cooper, Deputy Chairman & Chief Executive Officer, HSBC Middle East & North Africa.

"The Championship has become a key part of our global golf program and through our partnership with ADTA we are now looking to drive the Abu Dhabi HSBC Golf Championship - and the game of golf - to the next level in the Middle East. Earlier this month we saw our defending champion, Martin Kaymer, secure an HSBC double, winning our WGC-HSBC Champions tournament in China. Now we will wait to see if he can go on to win his fourth Abu Dhabi HSBC Golf Championship title.

"We are also delighted to welcome Tiger Woods to the tournament for the first time. He has been a long time supporter of our HSBC golf tournaments around the world and we are looking forward to seeing how he tackles the challenging National Course."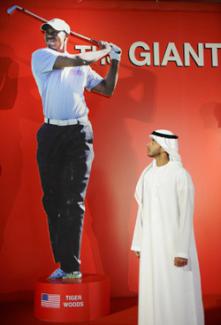 Tiger Woods will Debut in Abu Dhabi in 2012
Woods, whose career numbers include 14 major victories, 71 PGA Tour wins and the record for most consecutive number of weeks as the world's top-ranked player, has been eyeing Abu Dhabi for some time. "I've heard a lot about Abu Dhabi and the championship, which is a favorite among many of the players who return each year," said Woods, who's now in Melbourne, Australia, as part of the American team trying to retain the Presidents Cup against an International squad.

"I'm looking forward to 2012 and what I hope will be a great year of golf for me. I've always enjoyed playing in HSBC events around the world, so I have been interested in including the Abu Dhabi HSBC Golf Championship in my schedule for some time. I am also intrigued to spend time in Abu Dhabi. Visiting new places is one of the things I really enjoy about being a professional golfer."

Tournament director Peter German promises more top players will commit to the tournament. "The players unveiled today make a very strong statement about the position of this event on the European Tour. We are committed to delivering one of the strongest fields ever seen in regional golf and we'll only be adding to this incredible line-up before January 26."

The 26-year-old Kaymer has had great success in the event and hopes for more. "Abu Dhabi is a special championship for me, obviously. I love the course and I've played some of my best golf on the National. The amazing field means next year is going to be a special and it will be my toughest Abu Dhabi challenge yet," he said.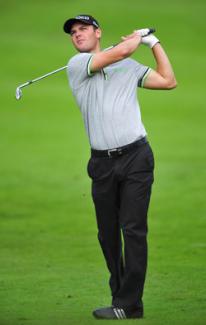 Defending ADHGC Champion Martin Kaymer
Donald is also looking forward to playing in the Middle East tournament. "Abu Dhabi is putting golf at the heart of its development; the investment in the Abu Dhabi HSBC Golf Championship has created one of the calendar's most attractive dates. I don't think it's any surprise to see so many of the world's best players including it on their schedule."

"It's going to be a real treat for the galleries," added Clarke. "There were 40,000 spectators last year and that's only going to shoot up in 2012 with the field we are looking at."

McIlroy believes the Abu Dhabi HSBC Golf Championship is a perfect place to get his new season started. "Abu Dhabi is a great way to begin the year," said the 22-year-old Northern Irishman. "Every year the field gets stronger and stronger and the championship gets harder to win. I finished second last year, so I'm hoping to go one better this time! I think there will be some truly great leaderboard tussles over the weekend."
For more information and tickets, visit www.abudhabigolfchampionship.com.