Firekeeper GC in Kansas is a Better Payoff than Oz
By: Steve Habel
The rolling plains and wide-open spaces of Kansas seem to offer a nearly blank slate for great golf. But the secret to designing memorable courses involves an innate understanding of the land and how to work with it rather than forcefully manipulating it.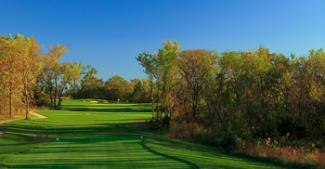 Firekeeper GC
It's hard to debate that golf architect Jeffrey D. Brauer has found such a balance in the Sunflower State. After all, the Texan has designed the top-three public courses in Kansas.

Brauer's latest effort (in collaboration with former PGA Tour pro Notah Begay) is Firekeeper Golf Course in Mayetta, a 15-minute drive north of Topeka near the Prairie Band Potawatomi Nation's casino and resort. The course opened in spring 2011 and has the look and feel of a place that's been here for decades.

Part of project's success was the preliminary work done by the tribe and Brauer to determine the best way to route an 18-hole layout with minimal disturbance to the land and native habitats.

"We put a lot of time in walking the land, which is so important in golf course architecture and particularly in the Native American community," said Brauer, who also designed the highly regarded Colbert Hills in Manhattan and Sand Creek Station in Newton. "We moved very little earth and used the surrounding land forms as guides in our shaping, trying to match the rolling hills of Kansas."

The course occupies three distinctive areas of prairie, heavy woodlands and scattered trees. Firekeeper opens with seven prairie holes, while Nos. 8-18 bring into play creeks, elevation changes, rolling hills and trees. The sequence of holes fits the topography snugly and the course is quite walkable, with tees close to greens.
Brauer and Begay occasionally referenced famous holes at Firekeeper. For example, the fourth hole involves a very deep fairway bunker off the tee similar to the famous hazard at Royal St. Georges' fourth. The hole ends with a green like the putting surface at No. 11 at Los Angeles Country Club. Both men thought the ninth should be modeled after Augusta National's 18th.

Carded at 7,560 yards from the back (Notah) tees (which carry a rating of 77.1 and a 137 Slope), the par-72 venue offers four other tees for players to enjoy the game without getting beaten up.

Firekeeper features bentgrass tees, fairways and greens, and is lined by fescue rough. Outside the rough line through the first seven holes is tall native prairie grass, while the remaining 11 involve wetlands and trees.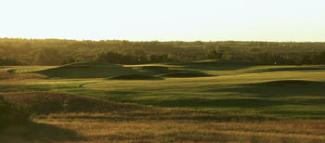 The Opening Stretch at Firekeeper
Big-Shouldered Start

The round at Firekeeper starts with a mid-length par-4 (395 yards) but quickly turns up the heat with two meaty two-shotters (the second is a 480-yard par-4 and the third extends 505 yards) and the massive 640-yard par-5 fourth. The good news about this stretch is that the landing areas for tee shots and approaches are wide.

But Brauer placed five pot bunkers and a "coffin bunker" in the middle of the fairway near the second green; four bunkers left of the landing area and a grass swale short and right of the third green; and a split fairway near the putting surface at the fourth.

The 570-yard par-5 sixth offers a legitimate chance to recoup a shot if you can avoid the trees left of the fairway on the lay-up and a buffalo-shaped bunker near the front-right of its huge double-green, which is shared by the opening hole.

At the 420-yard par-4 eighth Firekeeper changes character, asking players for more accuracy and imagination. No. 8 runs slightly downhill to a plateau in front of a creek before ascending to a big green with a slope bisecting it.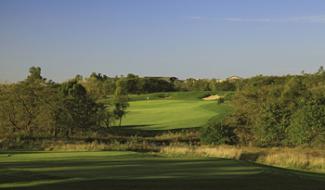 The Par-4 8th at Firekeeper GC
The 420-yard 10th is one of the most difficult holes here, moving downhill off the tee over a native area spiked with trees to a fairway that runs right to left. The carry to diamond-shaped green is over a creek.

All of one's skills are called for at the 480-yard par-4 15th, an uphill, left-to-right offering with wetlands on its starboard side and a green that tilts toward two deep bunkers at the front-right.

Brauer and Begay offer a bit of a respite at the penultimate hole, a 345-yard par-4 that can be driven.

Golfers might want to try to use the right fairway on the 455-yard par-4 closer, which offers dual landing areas. The right half can be reached over wetlands with a 298-yard carry from the tips (it's a more manageable 271 from the second set). The safer option is play down the left side, leaving a mid-iron over a brushy creek and uphill to a bunker-ringed green in a natural amphitheater. This is an awesome and demanding finish to a challenging golf course.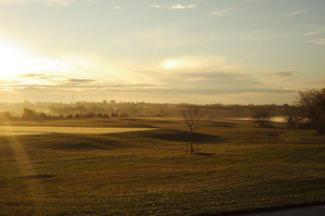 Early Morning at Firekeeper GC
Firekeeper has received a truckload of accolades, including mention as one of Best New Courses of 2011, the Best Casino Courses in America and Best Places to Play (all by Golfweek), and inclusion on both Golf and Golf Digest's Best New Courses lists for 2011.

Combined with subtle elevation changes and a steady Kansas breeze, Firekeeper will test your game without leaving you battered and bruised. It's a better prize to find in Kansas than Frank Baum's Oz, even if you feel like you're in another faraway place in the state.
For more information, go to www.firekeepergolf.com.
Steve Habel is a freelance writer contributing Cybergolf news stories, features, equipment and book reviews and personality profiles from his base in Central Texas. He also works as a contributing editor for Horns Illustrated magazine, a publication focusing on University of Texas sports, and is a contributing writer for Golfers' Guide and Golf Oklahoma magazine, Texas Links magazines and Golfers Guide. Habel's main blog (www.shotoverthegreen.blogspot.com) features news on golf and the Longhorns, and another (www.checkinginandplayingthrough.blogspot.com) chronicles his many travels, including playing more than 600 golf courses since 2008. Habel is a member of the Golf Writers Association of America and the Texas Golf Writers Association.