First Tee Seattle Celebrates 10th Anniversary as Association Embarks on Ambitious Campaign
From modest beginnings a decade ago when a couple hundred kids experienced the First Tee of Greater Seattle, the nonprofit youth development program has blossomed in myriad ways. In Oregon and Washington, there are now eight chapters (see below) that help impact the lives of thousands of young people "by providing educational programs that build character, instill life-enhancing values and promote healthy choices through the game of golf."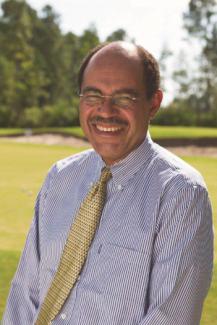 Joe Louis Barrow
During a luncheon commemorating Seattle's 10th anniversary, First Tee CEO Joe Louis Barrow called Seattle (the organization's 106th chapter) a "bright jewel in the crown." Barrow, who refers to himself as "chief evangelist," praised staff, volunteers and donors for past accomplishments, and commended them for reinvigorating their focus and drive in support of "The First Tee Campaign for 10 Million Young People."

It took 14 years to reach the first 5 million, Barrow reported. The goal to double that number of participants in the next five years is ambitious, he acknowledged, emphasizing the need is urgent and undeniable.
Youngsters in Seattle's program shared some of their experiences during the anniversary celebration. Anthony Smith, a 10-year participant and 2008 RBS Achiever of the Year semifinalist, spoke of seeing Phil Mickelson at a PGA Tour event, how the core value of responsibility has helped him care for his mother since she suffered a stroke, and the scholastic support. "Without the First Tee, I don't know where I'd be today," he told the audience.
Another participant, John Porcaro, reflected on the confidence he has developed through his First Tee experiences, including an invitation to speak at the Boeing Classic, along with the value of the First Tee Nine Healthy Habits, which he said have added importance to him as a diabetic.
Northwest First Tee Chapters

in Oregon & Washington
The First Tee of Columbia Basin
The First Tee of Greater Portland (also covers Vancouver, Wash.)
The First Tee of Greater Seattle
The First Tee of Greater Vancouver B.C.
The First Tee of North Puget Sound
The First Tee of South Puget Sound
The First Tee of The Inland Northwest
The First Tee of Yakima
A third youngster, David Zhao, played the piano before the program, drawing praise - and applause - for his accomplishments with multiple endeavors.
Barrow reminded the audience that for every young person positively impacted by the First Tee, there are even more who don't have the opportunity to experience it. "If we reach 10 million kids that's still only one-fifth of the youth in our target age category in the U.S," he noted.

Among other statistics cited by The First Tee's CEO, one in four public school children drop out before they finish high school. For African Americans and Hispanics, the graduation rate could be as low as 50 percent. In the Seattle-Tacoma-Bellevue metropolitan statistical area (MSA), an estimated 15,400 (35 percent) students dropped out from the class of 2010, risking significant economic repercussions for themselves and their communities.
Only four in 10 young people participate in high-quality activities that teach needed skills, how to form lasting relationships with others, and how to make big decisions. Over the past 30 years, childhood obesity rates in America have tripled; one child of every three is overweight or obese, with even more alarming rates among African American and Hispanic populations.

If the obesity problem is not addressed, one-third of all children born in 2000 or later will suffer from diabetes at some point in their lives. Many others will face chronic, obesity-related health problems such as heart disease, high blood pressure, cancer, and asthma.

Based in St. Augustine, Florida, the First Tee has a two-pronged program focus: the First Tee Life Skills Experience (offered at chapters and U.S military installations during non-school hours) and the First Tee National School Program (conducted in physical education classes).
Seattle's chapter provides life skills and character education through golf to 1,200 children annually at five facilities, and serves more than 45,000 students via the National School Program. In 2011, the Schools program added a health and wellness component and its Nine Healthy Habits initiative.
One constant since Seattle's inception has been modest registration fees, currently $79 for the first season and $20 for subsequent seasons in the same calendar year. The low rates are attributed to subsidies attributed to extensive support from volunteers and donors, and may even be waived based on financial need. About one-third of local participants are on full scholarship.

First Tee officials say it costs approximately $500 to fund a child in Seattle's Golf/Life Skills experience, which includes weekly instruction for eight weeks each in the spring, summer and fall, plus access to golf courses, practice facilities and golf equipment, as well as trips to local golf events, and opportunities for out-of-area trips and college scholarships.
Independent research shows participation in First Tee programs is effective. A multi-year study revealed that 73 percent of participants in the Life Skills Experience indicated the program gave them the confidence to excel in the classroom. One-hundred percent said they used the life skills they learned through the First Tee at school.
The First Tee of Greater Seattle was formed in 2001 from a collaborative effort involving the Broadmoor Golf Club Foundation, the First Tee, the board of Municipal Golf of Seattle and the city of Seattle. It opened the First Tee Clubhouse at Jefferson Park in June 2008. This facility serves as the venue for off-course life-skills training.

Information on the First Tee, including links to local chapters, is available by visiting www.TheFirstTee.org. Details about the First Tee Campaign to Reach 10 Million Young People are online at www.thefirstteecampaign.org.