First Trip to Augusta National was Worth the Wait
By: Steve Habel
I have never been one to drop names or talk a lot about the wonderful places and great people I have met in my 21-plus years of covering sports and writing about those games. But it is going to be hard to stop preening for my friends and regular golf partners when I recount my latest excursion: a trip to Augusta National Golf Club Wednesday to see the practice rounds and the par-3 Contest for the 2010 Masters Tournament.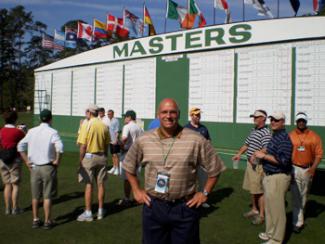 Steve Habel at the 2010 Masters
Folks, I have covered 11 Kentucky Derbies and three Breeders' Cup days, been in the press box and locker rooms during two Super Bowls and sat on press row for countless NCAA Basketball Tournament matchups. I have hacked at a World Series game (and had tickets to another that was never played) and spend time on the sidelines for three national championship college football battles - hey, Texas's Vince Young ran right past me after scoring the winning touchdown to beat USC in 2006.

Given all those experiences, you would have thought I was jaded enough to be able to handle a trip to Augusta National. I am here to tell you that was just not the case.
I was blown away by the whole Masters package.

I am a guy who spends more time on golf courses than anyone you know - just ask me sometime and I will detail all the courses and clubhouses and practice areas I have seen in the past few years. But I have never seen anything like what I saw at Augusta, so much so that I have to say that I don't know if I would even want to tee it up there, in the chance that I would ruin the experience by hitting a handful of lousy shots.
Bobby Jones and Alister MacKenzie may have designed Augusta National to be played by all levels of golfer, but I could never feel comfortable on the track.

First of all, let me tell you that everything you have heard about Augusta National and the Masters' Tournament is true. To wit:
The course does seem to be greener - and have more and different shades of the color - than any course I have ever seen. Add the bright and multihued groups of flora to the scene and you get sensory overload at times.

You get no concept of the course's elevation changes and rolling hills and the slopes on the greens unless you've walked the course, which I did from first tee to 18th green as well as the entire par-3 course. You might think HD TV would give you a modicum of the track's hills and valleys, but until you watch balls drop over the ridge at the par-3 fourth hole (Crabapple), see the huge elevated ridge on the back-right corner of the green on the par-3 sixth (Juniper), stand at the bottom of the fairway on the famed par-4 10th (Camellia) or cozy up to the tee box and watch drives fly up the hill on the closing hole (the par-4 Holly), you are clueless.

The walk up Magnolia Lane to the clubhouse is surreal and can never be copied anywhere, though many other great golf courses around the world have tried to create their own version of the ultimate club entry.
The access to the players is second to none. If you have been to a PGA, Champions or LPGA Tour event you know how close you can get to these guys and girls. At Augusta National, the ensuing tee box is often just steps from a previous green, so the players are close to the patrons throughout the event.

Yes, the concessions are remarkably reasonable. I dined on a basic turkey sandwich, a sweet tea and a Masters mini-moon pie for a total charge of $4.50. Beers at the concession stand - served in a clear cup with the Masters logo - sold for $2.75. It is $3.50 for an import beer (they are delivered in green cups). Oh, and parking is free.
Security personnel are everywhere and there are few patrons silly enough to cross any line that would draw their wrath. From what I heard from journalists who have been to Augusta National in the past, things were tighter this year than ever before.
The players feel lucky and honored to be on the course. They treat the place with a reverence, and even when they say bad things about it I have a hard time thinking they really mean it.

The souvenir business at Augusta National is brisk from the time the gates open to the time the last patron leaves. People will buy anything and everything with the ironic club logo on it, pouring through the expensive two-level golf shop in constant droves. I asked one of the merchandise managers about the volume in the shop and he told me the average register receipt per patron was about $600 - I got out of there after dropping only $400, so I am in the minority. Let's see: $600 times 30,000 patrons a day times seven days - hey, that's a lot of money. There is no sign of an economic slowdown in the Georgia pines.
After being on the course for a day and watching about eight hours of action, I could have predicted a few of the things that happened at the tournament:

* I thought Tiger Woods would play well in his comeback event - he was hitting the ball so well in the practice rounds and at the practice area and putting lights out.

* I felt defending champion Angel Cabrera would struggle to make the cut after I watched him stand in the same spot on the practice green and miss 24 straight putts.

* I believed that both Shingo Katayama and Vijay Singh would not be around for the weekend as neither seemed to able to hit the shots they wanted when they needed to. I have watched Singh play up-close-and-personal a dozen times and never seen him have such a tough time.

I stayed at Augusta National Wednesday until they told me I had to leave, but the memories I take away from my day will last forever. If there is a nirvana for golfers, this is surely it.

Even without putting a peg in the ground, I enjoyed my best day ever on a golf course.

If you've never been, you have to go at least once in your life. Just take my word for it.
Steve Habel is one of Cybergolf's national correspondents, contributing news stories, features, equipment and book reviews and personality profiles from his base in Central Texas. He is also the managing editor for Texas CEO Magazine and works as a contributing editor for Horns Illustrated magazine, a publication focusing on University of Texas sports. He also writes a blog (www.shotoverthegreen.blogspot.com), which features news on golf and the Longhorns, and another (www.checkinginandplayingthrough.blogspot.com) on his many travels, which took him across the nation and to 105 different golf course in 2009. Habel is a member of the Golf Writers Association of America and the Texas Golf Writers Association.