Fit for Royalty - St. Regis Monarch Beach
By: George Fuller
Bonjour Café & Bistro, on Pacific Coast Highway in Dana Point, Calif., is no more than one mile from the St. Regis Monarch Beach. I ventured in one recent morning mainly because the sign out front said "Best Breakfast in Orange County" and I'm a breakfast fan. I ordered something called Le Oeufs Brouilles du Midi, not because I knew what it was, but because I had seen one go by to another table and it looked wonderful.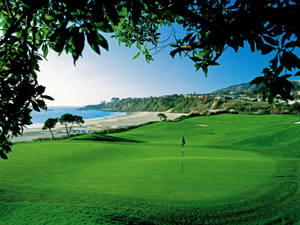 Monarch Beach Golf Links
"What's that?" I asked the server.

"Oo-la-la," she said. "You'll like that!"

A rounded croissant filled with creamy scrambled eggs, roasted tomatoes, sautéed spinach and black olives, it was indeed divine. Not something I'd want to eat every morning, but it was a special treat for a sunny Saturday morning in January.

That's what St. Regis Monarch Beach is, too . . . a special treat. With 400 tony rooms and suites overlooking the Pacific from a gently sloping bluff, the resort is remarkable for far more than its exquisite location. Noted chef Michael Mina's Stonehill Tavern serves up creative American fare in a fashionable setting just off the lobby; in-room amenities include plush goose-down comforters and 32-inch Sony flat screen TVs; the 30,000-square-foot, 25-treatment-room Spa Gaucin will spoil you rotten; and the level of service throughout the resort (including butlers in the suites) is friendly, attentive and exemplary.

The good news for golfers is that Troon Golf manages the 18-hole, Robert Trent Jones-designed course. The confluence of these highly respected names in hospitality at one desirable address on the California coast is a safe bet to deliver an extraordinary guest experience, and it does.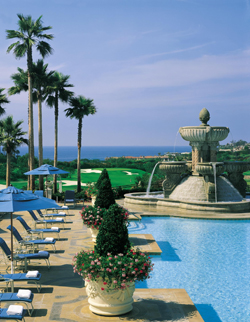 View of the St. Regis Monarch Beach
"St. Regis is all about providing guests with refined, personalized service and an experience that goes well beyond expectations," says Hale Kelly, director of golf. "And that merges exactly with what Troon Golf strives for as well."

Much of the course offers the same ocean views as the hotel rooms. Two holes play so close to the water you can feel the ocean spray on your face. Conforming nicely to the gently sloping terrain - and colorfully landscaped with red flowering coral trees, native California shrubs, towering palm and eucalyptus trees and several varieties of pine - the first two holes play around a picturesque lake before the cart path leads under the Coast Highway and emerges on a rise immediately overlooking the ocean.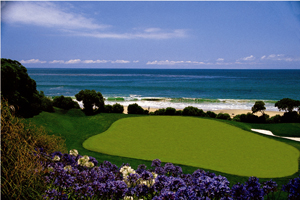 7th Green at Monarch Beach
Hole Nos. 3 and 4 rank among the best on the course, both for their beauty and playing characteristics. Though a short par-4 at 315 yards from the back tees, the third gives players a classic risk-reward option. Shooting straight at the ocean, the sharp dogleg-left calls for either a layup off the tee with a long-iron, or a go-for-broke shot over the corner of the turn and straight at the rollercoaster-like green, situated mere paces from the beach and with long views of the Laguna coastline.

"On some days, there are 40 or 50 surfers out there," Kelly says. "And we see whales spouting all through the winter. It's an exciting corner of the golf course!"

A well-executed drive often results in a chance at eagle on the third hole. But a miss right, left or short often engenders a big score. It's also possible for big hitters to drive through the fairway and land in the waves.

The fourth plays away from the water and back up the hill to a par-3 green 185 yards away. After putting out, take a last look at these lovely waterfront holes, as back under the highway you go for the balance of the round.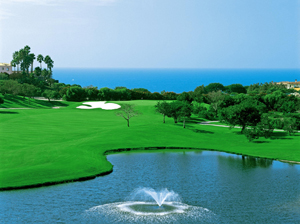 12th Hole at Monarch Beach
Partly due to those two standout holes, Monarch Beach Golf Links is consistently acclaimed among the top golf courses in Orange County by national and local publications. It was recently honored by Golf Digest as one of the "Top 50 Courses for Women in the United States"; and by Golf World for having one of "America's 100 Best Golf Shops." In combination with the St. Regis Monarch Beach, magazines such as Conde Nast Traveler have also ranked it among its list of "Top 100 Golf Resorts."

"At just more than 5,000 yards from the forward tees," Kelly says, "women and beginning golfers have a great time out here. But from the tips, it plays longer than the 6,600 yards the scorecard shows."

Though the forward tees are placed to avoid many of the forced carries, better golfers enjoy the challenges presented throughout. Holes 6 through 9, for example, are bordered by a devilish arroyo with a creek running through it. The highlight of this stretch, and the No. 1 handicap hole on the course, is No. 7, a 612-yard, par-5 twister with the creek intersecting the fairway twice - once from the tee and again from the fairway - to reach the green.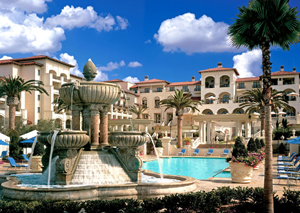 View of the St. Regis Monarch Beach
The back nine ambles into a sunny valley behind the resort, offering a trio of memorable par-3s, two of which- 13 and 15-require players to shoot straight or land in water. The home hole emerges behind the clubhouse, its putting surface wrapped behind a lake 400 yards from the tee box. A strong challenge for those whose match is still in question, No. 18 can seal the deal . . . or let the deal slip away in a watery grave.

Guests of the St. Regis Monarch Beach receive preferred green fees and charging privileges at the golf shop and Club 19, where lunch and a refreshing beverage from its full bar overlooking the course and the ocean after a round is a great way to finish the day. The Black Angus charbroiled burger is always a good choice, but if you're in the mood for something a little different, the Maine lobster club sandwich might just be the thing you're looking for.

Monarch Beach Golf Links is now offering several enticing new programs, including a unique five-hole rate - which includes the two oceanfront holes - for those who have limited time but still wish to get out and play; a complimentary same-day replay; and a generous Junior Golf program, where kids 15 years and younger play free when accompanied by a paying adult. If you happen to be visiting on your birthday, the course helps you celebrate by giving you free golf.

"Monarch Beach is really the best of all worlds," Kelly says. "It's a one-of-a-kind resort situated on one of the most captivating coastlines in the world, with a golf course to match. You have two elite brands coming together with St. Regis and Troon, a scenic course with fantastic ocean views and the great weather of Southern California," Kelly says. "That adds up to an unbeatable golf experience."
Indeed, it's an experience fit for royalty.

For further details, visit www.monarchbeachgolf.com.
Award-winning publisher, editor, writer and photographer George Fuller has been covering golf travel and lifestyle for more than 30 years. From 1992 to 1997 he was editor of LINKS-The Best of Golf, based in Hilton Head, S.C. In 2005, after having spent several years in the Pacific starting two magazines for Continental Micronesia Airlines and writing two books, Fuller launched GOLF LIVING Magazine for the Los Angeles Times, a "super-regional" magazine of travel, real estate and the lifestyle surrounding the game of golf. In 2009, he helped redesign and re-launch TEXAS GOLFER, a magazine with 25 years of history in the Lone Star State. Most recently, Fuller partnered with Troon Golf to launch TROON GOLF & TRAVEL, a monthly eMagazine with an annual print component. In addition, Fuller's newspapers and magazines credits include TIME, Wall Street Journal, San Francisco Chronicle, The Los Angeles Times, Robb Report, Coastal Living, Palm Springs Life, Estates West, GOLF Magazine, Golf Digest, Travel & Leisure Golf, LINKS, Successful Meetings, Honolulu and many others. He has reported for Reuters, United Press International (UPI), written for Copley News Service and is a regular on-line travel correspondent for Cybergolf. Based in Pacific Palisades, Calif., he can be contacted at gfuller@earthlink.net or 310/245-9550.