Five Mississippi Courses Earn Spot in Golfweek's 'America's Best' 2006 Rankings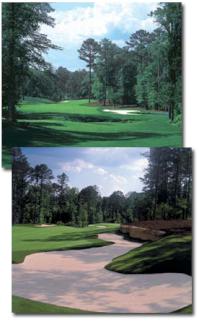 The Mississippi Development Authority (MDA) Division of Tourism has announced that five public-access golf courses have been named best-in-state by Golfweek magazine in its 11th annual "America's Best" course rankings. The five courses – in order of rank with their architects and locations – are:

No. 1: Grand Bear Golf Club (Jack Nicklaus, Saucier)
No. 2: Dancing Rabbit Golf Club's Azaleas Course (Tom Fazio/Jerry Pate design, Philadelphia)
No. 3: Shell Landing Golf Club (Davis Love III, Gautier)
No. 4: Dancing Rabbit Golf Club's Oaks Course (Fazio/Pate, Philadelphia)
No. 5: Canebrake Golf Club (Jerry Pate, Hattiesburg)

Golfweek's America's Best team of 225 raters – representing 48 states – perennially scours the country in search of the best golf course designs. A few of the many criteria they use include strategic considerations of shot-making and design balance as well as aesthetics of conditioning and setting.

"It is gratifying for these outstanding Mississippi courses to be awarded this objective distinction by one of the world's foremost golf publications," says D. Craig Ray, the MDA's Tourism Division Director. "Golfweek is effectively informing golfers worldwide that Mississippi offers convenient access to some of best golf anywhere and at extremely affordable prices."
Designed by Jack Nicklaus, Grand Bear opened in October 1999 and is peppered with towering pines, natural cypress wetlands, secluded fairways, deep bunkers and impeccably manicured greens. The course measures 7,204 yards from the "Grizzly Bear" tees and 4,802 from the "Teddy Bear" tees. Many who play Grand Bear say the course feels a little like Augusta with a dash of Pinehurst excitement mixed in.
Rated the Nos. 2 and 4 public-access courses respectively in Mississippi by Golfweek, Dancing Rabbit's Azaleas and Oaks courses roll out over a combined 14,000 breathtaking yards. Secluded among ancient pines and hardwoods, each of these par 72 masterpieces embraces the gently rolling hills and valleys indigenous to this part of the world. Meanwhile, over two miles of spring-fed creeks and streams weave their way through the lush Bermuda and Zoysia fairways and Bentgrass greens, lending both challenge and beauty to the picturesque environment. The creation of internationally renowned golf course designer Tom Fazio and erstwhile U.S. Open champion Jerry Pate, each of the 36 dramatic golf holes retain the character and grandeur of the great Southern woodlands from which they were masterfully carved.
Climbing to No. 3 this year from its spot a rung lower in 2005, Shell Landing Golf Club in Gautier was designed by PGA Tour star Davis Love III. Located in Mississippi's sparkling Gulf Coast region, this championship, 18-hole, par-72 layout features all of the area's stunningly diverse natural resources. The awe-inspiring beauty and immaculate course conditions combine to create a special golf course. Named for the rare gopher turtles that thrive in the property's extensive, protected natural habitat, Shell Landing mixes tall pines, marshes, bayous and wetlands with rolling emerald hills to frame an inspired, challenging layout that is fun and memorable.
Rounding out the best-of list at No. 5 is Canebrake, a challenging and memorable par 71 designed by former U.S. Open winner Jerry Pate. The course's unique design, undulating fairways, quick, true greens and changes in elevation make it a popular test. The course is built around a 250-acre lake and has more elevation than any course in the region. It also boasts a dual driving range, Floradwarf greens, four lakes (measuring a combined 22 acres), 56 bunkers, 130 acres of 419 Bermuda, Zoysia and Centipede grasses, and 20 acres of indigenous Broom Sedge, Indian Grass, Switch Grass, Love Grass, Little Blue Stem and wild flowers.
For more information about these courses or to schedule a visit to Mississippi, call 866/801-8551 or visit www.visitmississippi.org/golf to receive a free Golf Travel Guide and suggested play-and-stay itineraries.