Florence's Blackberry Trail to Open in Mid-June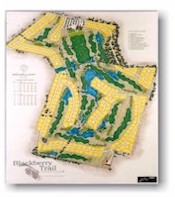 The municipally owned Blackberry Trail Golf Course is on track to open in mid-June 2001. The 160-acre parcel used for the course was donated by local developer Gary Gamble. Gamble is proceeding with construction of hundreds of homes around Blackberry Trail in a community called Plantation Springs. Phil Stevenson, the purchasing agent for the city of Florence, has shepherded the new course through a three-year development and construction process.

Superintendent Fred Boughner is finishing up his "punch list." Steve Plumer of Forefront Golf in Arlington, Texas designed Blackberry Trail, a links-style track with 33 bunkers and water entering play on 13 holes. The layout stretches over 7,000 yards from the back tees, but it contains several sets of starting blocks for players of different abilities.
Blackberry Trail's head pro, Charles Parrish, will be working out of a new brick clubhouse that contains a grill, covered patio and pro shop. The course was named by a former City Council president who saw a lot of blackberries on the undeveloped site when he and a group of city officials initially walked the property.
When Blackberry Trail opens, the city's original golf facility, the 1971-built McFarland Park Golf Course located eight miles away, will be permanently closed. That layout sits on a floodplain and, over its 30-year life, has been very difficult to maintain. After it's shut down, construction will commence on 12 soccer fields and perhaps a campground. Golf at McFarland Park will not totally be a memory for Florence golfers, as its night-lit driving range will be kept open, and perhaps a few holes and a practice green for junior players.
After its opening in mid-June, call Blackberry Trail for a tee time at 256/760-6428.