Fog Delays Make Potpourri out of PGA Championship Leaderboard
By: Jay Flemma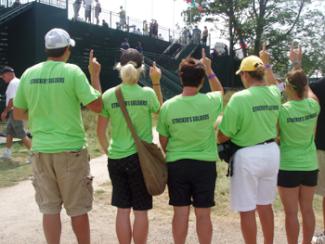 (Steve) Stricker's Soldiers
The 92nd PGA Championship continued to sputter along through fog delays and rain before darkness finally fell at 7:27 p.m. For the second consecutive day, play halted with half the field still on the golf course, including four-time champion Tiger Woods, who ended a frustrating day by playing only six holes and missing an 18-inch birdie putt which horseshoed around the cup, then stayed on the lip, winking bawdily at him in its impudence. He's 1-under, seven back of surprise leader Matt Kuchar, the 1997 U.S. Amateur champion.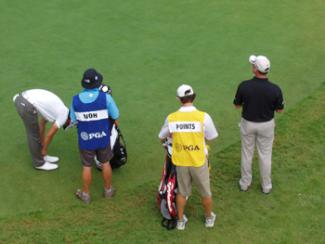 Noh Points Group
So went the day for most of the big names as the leaderboard had more strange unidentifiable things in it than a bowl of mulligatawny soup, despite there being seven Americans in the top 10. Let's meet some of the new faces and recap the day of the few stars who made it to the clubhouse with 36-hole scores.
Some Guy Yul Noh

If anyone personifies the unpredictability and wackiness of the tournament thus far, it's the performance of a young breakout Korean star named Seung-Yul Noh. Pardon the bad pun, but you'll know him pretty well this weekend if he adds to the 68-71, 5-under total he put up over the first two days at Whistling Straits.

Sadly, both he and his father - who was his caddie - speak about as much English as my cat. We turned the place upside down trying to find a communicator, but cat might have done a better job translating as the interview went nowhere fast. Here are some snippets from the few minutes I got with this polite and seemingly grateful 19-year-old future star who led the tournament for close to two hours:

How do we pronounce your name correctly?

S.Y. Noh

Tell us about your round out there.

I played practice rounds with K.J. Choi and Y.E. Yang. They are the best players in Korea. I want to follow in their footsteps and continue to play in America.

How did you play so well on such a difficult golf course?

In Korea, we have many golf courses. Some are difficult and some are easy. You also have golf courses in America and some of them are difficult. This one is difficult.

America has not met you yet. Can you tell us a little about your personal life, what you like to do for fun, and what your hobbies are?

In Korea, I am a university student. I am now playing golf on the Asian Tour and in America. When I am done, I will return to school.

At this point, I simply smiled, said "thank you" and went to go interview an armchair in the players lounge. I got better answers, too, but it's only 1-under, so my editor told me to give it less ink.

Anyway, to fill in the blanks, Noh received his bid at the discretion of the PGA of America for his high Asian Tour World ranking and his position on the Asian Order of Merit. At age 19, the Korean phenom stands only 5'8". He had a strong amateur career, winning the 2005 Korean Amateur Championship and 2005 Korean Junior title. He's been part of the Korean Junior team in 2006 and '07. He's won twice on the European Tour, including this year's Malaysian Open over K.J. Choi. If he wins, you can bet we'll have to endure bad puns in sports page headlines like "Dr. Noh," "Noh we can," and "Noh he didn't."
Agent Molder

Noh was one of a logjam of seven players at 5-under, three shots back of Kuchar and two back of Nick Watney. Another was a Georgia Tech schoolmate of Kuchar's, Bryce Molder, who was expected to dominate on the PGA Tour after a stellar college and amateur career. The four-time, first-team All-American also played for the Yellowjackets with 2001 British Open champion David Duval. Born with no left pectoral muscle (which makes that side of his chest concave), he also has Poland's syndrome - his left hand is much smaller than his right. He endured two surgeries on that hand to cure three webbed fingers.

Yet after shining so brightly in college, Molder disappeared faster than a rabbit in a conjuring trick, laboring in the obscurity of the Nationwide Tour from 2003-08 before finally making it to the PGA Tour. He earned his first top-10 this year at the AT&T despite a 9 in the final round at the infamous 14th hole at Pebble Beach. "It's nice to be back," said the genuinely humble young man. "Maybe all the time I worked hard on the Nationwide Tour will give me enough humility to appreciate it better if I am blessed enough to play well out here now."

Mulder had five birdies in six holes en route to a 67. "Those birdies at 5, 6, and 7 got me going in the right direction. I got on a run at the right time, I played the holes downwind well, and held on through the holes that play into the wind," he said. "The greens are soft, so it brings more of us into the mix. It's easier to stop the ball, and these greens are rolling beautifully, nice and true. Matt's a perfect example. He's had what - 52 putts for two days? That's how you win tournaments, especially majors."
Johnson & Johnson

The logjam at minus-5 also includes a Johnson and Johnson that are not pharmaceuticals and health-care products, but two of the rising stars on the PGA Tour.

Long-hitting Dustin Johnson fired a 68 which featured an eagle at the serpentine, 598 yard par-5 5th hole. After a gargantuan 464-yard drive - not really, because Johnson took a shortcut, cutting a corner only Hercules and madmen would try - he had 134 left to the green for the second day. The drive really travelled about 370 yards as the crow flies - slacker! - and for the second time in as many days he played the hole driver-sand wedge.

D.J., who famously lost a three-shot lead in the final round of the U.S. Open this year at Pebble Beach, a course he seemingly owned, is a great kid who you can root for all day long. He's also three scoops of unflavored yogurt for a quote. If he wins, the headline might read "Plain brown wrapper wins PGA Championship," so many of us spoke to his caddie Bobby Brown, who praised his player's phlegmatism for his success.

"That final round at Pebble was forgotten the minute he walked off the 18th green," said Brown. "Yes, he has a lot to play for, but one of the reasons I admire him so much is he has the best demeanor of anyone I know. On the course, he's a racehorse, just a thoroughbred of a player. Off the course, he's a role model and the best guy you'd ever want to meet. He's so mellow, and that's one reason why he's playing so well now. I never see him swing hard, except for those two drives on five. He swung out of his shoes on those."

Indeed, Johnson has taken advantage of his astounding length, playing the par-5s at Whistling Straits in a combined 6-under par over the first two rounds. He has done so well even though he has hit only 13 of 28 fairways.

The other Johnson is equally laid-back and just as much of a fine upstanding gentleman. Zach Johnson, the pride of Iowa, is the opposite of Dustin Johnson as a player. He's a short hitter who won the 2007 Masters by laying up on all the par-5s, then getting up and down each time to edge Tiger Woods for the title. Johnson again used his stellar wedge game to set up birdies at 11 and 13 to fire a 2-under 70 to finish 5-under after 36 holes.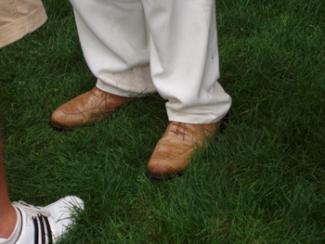 Phil's Phancy Shoes
What a Croc!

Phil Mickelson hit golf balls all over Wisconsin, but with his stellar short game got up and down from Blackwolf Run, Erin Hills and Blue Mound Country Club as he cobbled together a 69 that put him at 2-under for the tournament.

Nevertheless, his funky-fresh new golf shoes were just as wild as his golf. "Calloway makes them for me. They are alligator. I have two sets of skins, and also a matching belt," he said mischievously as he preened his outfit for a few scribes.

For the record, the difference between a croc and an alligator is that the croc has a rounded nose. There are, of course, two ways to disable a crocodile, you know. First, you can take a pencil and jam it in the socket behind his eyes. The second is twice is simple. You stick your hand in its mouth, and pull its teeth out.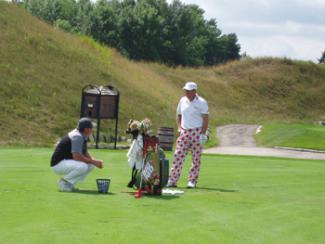 John Daly's Outfit for the PGA
The Daly Bugle

John Daly told a rules official tonight that he would not be back in the morning to resume round two due to a shoulder injury. "We will record him as a No Card," wrote Una Jones of the PGA of America. Daly was certainly going to miss the cut when he withdrew, which is understandable when his pants double-bogeyed the first hole both days.
Cut Your Losses

Other prominent names that won't be around for the weekend include Boo Weekley, Kenny Perry, newly minted British Open champion Louis Oosthuizen, (pronounced "WEST-hay-zen"), Geoff Ogilvy, 2009 U.S. Open champion Lucas Glover, and reigning U.S. Open champion Graeme McDowell. Low 70 and ties will play the weekend.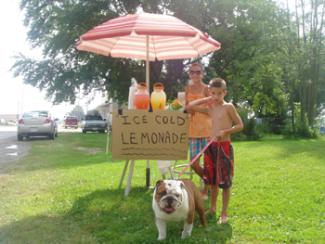 Taylor, Nolan & Winston's Lemonade Stand
Off Wisconsin

Every journalist in the house is screaming bloody murder about how bad cell phone service sucks in this state. The roaming companies are "Einstein" and "MNSTCDWIVI," whatever the hell that is. I've had more drops this week than the Seattle Seahawks wide-receiving corps!

Lemonade Out of Lemons

If you are coming to the tournament down County Route FF, be sure to stop by the homemade lemonade stand of enterprising young 11-year old Taylor Schuette, her 6-year old brother Nolan, and their English Bulldog Winston. Taylor, who's saving up money for college says, "I'm rooting for Phil Mickelson!" and is pouring out cups of the sweetest pink lemonade you ever tasted. The lemonade is only surpassed by what a cute smile she has.

So there it is. With the weather making minestrone out of the leaderboard, Who's in first, What's in second, and I Don't Know's in third. Hopefully, we'll be done Tuesday. We better be. I'm sick of interviewing hamburgers in the media dining room.


Since launching his first golf writing website in 2004, http://www.jayflemma.thegolfspace.com, Jay Flemma's comparative analysis of golf designs and knowledge of golf course architecture and golf travel have garnered wide industry respect. In researching his book on America's great public golf courses (and whether they're worth the money), Jay, an associate editor of Cybergolf, has played over 220 nationally ranked public golf courses in 37 different states. Jay has played about 1,649,000 yards of golf - or roughly 938 miles. His pieces on travel and architecture appear in Golf Observer (www.golfobserver.com), Cybergolf and other print magazines. When not researching golf courses for design, value and excitement, Jay is an entertainment, copyright, Internet and trademark lawyer and an Entertainment and Internet Law professor in Manhattan. His clients have been nominated for Grammy and Emmy awards, won a Sundance Film Festival Best Director award, performed on stage and screen, and designed pop art for museums and collectors. Jay lives in Forest Hills, N.Y., and is fiercely loyal to his alma maters, Deerfield Academy in Massachusetts and Trinity College in Connecticut.