For Golf Facilities Wanting More Women Golfers . . .
By: Nancy Berkley
Two national week-long women's golf promotions are coming up in June and July. To Cybergolf's women readers, make sure your golf course knows about these events and pass this article on to them. The best way to improve golf for women is to encourage more women to play more golf. Encourage your course to get on the bandwagon for these two important weeks.
To golf course operations and managers: By registering your facility's participation on the PGA-sponsored Play Golf America website (and on the National Golf Course Owners website), women golfers will be able to find your course through a zip code search. Advertisements for the week's events will be appearing in several national golf publications, and you will save marketing dollars by piggy-backing onto the marketing dollars spent by the industry. But to be included in the websites, facilities must register soon.

The June 3-10 event is the American Express Women's Golf Week. This is the second year of the promotion presented by Golf For Women Magazine and growing – with Suzy Whaley as its chairwomen and now American Express as its major sponsor. The deadline for getting your course registered and listed in the website is April 7. (If you miss the deadline, you will still be able to participate but will rely more on your own advertising.) For more information, visit http://www.playgolfamerica.com/pages/home_wgwa.cfm. The registration process is easy.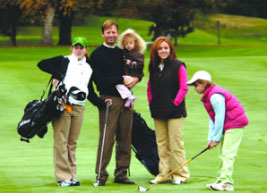 The week of July 10-16 is the well-established "Take Your Daughter to the Course Week" sponsored by the National Golf Course Owners Association. A facility does NOT have to be a member of the NGCOA to participate in the program. To learn how to register your course for this week, see www.playgolfamerica.com or go directly to http://www.ngcoa.org/pageview.asp?doc=546. The deadline for registering with the NGCOA is June 1.

And plan ahead. In addition to the national publicity these events will receive, line up your local publicity. Add a special raffle, a unique lesson program or a pro-shop promotion and publicize them with an article in your local paper. Remember, women golfers usually do not travel more than 30 minutes to the golf course. So take advantage of the national publicity while thinking "local" for your promotion.
A final word of advice: If your facility decides to participate in these national women's golf promotions, make sure your facility is women-friendly. This is the perfect time to repaint the ladies restrooms. See a complete list of best practices for attracting women golfers on http://www.nancyberkley.com/676303.html. If you have any questions, email me at info@nancyberkley.com.
Nancy Berkley writes the Women's Page for Cybergolf. She is an industry expert in marketing golf to women. See www.berkleyconsulting.com. Nancy can be reached at info@nancyberkley.com.